England U21 defender Rose calls on UEFA to ban Serbia after racist abuse
Danny Rose has called on UEFA to ban Serbia after admitting that racist abuse affected his performance.
Last Updated: 17/10/12 2:38pm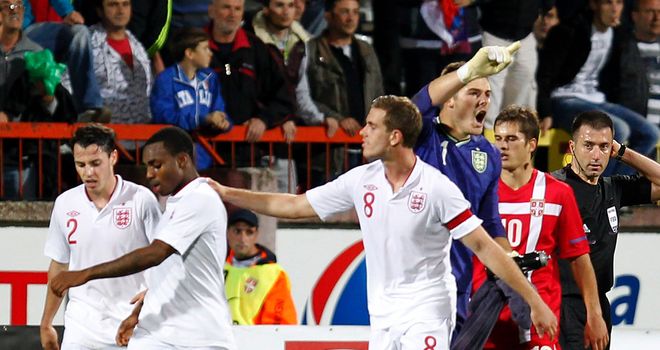 Rose was targeted by home fans in Krusevac as his side's 1-0 European Championship qualifying win - secured by Connor Wickham's late goal - was overshadowed by ugly and violent scenes at the finish.
The on-loan Sunderland full-back was sent off after the final whistle after kicking the ball into a crowd that baited him with monkey chants and gestures, while Serbian players and officials got involved in a subsequent brawl on the field.
"It started when we went out for the warm-up," Rose told Sky Sports News. "I told Wigs (Steve Wigley, assistant manager) what was happening and he told me to try and get through it, that it would be dealt with after the game.
"The fans started with monkey chants and in the second half two stones hit me on the head as I went to get the ball for a throw-in.
"After about 60 minutes, my mind wasn't on the game. I was angry. It was so hard to concentrate that I made a few mistakes.
"When we scored, after 90 minutes' abuse, I obviously expressed my emotions. The next thing I knew, all the Serbian players surrounded me, started pushing me, and then a brawl broke out.
"I remember getting slapped twice and then I got ushered away. That's when I kicked the ball - and the referee sent me off. I don't understand - the game had finished by then but he still sent me off for kicking the ball.
"As I went off again there was monkey chanting, but the monkey chanting started long before I got sent off.
"They have to be banned. I don't understand how else they can learn from it, they have to be banned."
Manager Stuart Pearce described the evening's events as "very sad", while the Football Association released a statement soon after the game confirming it had reported "a number" of racist incidents to UEFA.
UEFA fined Serbia £16,000 when England defender Nedum Onuoha was racially abused during a U21 European Championship meeting between the sides in 2007.