Northern Ireland manager Micheal O'Neill 'aggrieved' by Austria defeat
Northern Ireland were beaten 1-0 by Austria in the Nations League
Last Updated: 13/10/18 12:01am
Micheal O'Neill says Northern Ireland are "aggrieved" they did not take anything from their defeat in Austria and questioned the refereeing performance.
Marko Arnautovic's strike was enough for the hosts to take all three points with a 1-0 victory in the Nations League fixture, although Northern Ireland had their chances to score.
It was the fifth away game in a row Northern Ireland have failed to score in, with O'Neill believing his team should have taken something and were perhaps subject to some harsh refereeing.
Arnautovic strike beats N Ireland
As it happened
"We had to defend very deep, it took us a good 20 minutes to get to grips with the game, I thought we did that after a while," he told Sky Sports.
"Ultimately, we had the better chances in the game to go ahead, we didn't take then and then we're punished. It's a poor goal for us to lose... It's a good finish [from Arnautovic], and we hit the post after that as well so we feel a bit aggrieved.
"We've played better but we knew this would be a tough game. We didn't get enough of the second balls, Austria are a physical team and I don't think the referee did us any particular favours with the foul count.
"Maybe you're a little bit biased in the dugout, but I felt - particularly in the first half - we didn't get anything and everything that was given was going Austria's way. Sometimes you get that as the home team but I feel like he disrupted the game somewhat.
"But at the end of the day, we have to compete and in the middle of the pitch, physically, we didn't compete as well as we could have and that is possibly down to the sheer size of the Austrian players as well.
"It is a game we look at and we're disappointed to lose, but we feel a little aggrieved to not take something from it."
Northern Ireland now sit bottom of Group B3 with no points from their two fixtures, but O'Neill says he is focused more on developing his side that their Nations League position.
"I'm not really concerned about this group to be honest. At the end of the day, we're sitting here with no points, and we're trying to compete at this level and develop the team," he added.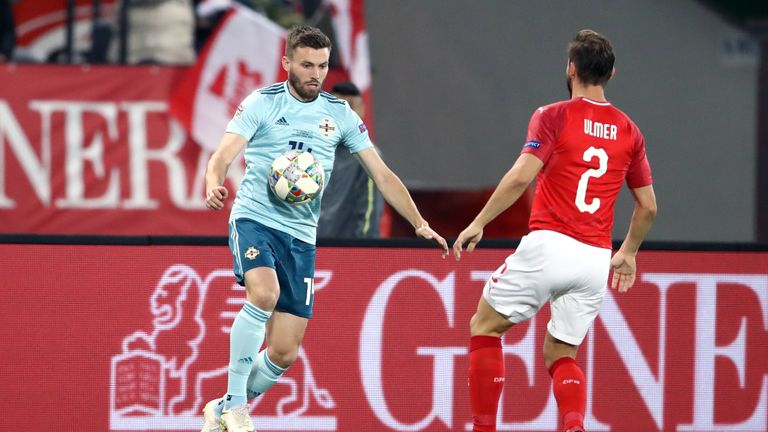 "We had young players out there today like Jamal Lewis and Baily [Peacock-Farrell], who are U21s realistically, so we're trying to develop the team and we're bringing new players into the team as well. We won't get too hung up on where we are, we'll get hung up on the level of performance.
"I think it was a good test for a lot of the players who have no played a lot of international football away from home against teams of this calibre. These are the places you have to try and come and get points if you want to qualify for Euro 2020."