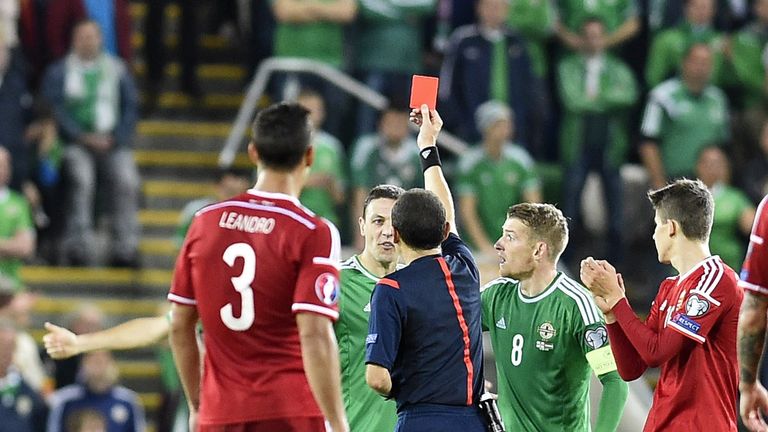 Northern Ireland's hopes of overturning Chris Baird's controversial red card picked up during their European Qualifier against Hungary appear to have receded.
The Irish Football Association sought clarification from the International Football Association Board (IFAB) over the incident in Monday night's 1-1 draw at Windsor Park, in which Baird was dismissed late on after being cautioned for two separate tackles in the same passage of play.
However, in a statement issued on its official website, the IFA said they had been told the decision was "the correct one".
IFAB secretary Lukas Brud told the IFA that referee Cuneyt Cakir was within his rights to play advantage after a cautionable offence, then punish the infringement retrospectively.
Brud said: "In referee education, match officials are reminded that playing an advantage for a cautionable offence runs the risk that the offending player may commit a second cautionable offence, but the spirit of advantage should be considered especially if by stopping to issue the caution, the non-offending team loses a clear promising attack."
Northern Ireland boss Michael O'Neill had indicated in the aftermath of the Group F clash that he would consider an appeal in the hope that Baird could still play some part in the next two crucial matches of their campaign.