Frank de Boer interview: Predicting a bright future for Dutch football
A new generation of young Dutch talent is now emerging; watch Netherlands v Germany in the UEFA Nations League live on Sky Sports Mix from 7.40pm on Saturday
Last Updated: 13/10/18 7:53pm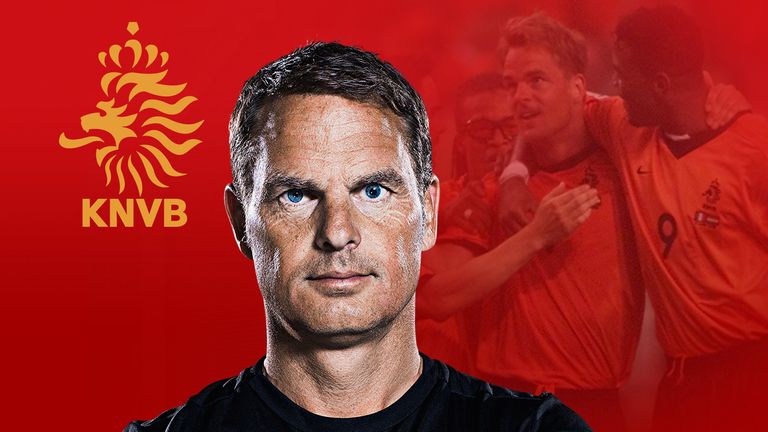 Dutch football has been much maligned after failing to qualify for back-to-back major tournaments but there is now cause for optimism. Adam Bate caught up with Ajax legend Frank de Boer to find out what has gone wrong and why the next generation could change everything...
Few nations think about football quite like the Dutch, so the recent struggles of the national team have sparked a period of introspection. Firstly, they failed to qualify for Euro 2016. That disappointment has since been compounded by being unable even to reach the play-off for a place at the 2018 World Cup. Last year, they hit their lowest ever FIFA ranking of 36.
It is quite the fall for a country that had been among the final four at the previous two World Cups, reaching the final in 2010 and ranking as the world's best team the following year. But Frank de Boer, Netherlands assistant manager at that tournament eight years ago, is more phlegmatic than most. He has seen these cycles before.
"Maybe mistakes were made but I also think that in any generation you also have a weak period," De Boer tells Sky Sports. "We had the generation with Johan Cruyff. We had the generation with Marco van Basten. We had the generation with Patrick Kluivert. We had the generation with Arjen Robben, Rafael van der Vaart and Wesley Sneijder.
"Now we have been in a little bit of a situation where we have only had Robben really. He has been the only one to make a difference. So I think the problem has been 80 per cent down to a lack of quality. Now is the time where we have to be patient."
Looking back over the history of Dutch football, it is clear that they have endured these fallow periods in the past. When De Boer made his Ajax debut in 1988, Van Basten and the rest had just become European Champions, but they had missed out on the previous two World Cups. De Boer himself was part of the group that failed to qualify in 2002.
Perhaps feast or famine is just the way it has to be for a country of 17 million people but that has not stopped the calls for root-and-branch reform. The Dutch football federation commissioned a report called 'winners of tomorrow' while there has been a schism at De Boer's old club Ajax, where Cruyff's so-called velvet revolution divided club legends.
It is when discussing these subjects that De Boer opens up about the need to correct course. "We do have to look a little bit in the mirror ourselves," he acknowledges. "We need to think about whether we are just doing it the Dutch way or whether we have to adapt."
Your mind is still the fastest weapon. You can run and run but you must be smart.
Frank de Boer
De Boer's conclusion is that the philosophy that gave the world total football still works. They just need to return to that. "My brother is still involved with Ajax and he was a little bit concerned over the past few years about how they had been doing the scouting," he adds.
"It became more about strength and speed. Of course, that's important. But you have to be smart also. Your mind is still the fastest weapon. You can run and run but you must be smart.
"I think that's what you see with Pep Guardiola. Only smart players get on the pitch. David Silva is not physical but he is still one of the best players in the Premier League because he is a smart thinker. That is key. I think you have to have a good mixture and Ajax has always been more about the smart players and not really the robust players.
"That is why they have changed the scouting now. Hopefully, we will see people being able to recognise an Ajax player again because of their bravery to play out from the back. How Guardiola plays with that arrogance of playing out from the back, dominating from the back and with wingers high up. We can do that also."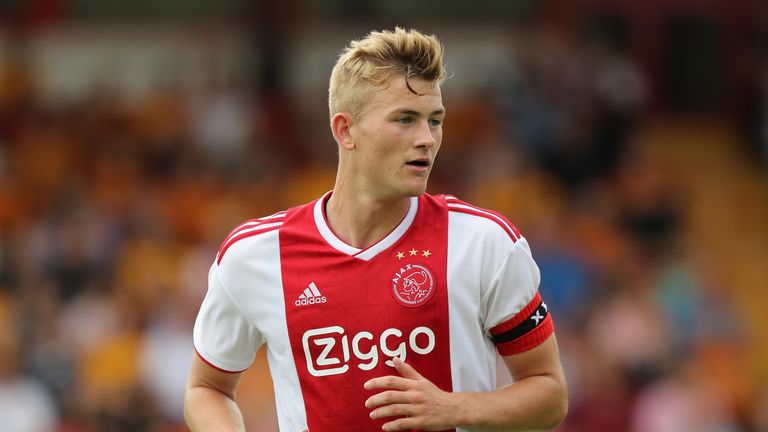 The reason for De Boer's confidence comes from the emerging generation of young Dutch players. This group was too young to prevent the recent decline but the overhaul has presented them with an opportunity and the early signs are that they will seize it.
"There is a new generation coming through at Ajax with Justin Kluivert, Donny van de Beek, Frenkie de Jong and Matthijs de Ligt," says De Boer. "There is also Ryan Gravenberch who is only 16 but they are already saying he is the new Patrick Vieira. PSV have some good players with Pablo Rosario and Steven Bergwijn. So there is a very good generation coming up."
As a former defender himself, De Boer is particularly enthused about the prospects of De Ligt, Ajax's 19-year-old vice-captain. "I particularly like his mentality," he says. "He is really professional and knows exactly what he wants." De Jong is an interesting talent too, although De Boer would like to see him playing further forwards in midfield.
Both youngsters have been linked with moves away and Kluivert has already left for Roma. Ajax are acutely aware that the Eredivisie cannot contain them for long. The announcement this week that the big three will share their Champions League revenue with the rest of the league was a clear acknowledgement of the need for greater competitiveness.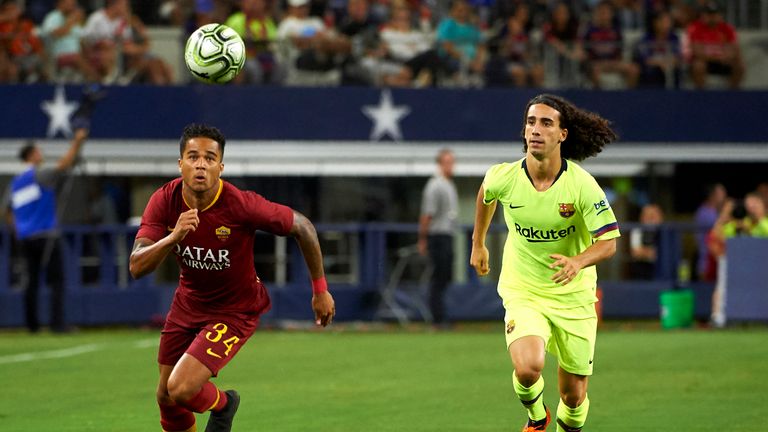 De Boer delivered four consecutive titles as Ajax head coach so he has seen the issues close up. "The smaller clubs can be a bit naïve and try to play football. Sometimes you feel they should park the bus and let Ajax try to solve the problem. It would help player development if they had to work a bit harder for it and we are starting to see that a bit more."
The one thing that is not a problem for this next generation of Dutch players is the pathway to first-team football. Given that this remains the chief concern for young English players, it is a little ironic that the worry among Eredivisie clubs is that opportunities come too easily.
"In Holland, there is a concern that young players are not really having to fight for it like they had to in the golden age," explains De Boer. "Having the right mentality is so important because coming through to the first team is not really a problem for these players.
"You see a lot of times that when a player comes through to the first team and gets the big contract, they do not take the second step because they think they have made it. The truth is that this is when it really starts. I always say that when I broke through to the first team that is when I learned the most. Of course, I had the basics, but I had so much to learn."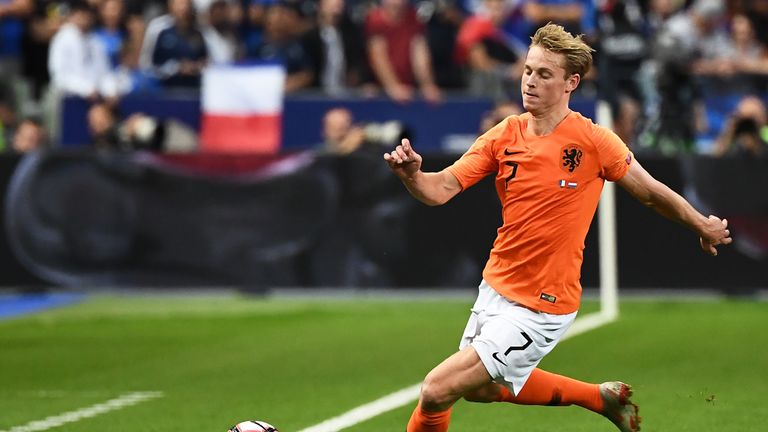 For De Ligt and De Jong, for Kluivert and eventually for young Gravenburch, the challenge will be to manage their career development in such a way that they maximise their talent. There is a feeling that Davy Klaassen may have left it too late in leaving Ajax at the age of 24, while others such as Donyell Malen, who moved to Arsenal at 16, jumped too soon.
"Malen is doing quite well now at PSV but he was an Ajax player," says De Boer. "He went to Arsenal but now he is back at PSV, so what happened there? He still says it was a good choice but it was not a good choice. You have to know that when you go there the standard is going to be a lot higher and at that age you have to be playing every week."
It remains to be seen whether this next crop can progress as many hope they will. But with half a dozen of the Netherlands squad to play against Germany on Saturday still aged 21 or younger, the chance is now there for them to do so at both club and international level.
"It is possible that we have a fantastic generation coming through in a couple of years," says De Boer. "The academies are still great and the talent is there. So I am convinced it is just a matter of time." For all the difficulties, the Dutch renaissance could soon be upon us.
Watch Netherlands v Germany live on Sky Sports Mix from 7.40pm on Saturday
If you're reading on skysports.com, comment below to get involved in the debate, but please adhere to our House Rules. If you wish to report any comment, simply click on the down arrow next to the offending comment and click 'Report'.