Holland boss Louis van Gaal explains move to axe Wesley Sneijder as captain
Louis van Gaal has stressed there is a role for Wesley Sneijder despite making Robin van Persie the new Holland captain.
By Gerrit van Leeuwen
Last Updated: 10/06/13 4:28pm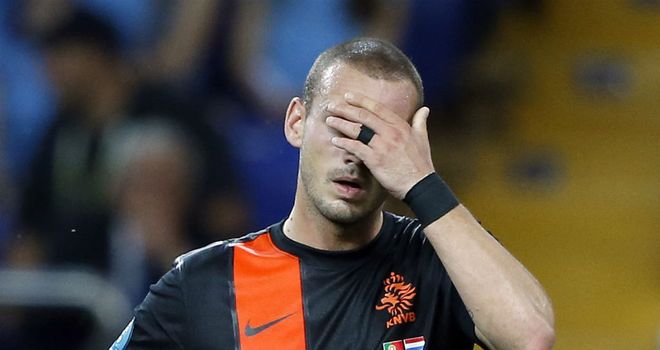 The Dutch boss has removed Sneijder as captain and Dirk Kuyt as vice-captain, replacing them with Van Persie and Arjen Robben, respectively.
The players in those roles can be guaranteed a call-up to the national team whenever available but that no longer applies for Sneijder and Kuyt.
"That's the rule I use for the captain and the vice-captain," Van Gaal told reporters. "But due to different circumstances that is no longer the deal for Sneijder and Kuyt.
"They have lost that privilege. The new captain is Robin van Persie and Arjen Robben will be it after him."
Asked whether this could spell the end for Sneijder, who nonetheless played in last week's 3-0 win over Indonesia, Van Gaal said: "I don't think so. But he had to put all of his energy for the foreseeable future into only one thing.
"If he can become fit again then he can battle with other players in the squad. And I expect that an in-form Sneijder will play.
"But he really has to work hard for that because even against Indonesia it was clear he is not fully fit to play a full game.
"With Kuyt it is just the opposite from Sneijder. He is super fit and plays all the time for his club but the main problem for Kuyt is that he has a lot of competition.
"I can see him as a striker but also in the role of pinch-hitter (to come off the bench and have an impact).
"In that role, players like Bas Dost could not convince me. I want a pinch-hitter in my World Cup squad and in that role Kuyt can possibly help me."
Of Van Gaal's decision to strip him of the captaincy, Sneijder told De Telegraaf: "It is a painful decision.
"Partly because I did not see it coming, but also because I have always tried with full dedication to fulfil the role of leader.
"It was a sledgehammer blow but I will have to accept it."