Italy's next generation: Daniele Rugani, Federico Chiesa and Patrick Cutrone feature
By Augusto De Bartolo
Last Updated: 27/03/18 8:12pm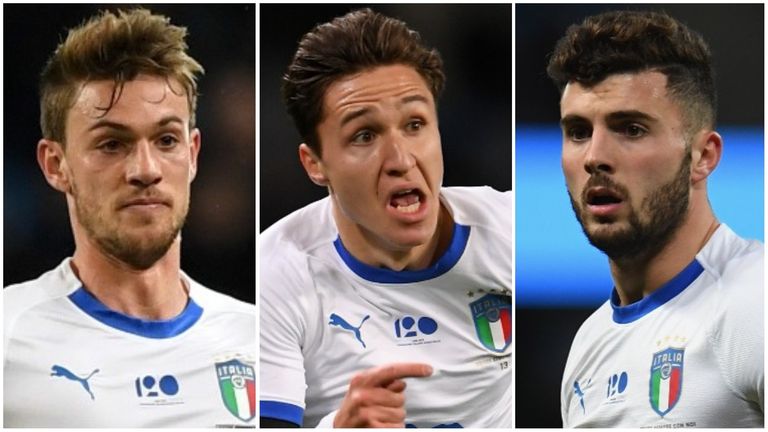 Having missed out on qualification for the World Cup for the first time since 1958, Italy are in a rebuilding phase.
While they are still without a new head coach - Luigi Di Biagio is likely to only be in temporary charge - they do have several bright prospects in the team.
Ahead of England v Italy on Tuesday, Sky's Augusto De Bartolo picks out some of the Azzurri's young stars of the future...
Gianluigi Donnarumma
One of the most highly-rated young goalkeepers in Europe, AC Milan's Gianluigi Donnarumma showed Arsenal fans his quality in the recent Europa League clash, even if his performance at the Emirates was not without mistakes. "Gigio" is the most talented goalkeeper that Italian football has seen after Gianluigi Buffon and is considered his successor.
Donnarumma made his first Serie A appearance at the age of 16 (Buffon made his debut at 17) and was considered by former AC Milan coach Sinisa Mihajlovic to be better than Diego Lopez and Christian Abbiati. From that date he has been the regular goalkeeper of the Rossoneri.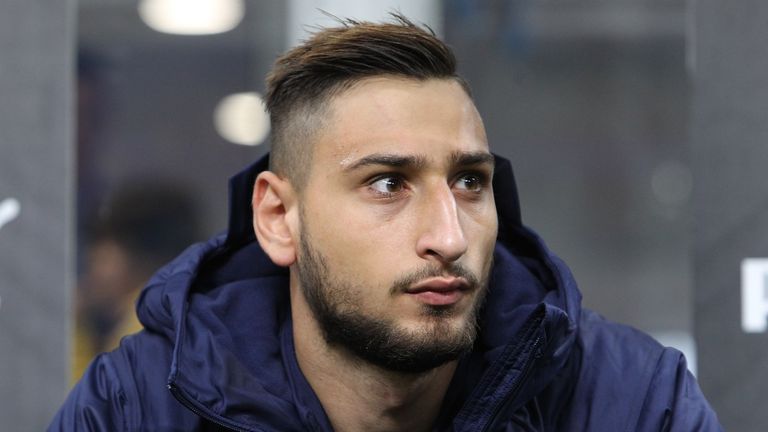 Donnarumma is deft in movement despite his height (196 cm), has very good reflexes and is skilful with both feet when playing out from the back. He is brave in coming out for high or low balls, and he has a good record of saving penalties.
How much long he stays at Milan remains to be seen. He is their most valued asset and last summer nearly joined Paris Saint-Germain, but decided to stay after renewing his contract. Real Madrid are interested in him along with Liverpool.
For next season Milan expect to have Pepe Reina of Napoli as their new goalkeeper (signed as a free agent), and even if this is not necessarily linked to Donnarumma, there have been reports that he could leave the club at the end of the season. He will certainly have many options.
Daniele Rugani
Italy need to rebuild an aging defence. Daniele Rugani represents the best alternative to the former Juventus BBC (Barzagli, Bonucci and Chiellini) and he is now playing regularly for the Serie A champions as Massimiliano Allegri prefers him to Medhi Benatia and Andrea Barzagli.
With the departure of Bonucci to AC Milan, Rugani has been given more opportunities. He is a product of the Empoli academy and played in the Empoli first team in Serie B, when the coach was Maurizio Sarri, who is now in charge at Napoli. A very skillful central defender who has great ability playing out from the back, Rugani also has a developed tactical sense and good positional awareness. However, he still needs to improve on one-on-ones.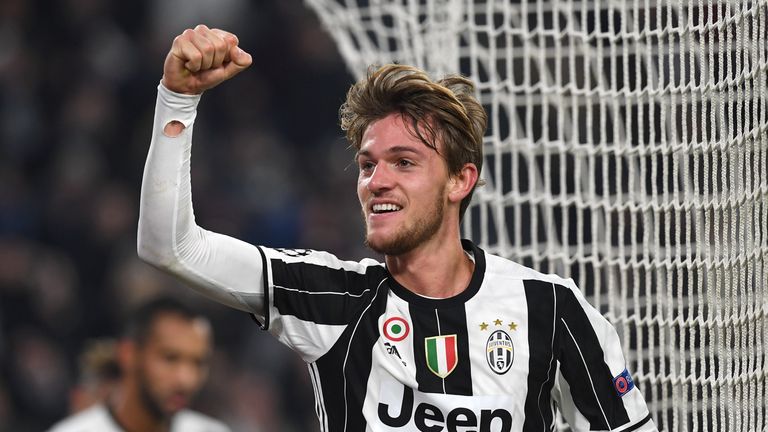 With Juventus still in the Champions League this season, he should continue to improve as he duels against more top European players. His next battle in the competition will be against Real Madrid's Cristiano Ronaldo.
Patrick Cutrone
Patrick Cutrone has been the biggest surprise of Italian football this season. A product of the AC Milan academy, he was called up to the first team for friendly matches in the USA last summer. Vincenzo Montella was the first to give him a chance to demonstrate his skills and he has shown that he has an eye for goal.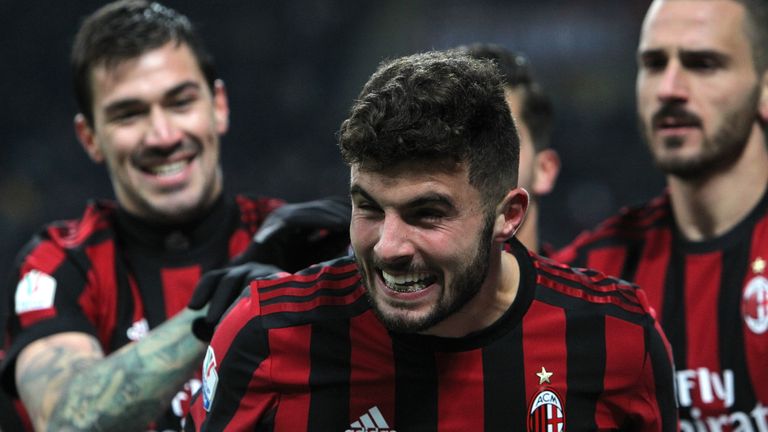 While he has been likened to Filippo Inzaghi due to his desire to score, technically he might be better. He has a good shot from distance, can hold the ball up well and also carry it and cause problems for the defence. This season has been a fantastic one for the 20-year-old as he has scored 15 goals in 38 games in all competitions.
Lorenzo Pellegrini
Marco Verratti is a rising star for Italy, with the PSG midfielder similar to Andrea Pirlo with his technical skills. However, alongside Verratti the team needs someone who is more dynamic and efficient without the ball.
Lorenzo Pellegrini represents the ideal partner. Pellegrini is a product of Roma's academy and returned to the club in 2017 after two positive years at Sassuolo. Eusebio Di Francesco, former coach of Sassuolo and now at Roma, has given him a lot of opportunities this season even among a talented midfield including Kevin Strootmam, Daniele De Rossi, Maxime Gonalons and Radja Nainggolan.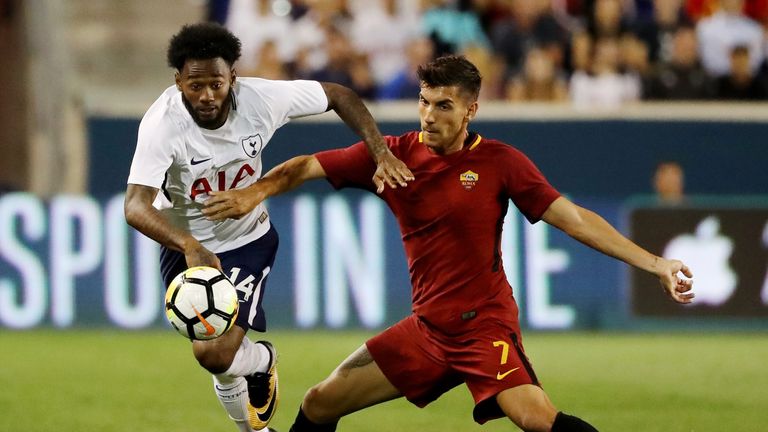 Pellegrini has great physical skills. His main abilities are his timing during attacks, his overall view of the game and his shooting from distance. He is often involved in Roma's best moves. Like Rugani he can improve through the presence of Roma in the Champions League and should go on to make the next step.
Federico Chiesa
Italy have had good wingers in the past and Federico Chiesa could be the latest. His father was Enrico Chiesa, former striker of Sampdoria, Lazio and Fiorentina, and Federico is the third player in Italian football, after Sandro Mazzola and Paolo Maldini, to follow in his father's footsteps and play for the national team.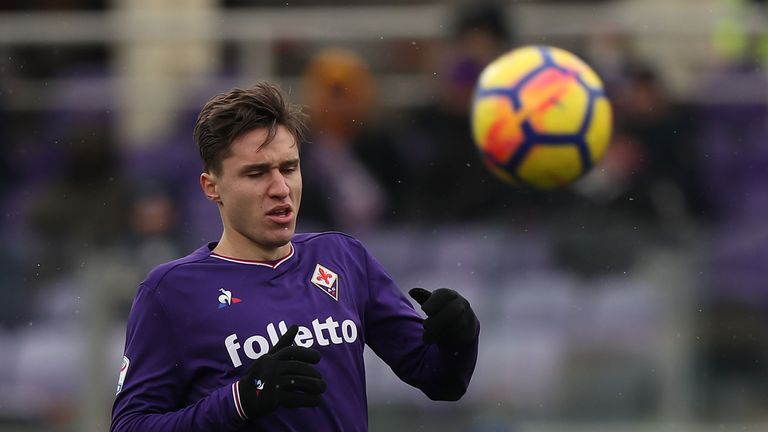 Now in his second season with Fiorentina, Federico's main skills are his speed and the ability to quickly get shots off. He has excellent technical skills and a desire to improve, although he needs to add more goals to his game. He is a different style of winger to Lorenzo Insigne as he prefers to attack down the flank and not cut across. He also likes to beat opponents with his speed.