Why Jorginho can help to change Chelsea's style under Maurizio Sarri
Last Updated: 16/07/18 1:52pm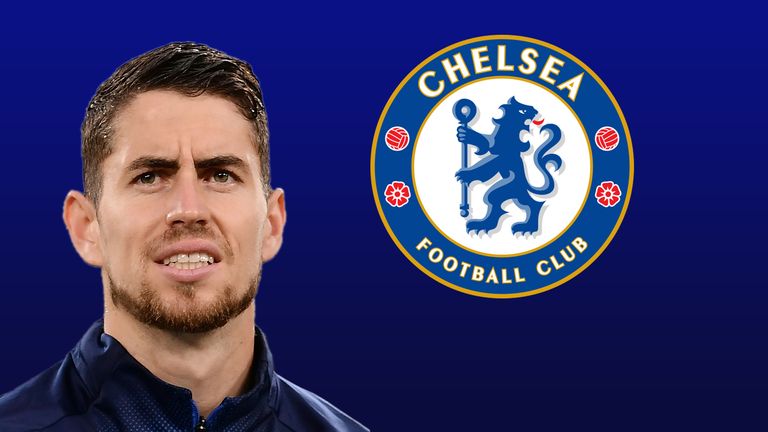 Following Chelsea's £57m signing Jorginho, Adam Bate gets the thoughts of the midfielder's former coaches to find out what makes him so special and why he can transform the team's style of play under Maurizio Sarri.
The appointment of Maurizio Sarri comes with hope that the Italian can introduce a more attractive style of play at Chelsea. But the new coach will need believers if he is to convince people of his methods. In the acquisition of Jorginho, he already has one. Sarri will be bringing with him the playmaker who helped to make his Napoli side so thrilling to watch.
Jorginho is the one who set the tempo. He made more passes than any other player in the top five leagues in Europe last season, also breaking Andrea Pirlo's Serie A record for most touches of the ball in a single game - 218 - under Sarri back in 2015. "He is a great teacher and I admire his philosophy of the game a lot," says Jorginho of his manager.
The list of admirers is impressive in itself. The great Giovanni Trapattoni has spoken of Jorginho's "brilliant feet" and described him as "very smart" on the pitch. Radja Nainggolan spoke for opponents everywhere when he called him almost impossible to mark. "He distributes the ball very quickly and you get tired of running after it," said the Inter player.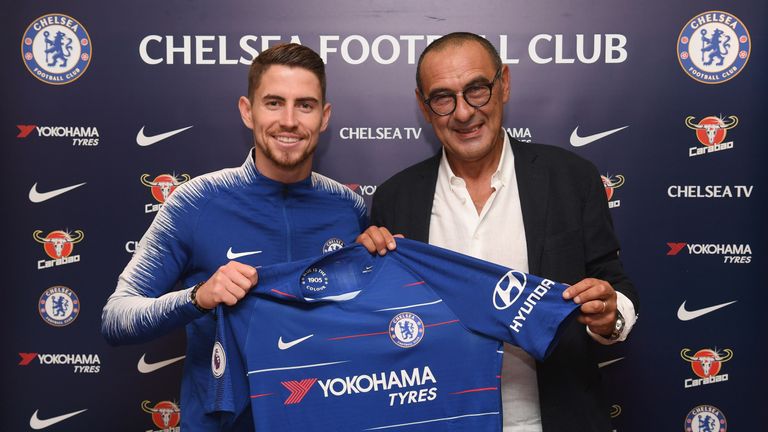 The move to England should hold few fears for a player who arrived in Italy from Brazil at the age of 15 when he signed for Hellas Verona. It was on loan at fourth-tier Sambonifacese that he made his senior debut in 2010. Their head coach at the time, Claudio Valigi, recalls that even back then, as a teenager, Jorginho had the character to take control of a game.
"He was only 19 but he showed immediately that he had incredible potential," Valigi tells Sky Sports. "He had great personality and that is something that you can see straight away as a coach. It is not everything but it is the basis. He was a very gracious boy when I knew him and I am really pleased with the progress that he has made."
Upon his return from that loan spell, Jorginho broke through into Verona's first team, winning promotion to Serie A in his second season. Roberto Bordin, assistant manager throughout the player's time with the club, came to see him as the "complete midfielder" and someone who is "always curious to learn new things" about the game and his role in it.
"Obviously I have a lot of great memories of Jorginho," Bordin tells Sky Sports. "He is a very humble guy who grew up a lot during his years at Hellas Verona, working every day to achieve his goals. The reason that he improved a lot was because at the end of every single training session he would ask me for exercises specific to his role as a central midfielder."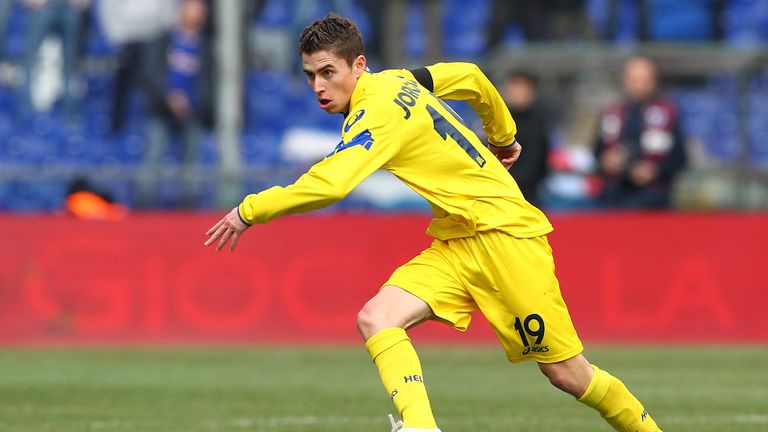 That level of dedication has, in the view of Bordin, helped him to become that complete player. "He is a modern central midfielder who contributes in every phase of the game, attack and defence," he adds. "He has a great technique and is equipped with great individual skills. Jorginho is a great professional and a hard-working player."
It was at Napoli that he would eventually emerge as one of the game's most accomplished midfielders, helped by the fact that Sarri was committed to a style of football that suited his talents. Using his great passing range he would drop in between the centre-backs and act as the pivot in midfield. Teams knew he was the one to stop but doing it was another matter.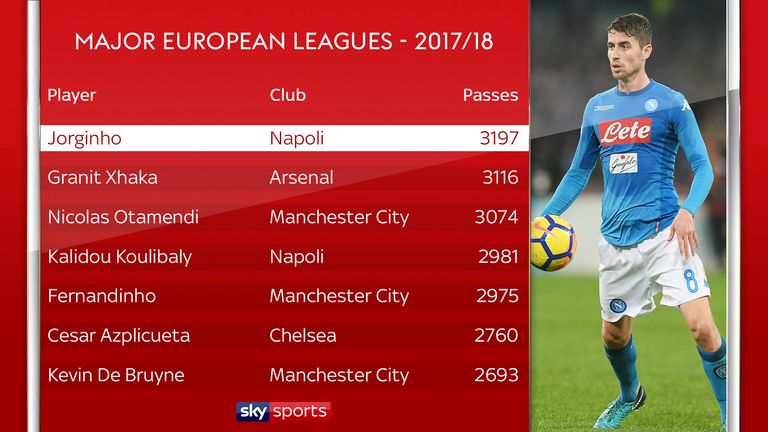 "His growth is incredible," said Andrea Mandorlini, his coach at Verona. "It is facilitated by the fact that Napoli are a team that play very short." It was a pointed remark because Jorginho was unable to have the same influence when Napoli played a more direct game. Indeed, it was an issue for him during his first season at the club under Rafa Benitez.
His agent Joao Santos later admitted that if Benitez had stayed then it would probably been the end of Jorginho's time in Naples. Jorginho could not develop a rapport with the Spaniard - something Chelsea fans will surely empathise with. "We changed our principles," said Jorginho himself. "We started looking for the throws and the second balls. I suffered."
Sarri soon amended that and Jorginho emerged as Napoli's most important player. That approach will not change upon their arrival at Stamford Bridge so the hope will be that Jorginho can transfer what Santos calls his "very precise style" to the Premier League. Sarri built his Napoli team around him. Will he be able to do the same at Chelsea?
Valigi has seen Jorginho adapt before. He was there when he arrived alone in San Bonifacio just hoping to forge a career for himself. "He matured a lot that year." He was following his progress too when the big move to Napoli came about. "An important step in such an important city." But perhaps the biggest step comes now. A new country. A new team.
"Well, this is the big question," adds Valigi. "It will be interesting to see whether Jorginho can maintain his philosophy of football elsewhere, but I think it will be made easier by the fact that the coach wants to pass the ball and he knows very well the dynamics of his game. He will understand the message and know what the coach wants."
Jorginho will be the one whose presence in midfield encourages Chelsea to adjust to Sarri's philosophy, prompting the fast-paced passing game through the lines that has so captured the imagination. And although results will determine whether Sarri's appointment is deemed a success, make no mistake, those results could well hinge on Jorginho.