Luis Enrique's Spain: What can we expect from the new era?
Spain face England live on Sky Sports on Saturday night
By Nick Wright with Pep Clotet
Last Updated: 07/09/18 12:02pm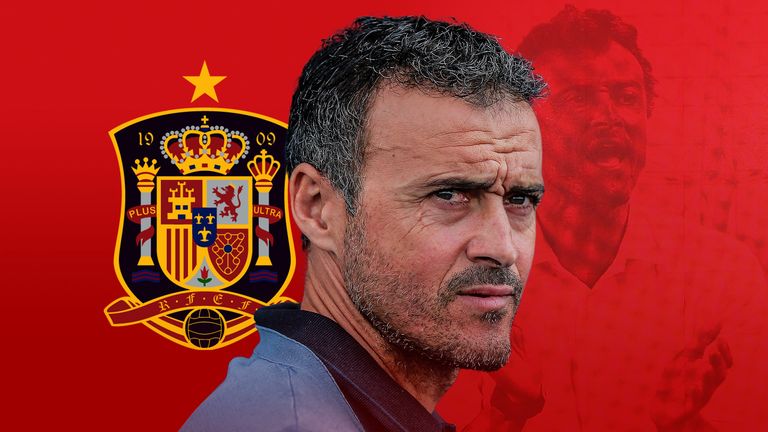 Spain play their first match since the World Cup when they take on England in the Nations League live on Sky Sports on Saturday, but what can we expect for Luis Enrique's new era?
The former Barcelona manager was appointed on a two-year contract in July following Julen Lopetegui's acrimonious sacking before the World Cup.
Spain went on to endure a poor tournament in Russia, only winning one group game before being knocked out on penalties by the hosts.
With Luis Enrique now aiming to take them back to the top, we asked Spanish coach Pep Clotet, currently assistant manager to Garry Monk at Birmingham City, what to expect from his new-look side.
Pragmatism and pressing
Luis Enrique promised "evolution and not revolution" at his unveiling back in July, insisting he will continue with Spain's traditional passing approach, but there are likely to be some stylistic adjustments. According to Clotet, the new head coach won't hesitate to put his stamp on the team.
"What happened in the summer was a shock but sometimes you need that to think 'okay, we need to start something new'," Clotet tells Sky Sports. "Luis Enrique is a coach who is known to be very strict in his demands and very focused on what he wants from his team. He's not afraid of taking big decisions. He showed that by leaving Jordi Alba out of his squad.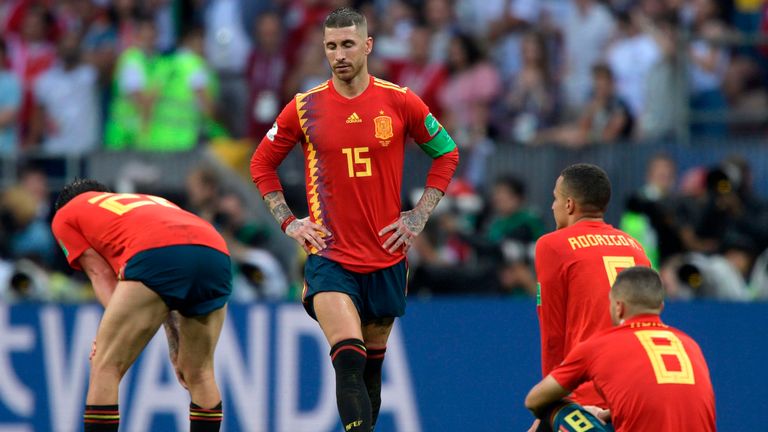 "He's pushing Spain into a new chapter and a completely new project. He likes his teams to be very dynamic, with good balance between the offensive and defensive game. I expect him to keep the passing style, with lots of playing through the lines, but like at Barcelona, I think he will be a little bit more pragmatic when it comes to his tactics."
That pragmatism would be a welcome change if the World Cup is anything to go by. In their last-16 meeting with Russia, Spain had 79 per cent possession over the course of 120 minutes but still struggled to create clear chances. Luis Enrique, who often favoured a more direct approach at Barcelona, could be the man to make them more potent.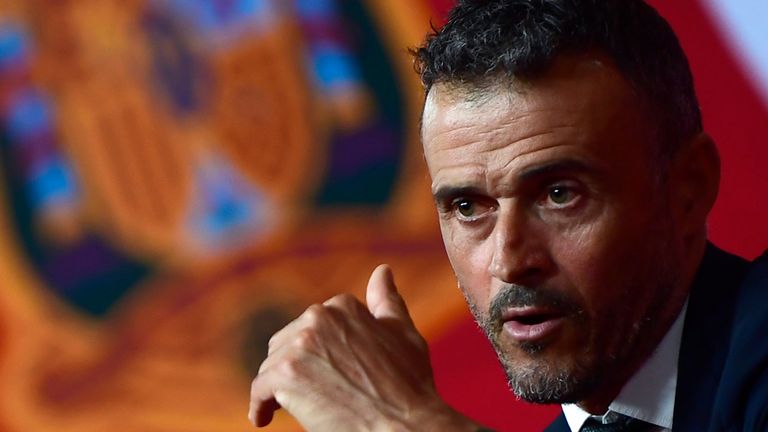 Our style will remain the same, looking to dictate games, but we need to put our own little touches to it.
Luis Enrique
He is also likely to increase their intensity without the ball, according to Clotet. "I think their game will be based on pace and pressing," he says. "Like at Barcelona, I think he will put a lot of focus on recovering possession as high as possible on the pitch.
"Luis Enrique is a very complete coach, and I think there will also be more of an emphasis on set pieces. Spain will be effective playing through the lines, but set pieces will give them an extra weapon."
Focus on youth
One of the biggest questions facing Spain right now is how, exactly, they replace Gerard Pique, Andres Iniesta and David Silva following their international retirements.
"What you have to remember is that Luis Enrique is not losing those key players, because for him it's a new project starting now," says Clotet. "He knew he was not going to have them so he has been able to design his team with that in mind.
Pep Clotet is assistant manager at Birmingham City and previously coached at Espanyol, Malaga, Swansea and Leeds. He was also head coach at Oxford.
"The truth is those players are not really replaceable. Their talents are unique to them, there aren't many players like that, so I think the challenge for Luis Enrique is to create more of a collective - and make that collective play in a way that ensures they can cope without those big players.
"It's a case of adapting to the characteristics of the players he has and it's also a fantastic opportunity for younger players to come into the team."
Luis Enrique has already said he plans to place youth at the heart of the new era, and he made those intentions clear by including three uncapped players - Real Betis goalkeeper Pau Lopez, Real Madrid midfielder Dani Ceballos and Valencia left-back Jose Gaya - in his first squad.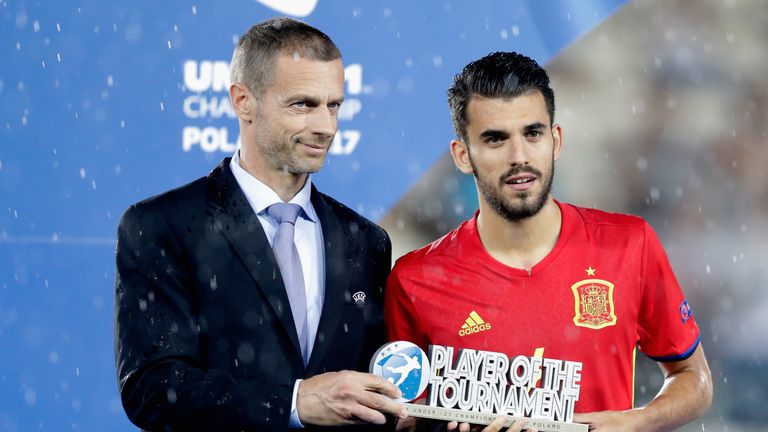 Clotet, who coached in Espanyol's reserves while Luis Enrique was in charge of the Barcelona B team a decade ago, believes the 48-year-old is the perfect man to blood the next generation of Spanish talent.
"I really like the appointment of Luis Enrique for that reason," he says. "He has not only managed Barcelona, Roma and Celta Vigo, he has also managed Barcelona's reserve team and worked with their youth teams, so in that sense he has a development mentality.
"He brought through young players when he was in charge of the first-team at Barcelona and he also developed as a young player himself with the national team, so I think he's a good link between the top level of competition and the use of young players.
"I think it's a similar situation to what happened with the Spanish national team under Luis Aragones in around 2006. He brought through a new generation of young players and of course, many of those players went on to win the European Championship in 2008 and the World Cup in 2010. Luis Enrique will now hope to do the same thing."
A psychological edge?
Luis Enrique is also making plans to give Spain a psychological edge, according to Clotet.
That's because of the inclusion of a psychologist named Joaquin Valdes on his coaching staff. Valdes, a former judo expert, has worked with Luis Enrique since his days in charge of Barcelona B. He is one of Luis Enrique's most valued confidants and he works closely with the players, too.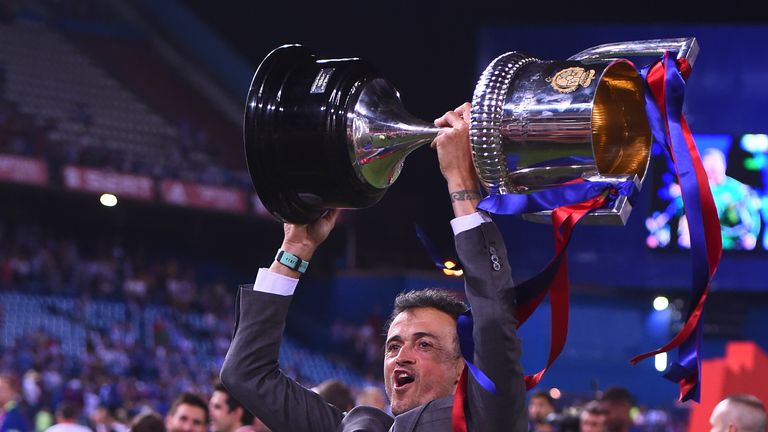 "I think he was one of the first managers to bring a psychologist into his full, first-team coaching staff," says Clotet. "He is there not only to work on the psychological aspects, but also on the tactical side of things. He finds ways to make Luis Enrique's demands clear to the players, and how to make them understand what they have to do as a collective."
After the disappointment of the World Cup and with a number of key players no longer present in the dressing room, Luis Enrique will look to Valdes to help foster a strong team spirit and a winning mentality.
If you're reading on skysports.com comment below to get involved in the debate, but please adhere to our House Rules. If you wish to report any comment, simply click on the down arrow next to the offending comment and click 'Report'.
Watch the Nations League live on Sky and get two football channels for one great price. Get Sky Sports Premier League and Sky Sports Football in HD - now £18 a month.