Arsenal's Premier League title hopes were all but ended as they threw away a two-goal lead in their 3-3 draw with West Ham. The crazy encounter summed up their disappointing season, writes Nick Wright…
The early promise, the collapse, the false hope. Arsenal exhibited the three stages of their Premier League season in just 90 minutes at Upton Park, where Andy Carroll's quick-fire hat-trick turned their two-goal lead into a one-goal deficit before Laurent Koscielny's equaliser offered a glimmer of expectation in the final stages.
Ultimately, of course, they didn't do enough to claim the victory they needed, and while the draw puts them one point closer to Tottenham and Leicester, it surely won't be enough to sustain their title challenge. The Foxes can extend their lead over Arsenal to 13 points against Sunderland on Sunday, leaving Wenger and his players to rue another costly implosion.
It could so easily have been a different story. Arsenal's first two goals showcased the speed, movement and precision that has typified their recent resurgence, and, as in the victories over Everton and Watford, the thrilling newcomer Alex Iwobi was at the heart of it.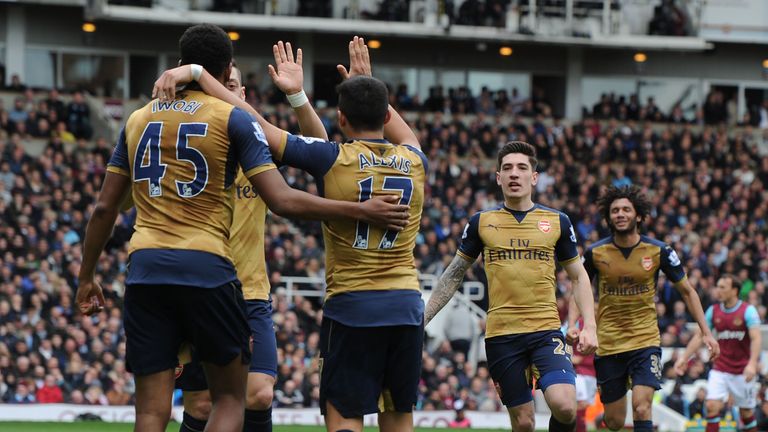 The teenager's emergence has provided a welcome boost for the under-fire Arsene Wenger over the last few weeks, and his eye-catching form continued with two assists against the Hammers. He was alert to capitalise on indecision in the hosts' ranks and release Mesut Ozil for the opener, and 17 minutes later he lifted another clever pass into the path of Alexis Sanchez for the second.
Iwobi wasn't the only Arsenal player to impress in those early stages. Danny Welbeck ran the channels effectively while Francis Coquelin and Mohamed Elneny controlled the midfield, and the 13-pass build up to Sanchez's goal showed a level of cohesion that has been lacking for so much of the campaign.
The visitors were in complete control at 2-0 up and the crackling atmosphere inside Upton Park had been reduced to hushed silence. But while the home fans were bracing themselves for a punishing afternoon, the Gunners' bewildering tendency to self-destruct was about to rear its ugly head again.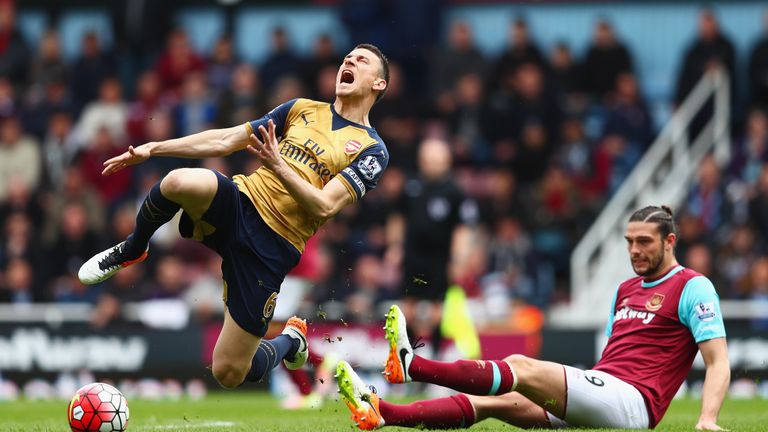 Aaron Cresswell had been a threat right from the start of the game on West Ham's left, which made Arsenal's failure to close him down for their first goal all the more difficult to fathom. The marauding wing-back was afforded time and space to deliver his cross, and Carroll's thumping header flew past David Ospina - who was surprisingly selected ahead of the fit-again Petr Cech.
Lack of focus?
The Gunners have conceded 12 goals in the 15 minutes leading up to half time this season - more than any other team in the Premier League.
The Gunners almost mustered an immediate response when Nacho Monreal's diagonal effort was saved by Adrian, but moments later the capitulation continued. Their defence was woefully disorganised when Mark Noble lifted a cross back into the box following a corner, and Carroll was given the freedom to shoot not once but twice, with his second effort cannoning into the net via a deflection.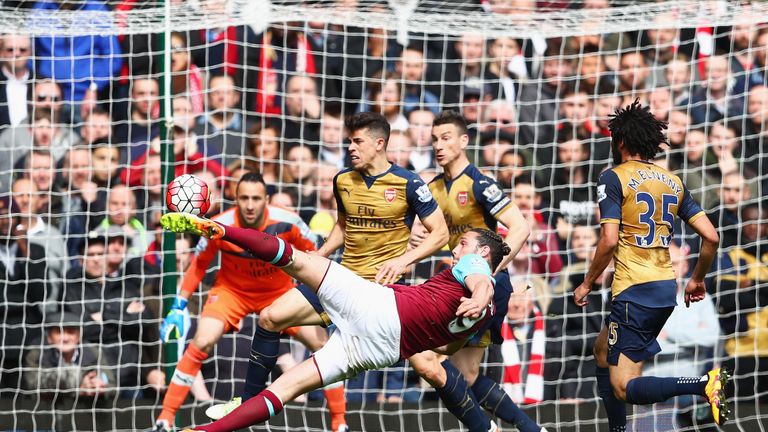 From 2-0 to 2-2 in 160 seconds. This was Arsenal at their soft-centred worst. They could hardly have been more comfortable after Sanchez struck their stylish second goal, but where they needed steel there was vulnerability, and their malaise deepened in predictable style after the break.
Letting it slip
Only Liverpool (17) and Palace (15) have dropped more points from winning positions than Arsenal (14) this season.
Arsenal simply couldn't handle Carroll's physicality, and the panic he caused in their defence was typified when he forced Koscielny and Ospina into a mix-up in their own box in the 50th minute. The 27-year-old was penalised before Dimitri Payet tapped into Arsenal's empty net, but West Ham didn't have to wait long for their third.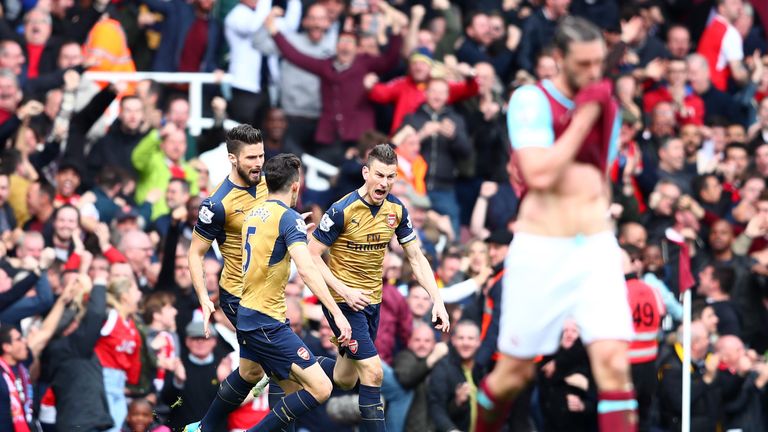 This time it was Michel Antonio who was allowed to cross, with Carroll rising above Hector Bellerin to power home another header. Wenger insisted Ospina wasn't to blame for any of the goals after the game, but it was strange to see the Colombian positioned behind the goal line as Carroll's third flew into the net.
Would Cech not have brought a level of order to proceedings? And would it not have helped to have a more commanding presence to cope with West Ham's aerial approach? Wenger's decision prompted plenty of head-scratching before kick-off, and he will surely look back on it as an unnecessary gamble.
In the end the Frenchman threw on Aaron Ramsey, Olivier Giroud and Theo Walcott in a desperate bid to turn the game back in Arsenal's favour, but rather like for their title challenge, the damage had already been done. Koscielny's equaliser was too little, too late, and they only have themselves to blame.