Philippe Coutinho became the second-most expensive player in history with his move to Barcelona, but it was a stint at rivals Espanyol that set him on his path to the top. Ahead of Sunday's derby, Nick Wright finds out how six months under Mauricio Pochettino helped to shape him.
When he set foot in the Nou Camp for the first time, Philippe Coutinho had a premonition. It was May 2012 and the curly-haired teenager from Rio de Janeiro was there with Espanyol for Pep Guardiola's final home game in charge of Barcelona. Lionel Messi marked the occasion with four goals, but down on the away team's bench, Coutinho was already plotting his future.
"I still remember what he told me that day," Cristian Gomez, Coutinho's old room-mate at Espanyol, tells Sky Sports. "He said that someday he knew he was going to play for Barcelona. It surprised me, of course, but the truth is that if anyone from that team was going to make it to a club like Barcelona or Real Madrid, it was him. I was sure of that."


Six years on, and it was fitting that Coutinho's long-awaited Barcelona debut should come in the same fixture. Gomez was no longer there, Guardiola neither, but Messi was. Only this time he was on Coutinho's side. The 2-0 win put Barcelona into the Copa del Rey semi-finals at Espanyol's expense. This weekend, Coutinho meets his old side again in La Liga.
His move from Liverpool to Barcelona was one of the most talked-about transfers ever, but how Coutinho ended up on loan at Espanyol from Inter Milan is a different story. "It started with Pierluigi Casiraghi, the former striker and famous Inter Milan scout who knew Espanyol's director football, Ramon Planes," says Sky Sports' Spanish football expert Guillem Balague.
Casiraghi signed Coutinho for Inter as a 16-year-old in 2008 having watched his performances in awe in Brazil. "He was in the same team as Neymar, but he was the star," he later recalled. Coutinho spent his first two years as an Inter player on loan back at boyhood club Vasco de Gama. Then, 18 months after moving to Italy in 2010, it became clear he needed another spell away.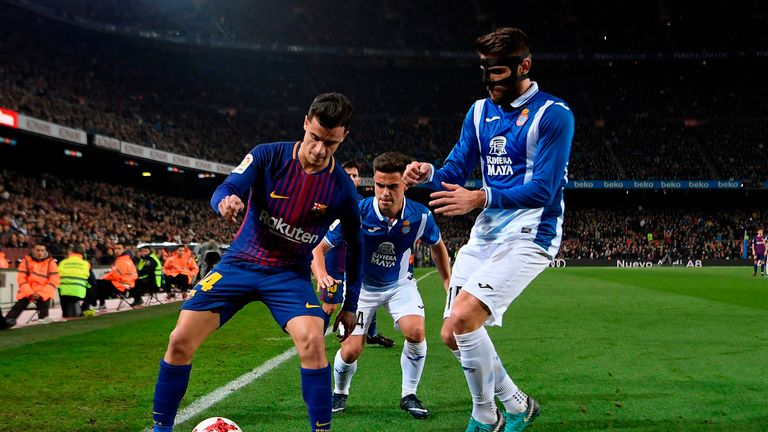 "Inter had had something like five different coaches in three years and Coutinho wasn't playing," says Balague. "So that November, Casiraghi rang Planes and asked if Espanyol wanted him on loan. There were offers from eight other Italian teams but Coutinho decided to go to Spain."
Espanyol's results dipped that season after a promising start, but under a bright young manager named Mauricio Pochettino, Coutinho shone, scoring five goals in 16 appearances. "He was placed on the left and given the No 23 shirt of club legend Raul Tamudo," says Balague. "The idea was to fight for Europe, but in the end they needed Coutinho's goals to keep them up."
Espanyol striker Alvaro Vazquez was one of the players to welcome him into the fold. "I had actually played against him with Spain at the 2011 U20 World Cup in Colombia, where Brazil beat us in the final," he tells Sky Sports. "I had an idea of how good he was in that tournament, so when he came to Espanyol it was a surprise to me.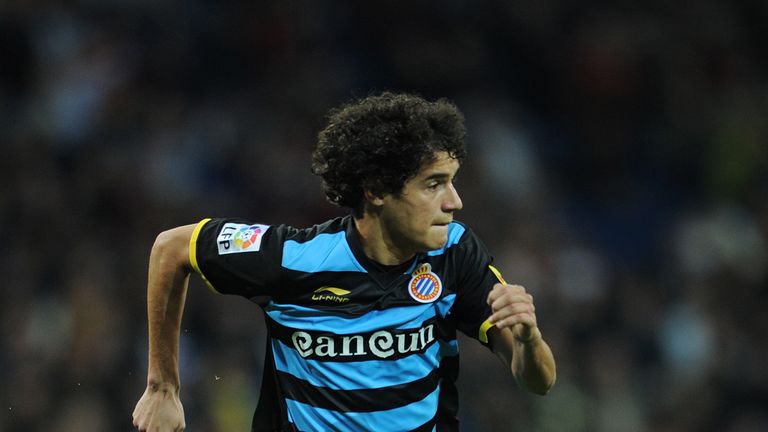 "He was a quiet lad, very humble, but on the pitch he was... diferente. He was a player with a lot of quality. He was very technical and very skilful with the ball. Basically, he was the kind of player who could make a difference. As a striker, he made things easy for you."
Gomez was similarly impressed. "He was very shy but that disappeared as soon as he stepped on the pitch," he says. "He did things that I hadn't seen anyone do before. On his first day of training we played a game against the youth team. As soon as he got the ball, he dribbled past three players and scored. We all looked at each other and thought, pfff, this guy is going to help us a lot."
Coutinho had shared a dressing room with Javier Zanetti, Dejan Stankovic, Lucio and Wesley Sneijder at Inter, but he settled far better in his new surroundings. "He was lucky enough to go into the youngest squad in Spain," says Balague. "There were nine players under the age of 21, so even though he was shy, there was a bunch of guys to look after him."


Vazquez and Gomez were among them. "He fitted in well," says Vazquez. "He became a very good team-mate for a lot of us, especially the young players. We did activities away from football and saw each other in the afternoons. He loved the city a lot and so did his girlfriend."
Coutinho's best moments on the pitch included a brilliant individual goal against Rayo Vallecano - the first scored by any Espanyol player in the minute of Dani Jarque's tragic death three years earlier - and a clever free-kick under the wall against Malaga - a trick he repeated for Liverpool against Brighton this season - but there were difficulties to overcome too.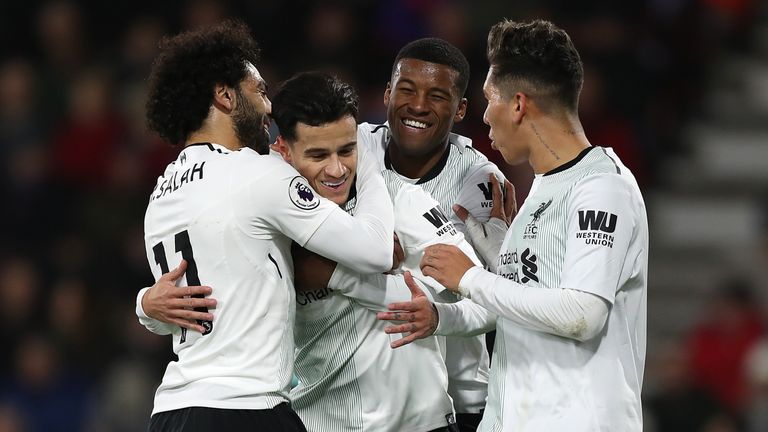 "He arrived right at the end of January and without much training went straight into the team to play Marcelo Bielsa's Athletic Bilbao at San Mames," says Balague. "It was a very hard game and he had to leave the pitch because of cramp. You could see that physically he was not at the level of everybody else."
Producing the kind of off-the-ball intensity Pochettino demanded from his players was a challenge for Coutinho and so too was adapting to the adversity of life outside the elite. "We were a team who had to fight to stay in mid-table," says Gomez. "He found out about the other side of football to playing for a big club, where the games are hard and you have to work.
"I think what he learned was the importance of fighting. We were a team that always tried to play good football, but out of possession we had to exert ourselves, apply pressure and track back. I think those six months helped him grow in that respect. Without that experience, I don't think he could have become the player he is now."
It certainly served him well at Liverpool, where Jurgen Klopp pushes his players just as hard as Pochettino, and it will be similarly important under Ernesto Valverde at Barcelona. Coutinho's work-rate, an area of weakness when he arrived at Espanyol, has now become one of his defining qualities.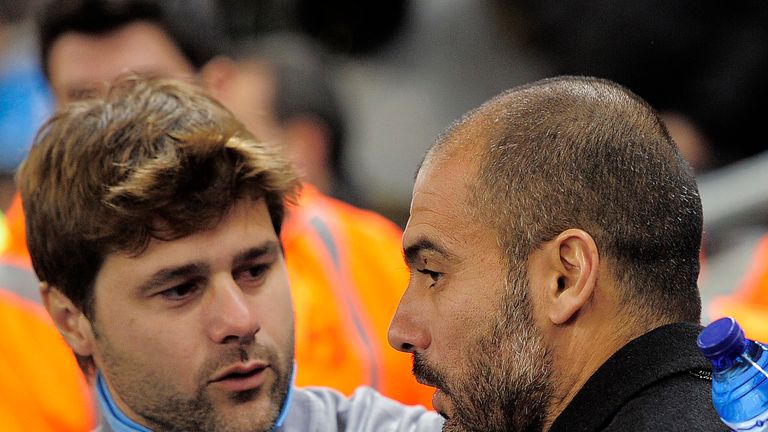 "I think he came to us at a crucial moment for him," says Vazquez. "He wasn't getting minutes at Inter, but coming to Espanyol launched his career. He adapted well to the football we played - especially the technical side of it. It suited him and it allowed him to develop as a player."
The game at the Nou Camp in 2012, when Coutinho made his pledge to Gomez that he would one day become a Barcelona player, proved to be one of the last of his first spell in the city.
Espanyol were unable to buy him, but by the time he returned to Inter, another suitor was emerging. "By the end of the season, there was always a Liverpool scout watching Espanyol's games," says Balague.
Coutinho made his £8.5m move to Anfield in January 2013. Five years after that, his premonition was finally realised.
"I watched his Barcelona debut on television and even in 30 minutes you could see that he'll fit in," says Gomez. "We knew what he was capable of at Espanyol," adds Vazquez. "We knew that he belonged at that level."
Watch Espanyol v Barcelona live on Sky Sports Football HD from 3.10pm on Sunday