Harry Kane's array of shots that culminated in the winner at Crystal Palace underlined why the Tottenham striker is the top scorer in the Premier League, writes Adam Bate.
"You can't give me two tries." That was Harry Kane's verdict on his equaliser at Liverpool recently. Crystal Palace gave him six and it was with the last of those attempts that he scored the winner to earn Tottenham their 1-0 victory at Selhurst Park. In doing so, Kane was able to move clear of Mohamed Salah again as the Premier League's top scorer.
For much of the game, the possibility had lingered that the England striker would draw a blank. Kane squandered a clear-cut opportunity in the first half before being denied a penalty from a narrow offside call. He spurned another good opening on his left foot after the interval when it seemed more straightforward to stroke the ball home.
Former Spurs striker Gary Lineker noted on social media after the last of those misses that it proved "Kane is human" and there is no doubt it was surprising to see him fail to find the target. But this itself is to miss the point about what makes Kane so effective. It is not that he is deadlier than the rest, it is that he engineers far more of these moments than others.
Kane has now had 156 shots in the Premier League so far this season. That is 48 more than his closest rival, while the third man on the list has only 88 shots. That the two players who are closest - if that is the appropriate word in this instance - are Salah and Sergio Aguero serves to underline the fact that the link between shot volume and goals is clear.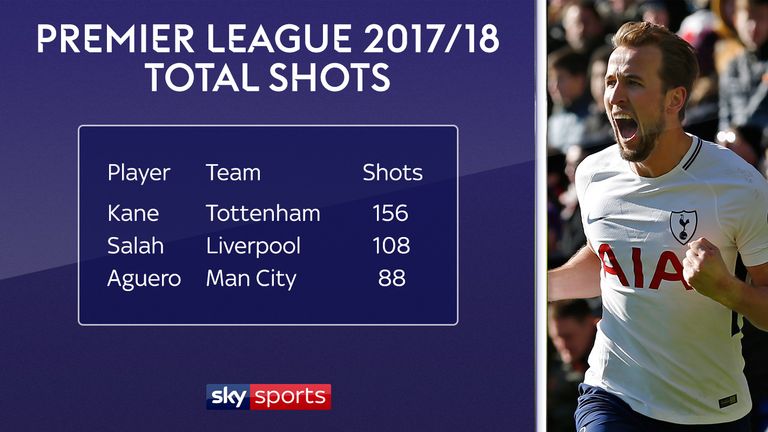 Against Crystal Palace, there was the right-footed shot that was saved well by Wayne Hennessey and the left-footed one that Kane somehow diverted wide. But there was also the wild effort from distance and the shot dragged just off target. Kane's tally of six shots was slightly above his average but, in fact, so was his conversion rate in this game.
The 24-year-old striker is currently scoring with 15.4 per cent of his Premier League shots this season. That is not quite a goal every six shots and is actually the lowest conversion rate of all players with more than eight Premier League goals so far this season. In other words, it is not Kane's finishing that marks him out as special but his shot volume.


Kane is aware that some of these statistics could be perceived as negative if misinterpreted. Are Tottenham foregoing better opportunities because of his tendency to shoot? So far this season he has had 55 shots from outside the box, scoring three goals, and that number includes an effort at Palace where he might have slipped Erik Lamela through instead.
But it was noticeable that there was no apology from Kane. He sees it as his job to shoot and Mauricio Pochettino encourages that. "People always talk about me shooting a lot and having a higher shot rate," Kane told Sky Sports earlier this season. "But I do what I think is right on the pitch at the time, and if there's a better ball or situation that I see I will pass."
The best option for Kane is usually to play uninhibited in the knowledge that him shooting makes sense for Tottenham. He has spoken in the past of how he had been inspired as a youngster by former Spurs team-mate Jermain Defoe's belief that if one chance was missed then it only made him more likely to score from the next such opportunity.
While that suggests a questionable understanding of probability, it is also indicative of a strong mentality to succeed. Kane will not be deterred. And as long as he continues to get into the positions where he can fire off his shots, expect his goals to keep coming and for him to keep making the difference for this Tottenham team.