Why Raheem Sterling deserves to be the FWA Footballer of the Year
Last Updated: 29/04/19 11:36am
Adam Bate explains why he voted for Manchester City's Raheem Sterling to be the Football Writers' Association Footballer of the Year.
Virgil van Dijk has been imperious and Sergio Aguero has so often been decisive. But the FWA award goes to the individual who, by precept and example, has been the footballer of the year. On that criteria, there is one outstanding candidate. His name is Raheem Sterling.
The 24-year-old England international has contributed goals and assists to Manchester City's quadruple bid but his season has been about so much more. This was the year in which Sterling transcended his sport by reminding everyone that it is more than a sport.
It would be quite wrong to call this a redemption tale because to do so would be to imply that there was any wrongdoing on Sterling's part in the first place. He was the victim of vociferous criticism and a media culture only too eager to feed the beast. Sterling's response - on the field and off it - should humble his antagonists and inspire his growing number of admirers.
He came into the campaign as perhaps the only man without a World Cup halo over his head after England's efforts in Russia. Gareth Southgate became a national treasure. Many others had their status elevated. But many among the public and press - too many - appeared reluctant to praise Sterling. He was routinely criticised even as the side succeeded.
"The actual treatment at half-time across social media was absolutely disgusting and is not representative of the performance he put in," said Gary Neville during England's 2-0 quarter-final win over Sweden, but, for the most part, those words fell on deaf ears.
One popular player ratings tool told the tale. Sterling ranked bottom with the public every time, his reputation apparently having been crystallised by years of criticism. A wilfully misinterpreted tattoo on the eve of the tournament seemed to sum up the ill-feeling towards one of England's best.
It would have been easy for Sterling to disengage. Instead, against that backdrop of undeserved criticism, he proceeded to embark upon this extraordinary season.
Firstly, a diversion into the facts and figures that should illustrate that this is no sentimental choice to rival the Sports Personality of the Year award given to Ryan Giggs in 2009. Sterling has 17 Premier League goals, as many as his England captain Harry Kane, and nine assists. He is the only player in the competition to rank among the top five in both categories.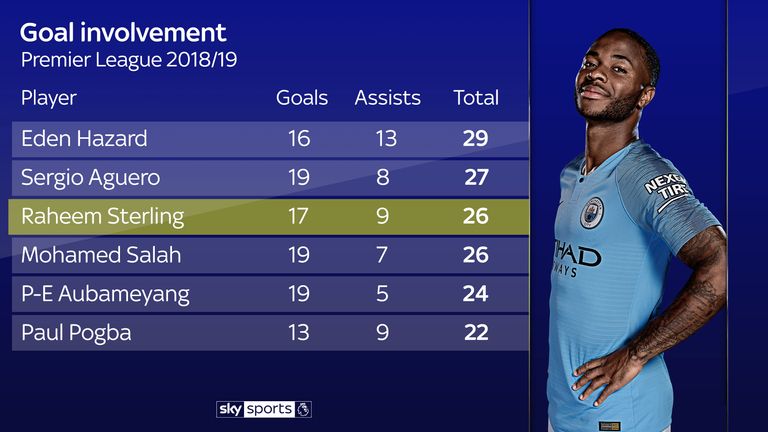 Leroy Sane is like lightning. Riyad Mahrez is Manchester City's record signing. But there is little rotation for Sterling now. He has emerged as an indispensable figure in a team that could yet become the first team this decade to retain the Premier League trophy and the first team in the history of English football to complete the domestic treble.
It was Sterling who delivered the decisive kick to complete the first leg of that treble in February. They said he couldn't kick the ball properly but he swept home a nerveless penalty to win the Carabao Cup final for City in the shootout against Chelsea at Wembley.
They moaned about his goal return for England so he duly scored two as England beat Spain in Seville. Then he followed it up with a hat-trick against Czech Republic in March.
Even this month he has produced a man of the match performance against Crystal Palace in which he scored the opening two goals and then netted another double in that classic Champions League encounter with Tottenham. It was so nearly a hat-trick, with only a VAR review denying him glory. The call was right but that brief moment of joy was deserved too.
For all the goals that were allowed to stand, for all the assists to set up his team-mates, and for all the highlights of a season to remember on the field, it is the way that Sterling has looked to transform the lowlights of his year that has stood out most. He has become an agent for change in the fight against racism, an inspiration to his colleagues.
Sterling has been statesmanlike in his handling of it all. Those acid-tongued critics would have been quick to call him self-serving had he appeared to be complaining about his own plight but instead he showed greater perspective than any of them - broadening the debate and highlighting the unfair treatment of those without the voice that he has.
In December, Sterling was subjected to racial abuse in City's game against Chelsea at Stamford Bridge. His response was to highlight the contrasting treatment of his young team-mates Tosin Adarabioyo and Phil Foden when the pair both bought new houses for their mothers. He accused the media of helping to "fuel racism and aggressive behaviour".
That thoughtful comment sparked a groundswell, a wider appreciation of the issues. In March, he followed it up by speaking eloquently and forcefully when England players were abused in Montenegro. "It's 2019, I keep saying it, and it's a shame to see this keeps going on," he told Sky Sports. "We can only bring awareness and light to the situation."
He added: "It's now time for the people in charge to put a real stamp on it. You've got to punish people a bit harder, you've got to do something that makes them think twice. If you can't play in front of fans then that's going to make them think harder. Me and the FA can only do so much, we've got to leave it to the people in charge to make a proper stance."
Sterling is right. He can only do so much. But nobody should underestimate the significance of becoming an advocate for change - even a symbol of the desire for it. The authorities can legislate and they can punish. But sometimes real change requires a movement and it needs people who are willing take a stand. In doing so, Sterling can become the catalyst.
Young players look to him now. He is a leader and an influencer. It's the small gestures that people are fast becoming accustomed to. Paying for 550 children from his old school to attend the FA Cup semi-final at Wembley or covering the costs of the funeral of a 13-year-old boy who died of leukaemia. And it's the big subjects that he never shies away from.
Earlier this month, he was one of the first players to deride the Italy international defender Leonardo Bonucci for his suggestion that Juventus teammate Moise Kean should share half of the blame after being racially abused with monkey chants against Cagliari.
No equivocating. A top player with an opinion on a matter that matters.
Football, like society, is on a journey and it desperately needs to take the right path. Sterling is helping the game to take that path by forcing us to confront issues of privilege and race. That he has done so while also playing the game better than just about anyone else makes for a truly remarkable year. It makes Raheem Sterling the Footballer of the Year.