Forgotten figure
Lionel Messi's goalscoring heroics have reminded Graeme Bailey about one of the forgotten figures of English football, George Camsell.
Last Updated: 11/12/12 9:35am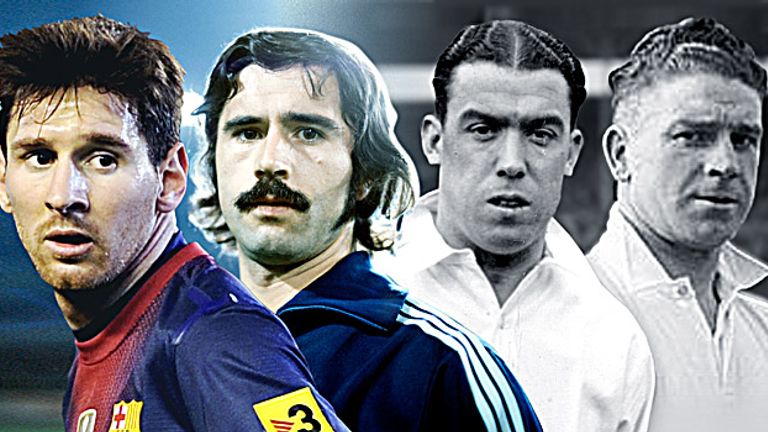 Lionel Messi has now cemented his name in footballing folklore after overtaking Gerd Muller's record for goals in a calendar year.
There is no doubting Messi deserves his place at football's top table of greats, although you should not forget that the Argentine's achievements did come courtesy of the fact he played more games.
Muller played just 60 games to hit his figure of 85 goals, Messi broke this playing in his 66th game - a remarkable achievement nonetheless but let us not forget how many more goals the ubiquitous German would have scored from those extra games.
This fact reminds me very much of a tale, and a forgotten one in English footballing terms, my granddad used to tell me about Dixie Dean - and how he always tried to pour scorn on his record of 60 goals in one season back in 1927 - a record which still stands to this day.
Now let me point out, clearly my granddad was biased, a Middlesbrough fan all his life and just 12 months earlier he had witnessed Boro's own George Camsell rewriting the record books with his own amazing feat of 59 goals.
Camsell had shattered the previous record held by Chesterfield's Jimmy Cookson which stood at 44.
The record came in Camsell's debut campaign for Boro after joining from lowly Durham City and, as has been pointed out, he, along with other strikers at the time, took huge advantage of the fact the offside rule had been changed - and that only two players were now required to play you onside.
Camsell duly delivered and, in his 37 games returned his 59 goal tally, to send Boro to the Second Division title. Also it must be noted that Camsell turned up his nose at four penalties late in that season. After missing one earlier in the campaign, he opted not to take anymore - a decision which he would later no doubt regret.
Camsell's feat was a badge of honour for Boro - but one they would have to return not long after as the legendary Dean produced a remarkable campaign the following year.
Dean
Dean was on fire during the 1927-28 campaign, but with two games left he was still some six short of matching Camsell. Four goals against Burnley followed, leaving Dean with the task of scoring a hat-trick in the final game against Arsenal.
"We knew what was coming," my granddad told me, "the whole of town knew he would score a hat-trick in that game, but Camsell was unfashionable whilst Dean was the darling of English football - so everyone except us was delighted for him."
Dean duly obliged, taking his tally to 60 by firing home the record goal with just eight minutes remaining at Goodison Park, and in so doing he re-wrote the record books.
Dean's feat was immense, but again referring back to the more recent Muller/Messi race - the Everton legend did play two more games than Camsell.
So, whilst trumpeting the remarkable achievements of Messi and Dean, let us take a moment to remember those who went before them and set the standard which they duly achieved - all legends in their own right.
One footnote to this anecdote - two years later Camsell took Dean's England place and, in nine games for his country, he scored a remarkable 18 goals - the leading international goalscoring ratio record which still stands to this day and is highly unlikely to ever be beaten.
But yet, despite his achievements in the game, many of you reading this may not even have heard of Camsell, alas even some Boro fans will be unaware of the goalscoring legend within their own annals of history.
This, like with Dean breaking his record, was bad timing for Camsell. Towards the end of his career, Camsell helped usher in Wilf Mannion, often heralded as Boro's finest ever product, whilst George Hardwick also burst onto the scene and the rise of these two club legends somewhat put Camsell into the shadows.
Outside Boro's Riverside Stadium, it bears host to statues to their greatest players - Mannion and Hardwick - but no sign of Camsell, who remains somewhat of a forgotten figure in English football.