Football Commentator & Columnist
Martin Tyler's stats: Long-ball stats from the Premier League and Peter Crouch's goal-scoring record
Last Updated: 18/01/17 4:39pm
Who has played the most long balls this season? Who has scored the most Premier League goals without scoring from outside the penalty area?
Martin Tyler has the answers - plus, hit the video to see his latest tricky teaser.
How to send your questions to Martin:
Use the comments box at the bottom of this page
Tweet @SkyFootball using the hashtag #TylersTeasers
Martin's Starting Stats
Sunday was the first time since Boxing Day 1980 that Manchester United faced Liverpool and Everton faced Manchester City on the same day.
It was also the first time since 1987/88 that both league meetings in a season have been drawn between Manchester United and Liverpool.
It was the 50th Premier League meeting of the two and the 10th draw. Manchester United have 27 wins and Liverpool 13. In the 25 league games at Old Trafford, United have won 15, Liverpool have won five and there have been five draws.
Liverpool have finished above United only twice in 24 Premier League seasons, but in the 24 seasons before that United finished above Liverpool just once - and that was the 1991/92 season just before the Premier League started.
James Milner has scored six out of six Premier League penalties this season and scored against United for a fourth different club (Newcastle, Aston Villa, Man City and Liverpool). That was his 49th PL goal.
Zlatan Ibrahimovic scored his first goal in six appearances against Liverpool, two for Juventus, two for Inter and now two for Manchester United. He still hasn't been on the winning side.
In seven meetings of Jose Mourinho and Jurgen Klopp, Jose has won one, drawn three and lost three. His only win was for Real Madrid against Borussia Dortmund in the second leg of the 2013 Champions League semi-final - and while he won the game, he got knocked out of the competition.
Long-ball United?
Hi Martin! Jurgen Klopp accused Manchester United of being a long-ball team. What do the stats say? (Sam, Stockport)
MARTIN SAYS: Our friends at Opta, who define a long ball as "a forward pass of 35 yards or more that is kicked into space rather than a precise pass aimed at a particular team-mate", inform me that United played 53 long balls in Sunday's 1-1 draw with bitter rivals Liverpool - their most in a top-flight game this season.
In the Premier League as a whole, United's 510 long balls this term sees them into 12th spot in the overall standings, the most of any the current top six.
Interestingly, the current top five - Chelsea (361), Spurs (374), Arsenal (369), Liverpool (478) and Man City (424) - occupy the bottom five positions in the long-ball table, with Swansea (494) surprisingly the next side on the list, a testament to the south Wales club's free-flowing philosophy.
At the other end, Crystal Palace top the table having played 796 long balls to date. Burnley (784), West Brom (772), Watford (771) and champions Leicester (700) complete the bottom five.
Long balls played in Premier League
| Club | Long balls |
| --- | --- |
| Crystal Palace | 796 |
| Burnley | 784 |
| West Brom | 772 |
| Watford | 711 |
| Leicester | 100 |
| Everton | 692 |
| Hull | 657 |
| Middlesbrough | 651 |
| Stoke | 588 |
| West Ham | 558 |
| Sunderland | 550 |
| Man Utd | 510 |
| Bournemouth | 502 |
| Southampton | 500 |
| Swansea | 494 |
| Liverpool | 478 |
| Man City | 424 |
| Tottenham | 374 |
| Arsenal | 369 |
| Chelsea | 361 |
Crouch's 99 from six
Peter Crouch has played for six PL clubs. Has any other player reached 100 PL goals having scored for that many teams? Fred, Luton
MARTIN SAYS: If Peter Crouch scores one more Premier League goal then he will reach 100 goals having scored for Aston Villa, Southampton, Liverpool, Portsmouth, Tottenham and Stoke.
Five members of the 100 Club have scored for six clubs, but they all reached 100 goals before they reached the sixth club!
Andy Cole reached 100 Premier League goals playing for Newcastle and Manchester United, before also scoring for Blackburn, Fulham, Man City and Portsmouth.
Les Ferdinand reached 100 Premier League goals while at QPR and Newcastle, before adding further goals at Spurs, West Ham, Leicester and Bolton.
Robbie Keane reached the landmark during his second spell at Tottenham, having scored Premier League goals for Coventry, Leeds and Liverpool. He later scored for West Ham and Aston Villa.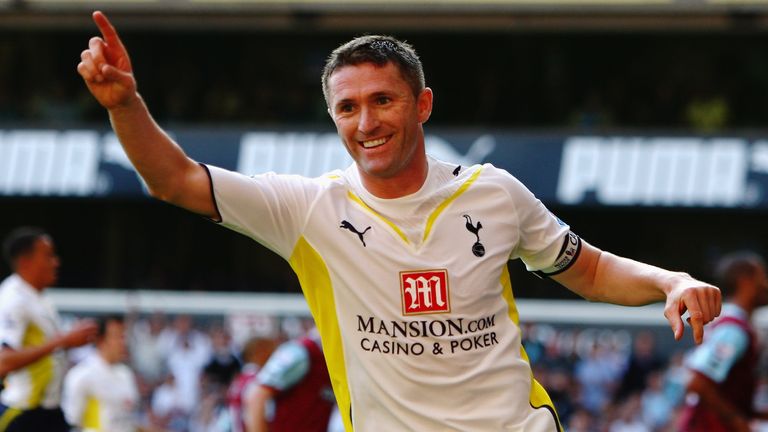 Nicolas Anelka reached 100 Premier League goals at his fifth club Chelsea, having played for Bolton, Man City, Liverpool and Arsenal. He also scored for West Brom.
Darren Bent also scored his 100th Premier League goal at his fifth club Aston Villa. He'd previously scored for Ipswich, Charlton, Tottenham and Sunderland and later scored for Fulham.
So Peter Crouch could become the first man to reach the 100-goal barrier while scoring for his sixth Premier League club.
I've been talking to Peter on and off for the last 18 months because I do the voiceover for Sky Sports' 100 Club show and I've been telling him he needs to get there! I'm poised to rush to the recording studio when number 100 goes in - and all at Sky will be delighted for him!
Home comforts
Burnley have won 25 of their 26 points at home this season. Is that the largest percentage of home points in history? Barry, Lancashire
MARTIN SAYS: According to our friends at Opta, if Burnley carry on at this rate of home success, having picked up a staggering 96 per cent of their total points at Turf Moor this season, they will break their own Premier League record for an entire season.
The Clarets picked up 26 of their total 30 points at home (87 per cent) in the 2009/10 season before relegation, slightly above Leeds' 44 of 51 points (86 per cent) from the 1992/93 season.
Fulham also enjoyed home comforts in 2005/06, collecting 85 per cent of points (41 of 47) at Craven Cottage, while Coventry (84 per cent in 1999/00 and Hull City (80 per cent in 2009/10) also feature highly on the list.
In other news for Burnley fans, I will be in the company of Jamie Carragher for Burnley v Chelsea on February 12 - our first Super Sunday commentary together.
Inside job
Which player has scored the most Premier League goals without scoring from outside the penalty area? Chetan, Crouch End
MARTIN SAYS: With the help of our friends at Opta, I can tell you former Everton midfielder Tim Cahill has scored 56 goals in the Premier League and, incredibly, all 56 came inside the penalty area (31 were headers).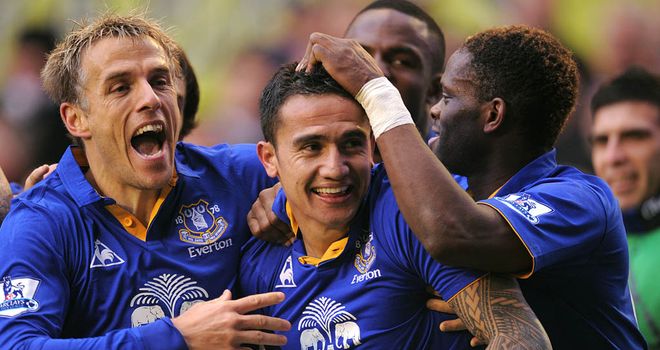 Chelsea defender John Terry is next on the list with 40 goals inside the area just ahead of former Everton defender David Unsworth.
Strikers Kevin Doyle and Javier Hernandez both scored 37 goals in the Premier League and they have a 100 percent record of scoring inside the penalty area.
Here's a list of the top 10…
PL Goals from Inside the Penalty Area
| Player | Goals (min 25) | % inside the box |
| --- | --- | --- |
| Tim Cahill | 56 | 100 |
| John Terry | 40 | 100 |
| David Unsworth | 38 | 100 |
| Kevin Doyle | 37 | 100 |
| Javier Hernandez | 37 | 100 |
| Ashley Ward | 33 | 100 |
| Iain Dowie | 33 | 100 |
| Carl Court | 28 | 100 |
| Guy Whittingham | 27 | 100 |
| Jonatan Johansson | 27 | 100 |
| Marcus Stewart | 26 | 100 |
| Andy Booth | 25 | 100 |
We also asked Opta if anybody had scored at least 10 Premier League goals and had never scored inside the area. Nobody falls into that category, but a few come close.
Incredibly, Hull City's Tom Huddlestone, has scored 11 goals in the Premier League and 10 have come from outside the penalty area.
Tugay scored 10 Premier League goals during his time with Blackburn with nine coming outside the box.
Thomas Hitzlsperger is next on the list with eight of his 10 goals coming from outside the penalty area, while Xabi Alonso scored 14 league goals with 11 of them coming from distance.
Here's a list of the top 10…
PL Goals from Outside the Penalty Area
| Player | Goals (min 10) | Goals outside box | % outside box |
| --- | --- | --- | --- |
| Tom Huddlestone | 11 | 10 | 90.91 |
| Tugay | 10 | 9 | 90 |
| Thomas Hitzlsperger | 10 | 8 | 80 |
| Xabi Alonso | 14 | 11 | 78.57 |
| Dietmar Hamann | 12 | 9 | 75 |
| Andros Townsend | 10 | 7 | 70 |
| Steve Staunton | 13 | 9 | 69.23 |
| David Ginola | 21 | 14 | 66.67 |
| Jonjo Shelvey | 12 | 8 | 66.67 |
| Laurent Robert | 23 | 15 | 65.22 |