Football Commentator & Columnist
Martin Tyler's stats: Manchester United's Brighton defeat, Ederson's assist
Penalty saves, goals scored at home and more...
Last Updated: 21/08/18 1:21pm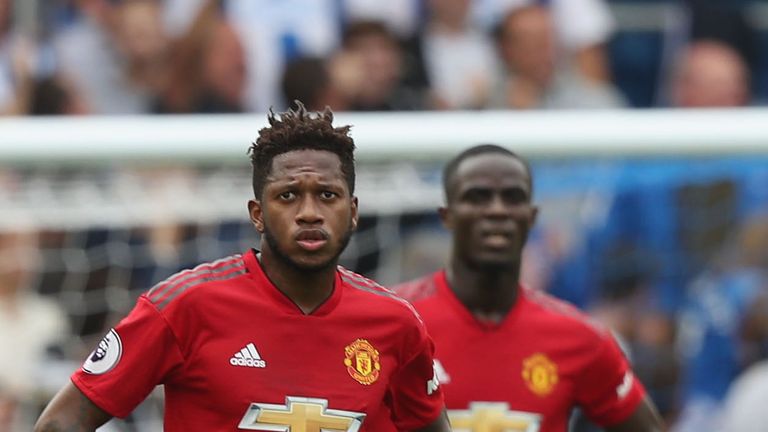 Which is the strongest team in their opening away game in Premier League history? Who has Ederson joined in the goalkeeper assist stakes? Who only scores at home?
Sky Sports commentator Martin Tyler has the answers to those questions and more in his second stats column of the 2018/19 Premier League season.
Got a question for Martin? Tweet @SkySportsPL with #TylersTeasers.
Tyler's starting stat - Brighton beat United
Sunday's defeat to Brighton was the first time Manchester United have conceded three goals in a Premier League game since the notorious 4-0 defeat to Chelsea in October 2016 - Jose Mourinho's ninth match in charge. They'd conceded three against Watford prior to that and those are the only three occasions Mourinho's United have conceded three in the Premier League.
Glenn Murray added to his tally as the Amex Stadium's all-time record scorer (31). He has 28 for Brighton, two for Reading and one for Crystal Palace.
Lewis Dunk had played every minute of every Premier League game Brighton have played - but came off in the 20th minute of their 40th match. Mat Ryan is now the only player to have appeared in every minute of their Premier League adventure.
Romelu Lukaku scored against his 27th of 31 opponents faced in the Premier League. He has only failed to score against Cardiff, Blackburn, QPR and Wigan.
Manchester United only conceded one Premier League penalty in the whole of last season (in a 4-2 win at Watford), but conceded a penalty in the FA Cup final and have conceded one in only their second game of this season.
Brighton have beaten Manchester United at home three times in a row in the top flight. The first was in November 1982 (Peter Ward scoring in a 1-0 win) and they also won 1-0 in May (Pascal Gross scoring the goal).
Starting brightly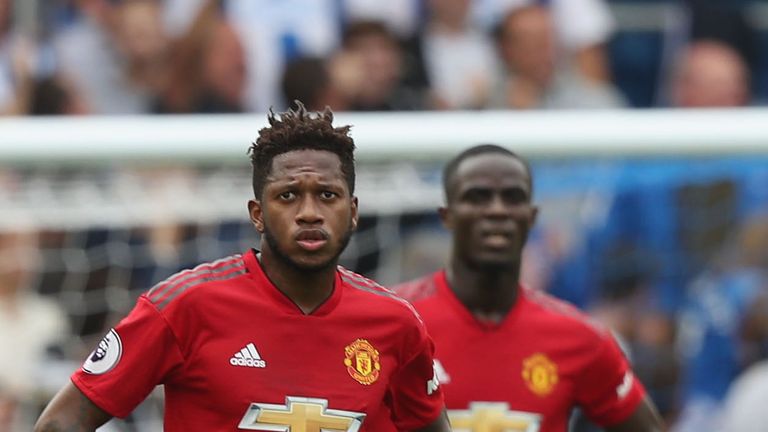 When was the last time Man Utd lost their opening away game of the season and who has the best record in opening away games? Alan, Chester
MARTIN SAYS: Manchester United's surprise loss at Brighton was the first time they have lost their opening away game of the season since 2012, under Sir Alex Ferguson, when they lost 1-0 to Everton.
You may be surprised to learn that Leeds United hold the record for the longest run of opening away games without tasting defeat in the Premier League era.
They went 11 matches unbeaten before their streak was ended by a 2-1 defeat to Tottenham in August 2003, the season they were relegated.
Arsenal (2009-2016), Chelsea (2007-2014) and Everton (2011-present) have all gone eight successive away openers without losing, and Everton's 2-2 draw against Wolves means they can look to extend their run next season.
Home comforts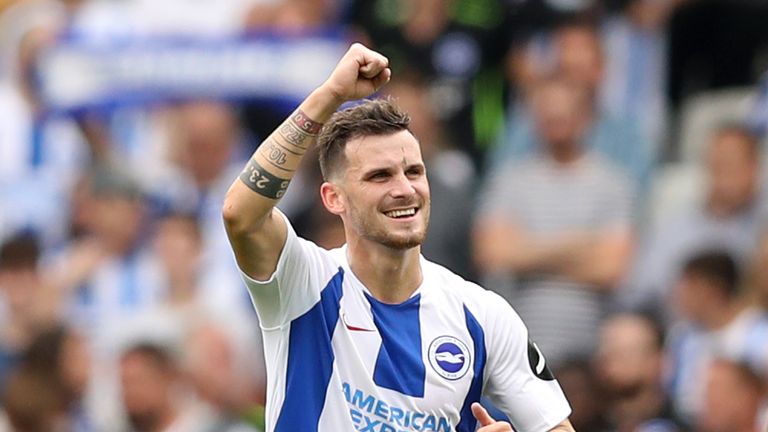 All of Pascal Gross' Premier League goals have come at home. Is it a record? Sarah, Portsmouth
MARTIN SAYS: Gross is still some way short of matching the home comforts felt by Georginio Wijnaldum.
The Dutchman, of course, scored away from home in the Champions League at Roma last term, but for both Liverpool and his former club Newcastle, he has scored all 18 of his Premier League goals in front of his own supporters (none in 56 games away from home).
Former QPR and Tottenham man Clive Wilson is second on the list with all nine of his Premier League goals coming at home, but Gross is now just one short of equalling his record.
Jeff Kenna (Blackburn and Birmingham) also scored all eight of his goals at home while former Manchester United and Aston Villa defender Ronny Johnson also netted all eight of his league goals at Old Trafford or Villa Park.
Route one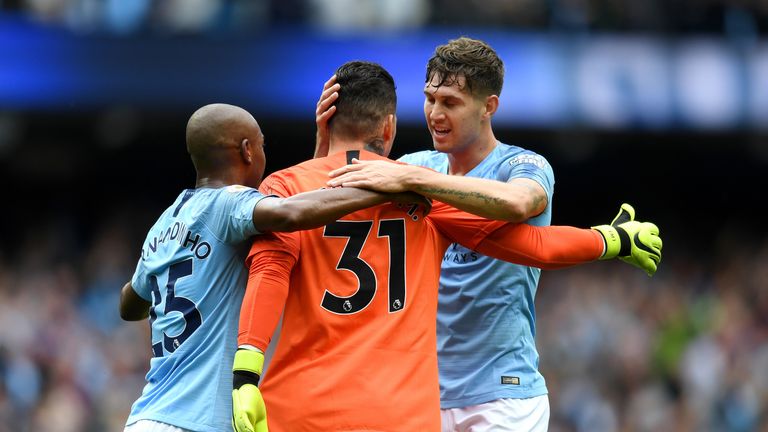 Which goalkeeper has the most assists in PL history? Alison, Manchester
MARTIN SAYS: It's perhaps surprising that Sunday witnessed Ederson's first assist since moving to City given his distribution, but he is still four short of the record, with Paul Robinson having registered five during his career in the top flight.
The former England goalkeeper set up five goals while at Leeds, Tottenham and Blackburn - and also scored one against Watford (sorry to remind you, Ben Foster).
David Seaman and Pepe Reina have both claimed four assists, for Arsenal and Liverpool respectively.
Mark Crossley, Peter Schmeichel, Jussi Jaaskelainen played hundreds of Premier League matches between them, and they all recorded a hat-trick of assists during their time.
Penalty king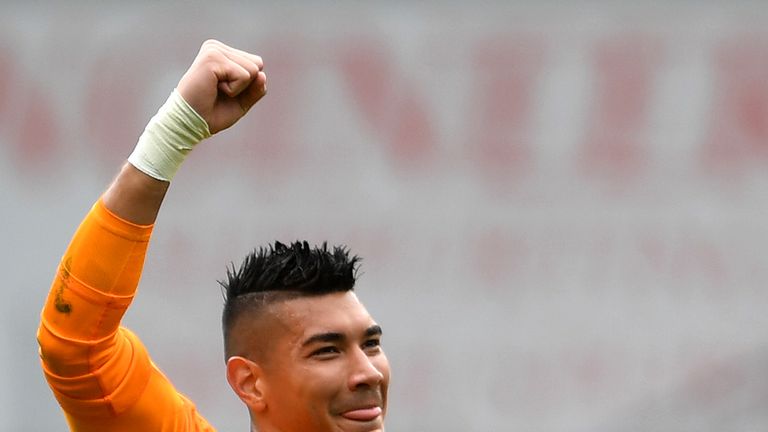 Neil Etheridge saved a penalty for the second game in a row - how many times has this happened in the Premier League, and has anyone ever managed three? Tom, Wrexham
MARTIN SAYS: Etheridge has saved two penalties in a row and will be going for a unique treble when Cardiff travel to face Huddersfield next weekend
No goalkeeper has saved penalties in three successive Premier League games but 10 have done so two games in a row: Etheridge joins Scott Carson, Mark Crossley, Carlo Cudicini, Kelvin Davis, Brad Friedel, Tomasz Kuszczak, Mark Schwarzer, Thomas Sorensen and Erik Thorstvedt.
What's even more remarkable is that these were Etheridge's first two Premier League matches ever. By the way, he's the first Filipino to play in the Premier League, the 113th nation to be represented.