When I arrived at the Mineirao Stadium in Belo Horizonte on Tuesday, 50,000 fans in yellow shirts were preparing themselves for a day to remember. What they actually witnessed in the first semi-final of the World Cup will haunt them for the rest of their lives.
When I went to the airport the next morning to fly down to Sao Paulo for the second semi, there was not a yellow top in sight. The nation renowned for the beautiful game had been stunned by a match of shame. Their colours were in the wash or in the bin.
For the millions of fans in Brazil the conclusion to their own World Cup could get even more painful.
However hard you prepare as a commentator, once in a while you find yourself trying to make sense of an inexplicable and unfathomable set of events.
The real appeal of this tournament has been the evenness of competition. Yet it produced the most one-sided semi-final of all time and Brazil were on the wrong end of it.
Stunned
Looking back, they started well and Germany seemed nervous in their changed kit of red and black hoops, the colours of Rio de Janeiro's most famous club Flamengo and another reason for the local fans of Flamengo rivals Atletico Mineiro and Cruzeiro to make it a very uncomfortable challenge for Jogi Low's players.
The first goal changed that. Four more followed in a six-minute spell, each more abject than the previous one. Everyone was stunned. The Germans could hardly believe what was happening. Brazil were living out their worst nightmares.
There was precious little time to dwell on Mirolsav Klose's historic 16th goal in the World Cup Finals, though the local television director did well to fit in a shot of the former record holder, Ronaldo, who was at the game working for Brazilian television.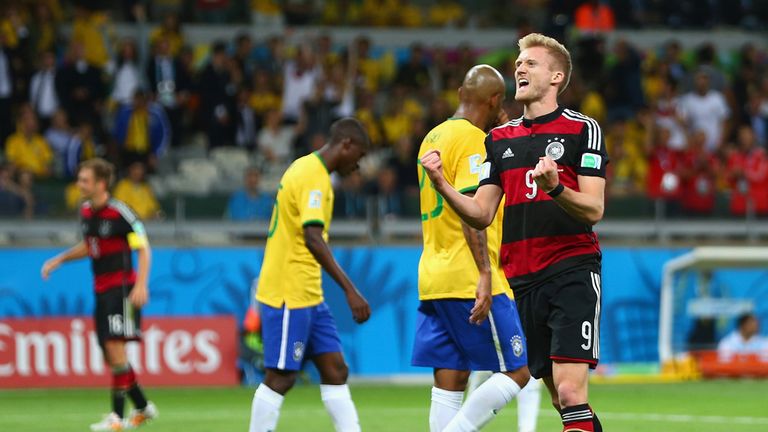 In almost 40 years of commentating, I have never seen anything like it. Just as you tried to put in some perspective - how bad were Brazil, how good were Germany for example - another goal went in. A moment to reflect on the absence of Thiago Silva and Neymar? No! Germany had scored again.
Brazil's progress into the last four had been more powerful physically than football-wise, and one wondered whether Die Mannschaft would have to man-up to deal with that but the home players could not get close enough to their tormentors to make it that kind of game. Maybe they had started to believe that destiny was on their side and when it clearly was not, they just fell apart.
What is it about Belo Horizonte, the city where England suffered that humbling defeat to USA in the 1950 World Cup and where Roy Hodgson's 2014 side bowed out so early? Now it goes down as the setting for the worst day in Brazil's entire football history. No one loses 7-1 in the World Cup any more. Certainly not Brazil. Certainly not in Brazil? It is still hard to believe it actually happened.
Slogans
Argentina have been based in Belo Horizonte throughout the World Cup, living at the training camp of Atletico Mineiro. It is pretty spartan but the Argentinians are here to work. They are here to win. They have decorated the front of their base with huge pictures and slogans. There is a giant blow-up of a photo of the squad with the Pope. Vamos Argentina, their famous battle cry, is displayed in very large letters on another wall. The team motto really caught my eye – 'No somos un equipo. Somos un pais.' We are not just a team. We are a country.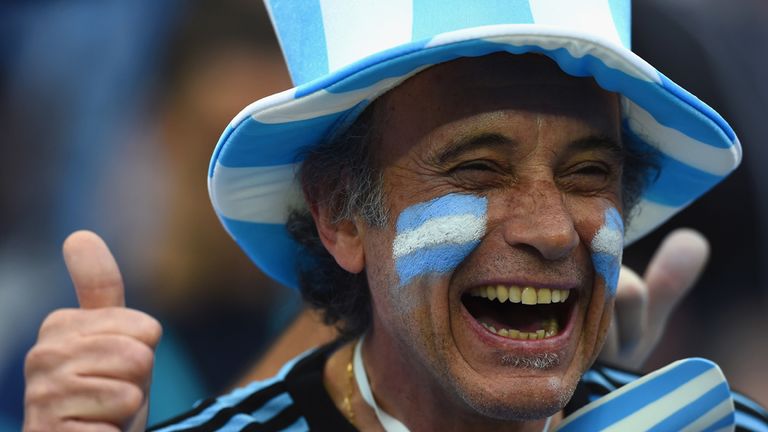 The World Cup reverted to type in the second semi-final with the Netherlands and Argentina so closely matched. Louis van Gaal's wonderful run came to an end. Circumstances dictated the Dutch using three substitutes before the shoot-out, meaning the late switch of goalkeepers, so successful against Costa Rica, could not happen.
Robin van Persie, who looked worn out, was one of those taken off. He therefore could not take the first penalty for the Netherlands in the shootout as he had done in the quarter-final. Aston Villa's Ron Vlaar put his hand up, but his kick and then that of Wesley Sneider, was saved by Sergio Romero, ironically a goalkeeper who had learned his trade under Van Gaal at AZ Alkmaar in Holland.
Jasper Cillessen in the Dutch goal could not replicate Tim Krul's agility or hostility and looked like a keeper who knew that his head coach would rather have replaced him.
So after a re-run of two previous finals at this season's semi-final stage, we now have a repeat of the 1990 final. For the millions of fans in Brazil, the conclusion to their own World Cup could get even more painful. 
Remember, they have always been desperate for their great rivals Argentina not to succeed on Brazilian soil. Now if they do win the 2014 World Cup, they will have beaten the country which thrashed Brazil 7-1!
That would take some living down!