Mauricio Pochettino defends squad rotation following Arsenal defeat
By Lyall Thomas
Last Updated: 24/09/15 3:13pm
Tottenham head coach Mauricio Pochettino defended his decision to rotate his squad and play Federico Fazio in the Capital One Cup defeat to Arsenal, despite the centre-back's mistakes playing a hand in two goals.
Fazio, who is Pochettino's fifth-choice centre-half after coming close to leaving the club in the summer, had a poor game in a 2-1 defeat and was to blame for the away side's winner when he miscued a clearance straight into the path of goalscorer Mathieu Flamini.
Pochettino made eight changes to the side that beat Crystal Palace in the Premier League on Sunday but he also defended his decision to swap Hugo Lloris with Michel Vorm in goal, who failed to hold on to a shot that allowed Flamini to poach the opener.
Pochettino said: "No, I don't regret playing Fazio. You can make the mistakes and in football it always happens. They are not machines.
"Today he played because he deserved to play and afterwards you can play well or not. This is football and it's not boring because you never know.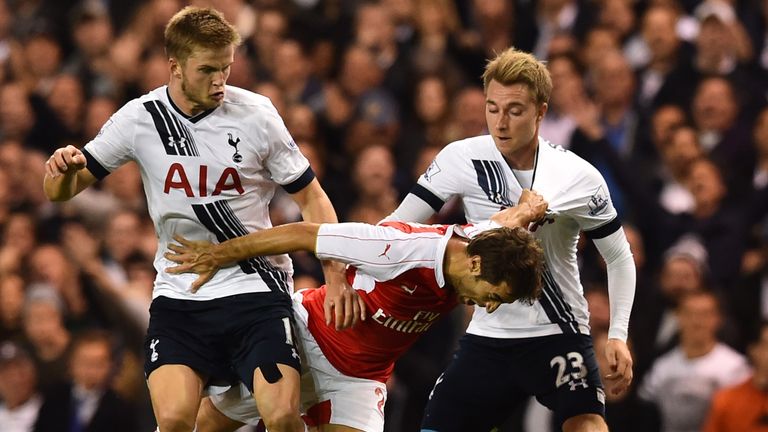 "Always you need to make a decision and I think it was the right decision. But maybe when you lose it's not the right decision, and you understand this is the game. 
"I don't think it was a gamble to change the goalkeeper. Michel Vorm deserved to play and I think it is a competition, and it was a good opportunity for him. We need to show respect to the players."
Spurs equalised in the second half thanks to a Calum Chambers own goal and the hosts went close to taking a lead when Harry Kane had an effort cleared off the line, after his earlier goal was disallowed for offside.
Pochettino said: "I think we deserved more and we should take lots of positive things. 
"It is true our supporters and us are very disappointed. Always you want to win and when you play against a sworn enemy you want to win more.
"But this is football. We need to be happy in the way that we played, but feel bad that we lost the game."