Falling down
The issue of diving is back on the agenda after Santi Cazorla's tumble against West Brom, with Steve Clarke's finger-pointing towards referee Mike Jones missing the point of where the responsibility really lies.
By Rob Parrish - Follow me on Twitter @skysportsrobp
Last Updated: 11/12/12 10:51am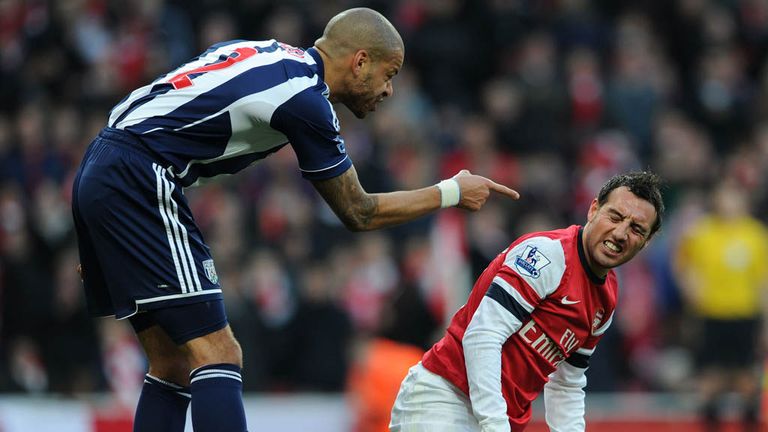 The condemnation of Arsenal playmaker Santi Cazorla after his theatrical fall against West Brom was loud and lengthy, but the absence of one voice was particularly conspicuous.
It did not take an expert in body language to work out that West Brom manager Steve Clarke was seething on the sidelines as his team went 1-0 down at Emirates Stadium with Steven Reid penalised despite completely missing Cazorla with an attempted challenge, only to see the Spain international throw himself to the floor and referee Mike Jones point to the spot.
Clarke pulled no punches in his post-match interview with Sky Sports, but reserved all of his ire for match official Jones, stating: "The first penalty decision, for the life of me, I can't understand why the referee would give that. He has to be sure there is contact. There is clear daylight between Steven Reid and Cazorla. I knew when Cazorla went down that there was no contact, you could see.
"It is down to the referee to make the right call."
Clarke could quite easily, and legitimately, have lambasted Cazorla too, but interestingly chose not to, despite being given more than one opportunity by the interviewer he spoke to in the tunnel at the Emirates in the immediate aftermath of the Baggies' 2-0 defeat.
Quite why he chose not to is a question only the Hawthorns manager can answer, but in laying all of the blame squarely at the feet of the match official it removes the responsibility from the shoulders of the people directly involved - the players.
No-one can deny referee Jones made the wrong decision at the Emirates, but the level of myopia displayed by the numerous pundits, journalists and irate supporters who rushed to berate him having seen the incident several times with the generous benefit of slow-motion replays is staggering. Anyone who watches football with any regularity will appreciate that your opinion of incidents often changes after seeing it for a second time.
Match officials get one, full-speed, pitch-level view and then have to make a judgement. Jones, who will doubtless be unhappy to have been hoodwinked into the wrong verdict, witnessed Reid attempt the challenge and then saw Cazorla go down with a cry of anguish.
Professionalism, gamesmanship, anticipating the challenge - plenty of descriptions are bandied about in a bid to justify what is, ultimately, cheating. If players were not attempting to deliberately deceive referees on a regular basis then poor decisions such as the one which marred Saturday's game would be eradicated.
Cazorla is by no means alone with Gareth Bale, Luis Suarez, Ashley Young, Danny Welbeck and Andy Carroll a famous five of the numerous players who have come under scrutiny for their antics in the past couple of seasons.
Arsene Wenger's immediate suggestion that Cazorla had told him he had "lost his balance" was greeted with understandable derision, although the Arsenal manager did qualify that by claiming he would speak to his summer signing if he deemed it necessary after watching the incident again. A public dressing down would be a welcome response for such misdemeanours, but if any discussions do take place, they are almost certain to be kept under wraps.
In the wake of two incidents involving Manchester United winger Young last season, Old Trafford boss Sir Alex Ferguson did admit: "I have had a word with Ashley. He understands where we are coming from. Hopefully it makes a difference." Ferguson's words were a helpful and appreciated stance, but hardly the hairdryer.
The general approach from managers is to defend their charges - not a surprising option in the high-pressure and results orientated world of the Premier League - or attempt to deflect the spotlight in another direction.
Tottenham manager Andre Villas-Boas recently said of Bale: "He has suffered big, big injuries to his ankles before and sometimes he wants to protect himself a little bit. Gareth is so fast so it is very difficult to judge situations." And Liverpool boss Brendan Rodgers responded with: "I believe some people need to develop a sense of perspective and I also believe in this moment the vilification of Luis is both wrong and unfair," after Uruguay international Suarez was heavily criticised by Stoke counterpart Tony Pulis earlier this year.
Retrospective action is another route which has been suggested, but even that has proved to be an imperfect science in the past, with former Arsenal striker Eduardo initially handed a two-game ban after an incident against Celtic back in 2009, only for the Gunners to successfully overturn the verdict on appeal after showing there had been contact with goalkeeper Artur Boruc.
Perhaps the most effective solution came from Professional Footballers' Association chief executive Gordon Taylor, who advocated a unified response from everyone in the game to enable the match officials to do their job free from the fear that they are being conned by the win-at-all-costs attitude which is threatening to trample the ideology of sportsmanship into the turf.
Taylor told Sky Sports News: "It is an issue we all need to address - management, coaching staff, players and supporters. We have all got to buy into this and condemn it and make sure the game is played in the best possible spirit. We have got to give the referee and his assistants every possible opportunity to get the decisions right."
The right decisions are what everyone wants to see, but too few people in the game are doing enough to ensure they are reached.