Tactical conundrums
Ahead of tonight's mouth-watering Champions League clash at Old Trafford we pose five questions Sir Alex Ferguson will have to get right if Manchester United are to see off Real Madrid at Old Trafford...
By Matt Stanger - Follow me on Twitter @MatthewStanger
Last Updated: 05/03/13 11:11am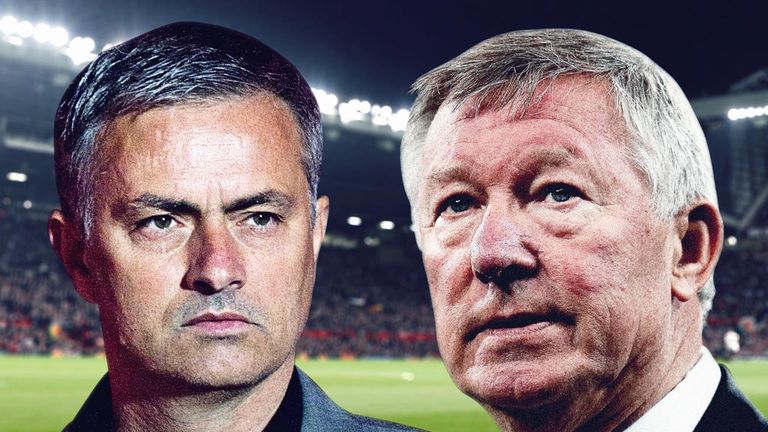 How will Manchester United approach the game?
Although Sir Alex Ferguson and Jose Mourinho both agreed that the tie is finely poised ahead of the second leg, it would be remiss to ignore United's away goal advantage. Real Madrid have to score in Manchester, and the onus remains on them to break down a United defence that has become increasingly resilient as the season has progressed.
For this reason, Ferguson will not be inclined to drastically change his approach from the first leg. United are expected to sit back and attempt to soak up Real pressure again before hitting their opponents on the counter-attack, using long diagonal balls to supply Danny Welbeck and Robin van Persie. At the Bernabeu this tactic came very close to snatching a second away goal in the closing stages and Ferguson will hope his team aren't made to pay for Van Persie's near misses.
"For them it was very tactical, but not for us," said Mourinho after the 1-1 draw on February 13. "They changed the way they play, I think, to have 11 men behind the ball and they did not put a foot in our half in the second half. They were just waiting for a set piece or a counter-attack."
Mourinho also tried to goad Ferguson into opening up and playing a more expansive game at Old Trafford. "Because of the English culture you can't play with defenders in your own box at home. United can't play like they did here," he added. "United didn't play to win but they did their job well."
Mourinho's transparent attempt to influence Ferguson's thinking is unlikely to persuade his counterpart, who will have seen the devastating effect to which Real Madrid can counter-attack against a team trying to take the initiative in their 3-1 victory over Barcelona at Camp Nou last week. But Ferguson will want his first XI to be more assertive in the opening stages as Real, and Cristiano Ronaldo in particular, pinned United to their penalty area in the first half-hour at the Santiago Bernabeu.
"The disappointing thing for me was that in the first half we sat off them," said Ferguson. "They got a lot of play on the edge of our box. It's not healthy that. It's not good to watch and it was unlike us."
Despite his incredible record at United, Ferguson is not renowned for being one of the game's greatest tacticians, with his two biggest challenges in recent years ending in failure. The manager's vaunted 'plan' ahead of the 2011 Champions League final did not materialise into any sort of threat as Barcelona eased to a 3-1 win, and negative tactics at the Etihad last season played a crucial role in Manchester City wrestling away the Premier League crown.
But in the first leg against Real Madrid, Ferguson and his backroom team readily adapted to the occasion, gaining a significant victory in one respect as Mourinho struggled to find ways to break United down. Mourinho's most significant in-game change was to switch Ronaldo and Angel Di Maria on the wings but while the Argentine was a menace in the second half, Ronaldo faded in a final 20 minutes in which the visitors created the better chances.
Ferguson, meanwhile, exhibited keen awareness to danger, pulling Welbeck back onto Xabi Alonso (more on this later) after the break. The manager will need to show similar eagerness to alter his set-up in the second leg, especially if Real take the lead.
Should this occur, we are likely to see Wayne Rooney push closer behind Van Persie, and as the game progresses Ferguson may choose to recreate the diamond formation deployed in the group stage. This would see Javier Hernandez introduced to partner Van Persie, with Rooney at the top of the diamond, Michael Carrick at the base and two of Ryan Giggs, Shinji Kagawa, Anderson and Tom Cleverley acting as the carilleros in the centre. Of course, this can bring problems of its own in the wide areas where United are most vulnerable and Real most offensive.
Who will start at centre-back?
Ferguson has another decision to make over his centre-back pairing for Tuesday's test at Old Trafford. The manager picked Nemanja Vidic to play alongside Jonny Evans in Saturday's convincing victory over Norwich and that would suggest that he intends to stick with the partnership of Evans and Rio Ferdinand from the first leg for the visit of Real Madrid.
Although Evans' performance at the Santiago Bernabeu was arguably his best of the season, Ferguson has also spoken of the need for experience, which Vidic would clearly provide. The captain missed the first leg owing to his stop-start return from a knee injury, but back-to-back starts in the Premier League suggests he is over the worst of it.
"It is difficult now we are playing Wednesday-Saturday-Wednesday," said Vidic last week. "I have had to think whether it is good for me to play or not.
"After every game I am feeling better and that is a good sign. I have played twice in five days now (Reading in the FA Cup and away to QPR, where he played alongside Ferdinand) and it has been good."
If Vidic feels he is ready to play against Real, it certainly gives Ferguson a headache. As well as his superb ability to read matches, Vidic also brings leadership and organisational skills that will be required against a possible onslaught. There is also that compelling statistic that United last lost a Premier League game started by Vidic and Ferdinand in May 2011.
It may turn out that Ferguson has already earmarked Vidic for Sunday's FA Cup quarter-final against Chelsea, but choosing to leave out a defender who has played a part in five of United's nine clean sheets in the league this season, while playing less than half the team's matches, is not an easy decision.

Who will start in place of Phil Jones?
I had originally planned for this question to be 'Will Ferguson find extra protection for Rafael?' but Phil Jones' troublesome ankle injury has created an altogether more urgent problem for United.
Jones' deployment in a man-marking midfield role has been a veritable success, with the 20-year-old sticking to his task to keep Gareth Bale and Marouane Fellaini quiet in the Premier League and helping to limit Ronaldo's impact in the first leg. An important note from the Santiago Bernabeu was that Jones' position inside Rafael worked to prevent Ronaldo from cutting inside and letting fly with his right foot, which he is so inclined to do.
It was the presence of Jones that ultimately influenced Mourinho to switch Ronaldo to the right in second half, where he also struggled to create chances. With Jones out of the equation, Real will expect their star player to have more freedom on the left and also in the inside-left channel from where he usually punishes opponents.
"His performance over there was absolutely excellent," said Ferguson after revealing Jones' absence. "It is a miss but we can deem it as something we can't manage. We have got options. We hope we get that right."
Indeed, Ferguson possesses several, albeit poorer options to replace Jones, with perhaps the most likely being a start for Tom Cleverley alongside Carrick in defensive midfield. Although Cleverley hasn't start any of United's last four matches, he has displayed a good understanding with Carrick and the duo have proved to be Ferguson's preferred combination in central midfield this season.
Another possibility is that Ryan Giggs could be rewarded a start in his 1000th appearance for United, and the 39-year-old featured heavily in the pre-match press conference. "He will be involved at some point, whether starting or on the bench - I have not made my mind up but he will be involved," said Ferguson. "Of course his experience of big occasions will be vital to us."
Ferguson has been burned by his sentimentality before, though, and despite Giggs' recent form and discipline, there is more evidence to suggest that Cleverley and Carrick can form a cohesive shield in front of the back four. Cleverley's positioning can occasionally be suspect, but the 23-year-old is an incredibly willing worker and his energy will be needed against the relentless threats Ronaldo, Di Maria and Mesut Ozil.
The final suggestion for Jones' replacement, which was mooted on Monday, is that Rafael could step into a man-marking role to track Ronaldo, with Chris Smalling called up to right-back. Given Rafael's previous appearances in midfield, this seems unlikely and would represent a significant gamble on Ferguson's part. However, the manager has hinted that Rafael will remain in his usual position. "The experience young Rafael had in Madrid will probably help him because he has the same task," said Ferguson. "If you go in worried about what Cristiano can do then we forget what we can do ourselves."
Should Ferguson put someone on Alonso?
As I've already mentioned, Ferguson's decision to put more pressure on Xabi Alonso, a player he considered signing for United in 2003, was a key feature of the second half at the Santiago Bernabeu. "We changed it around after the break and put Danny Welbeck up top on Alonso and that made a great difference," said Ferguson in his post-match interview. It was clearly a consensus decision between the manager and his backroom team, and the move helped to cut the supply line to Real's more creative players in the final third.
Jurgen Klopp advocated this tactic following Borussia Dortmund's two matches against Mourinho's team in the group stage, in which the Bundesliga champions earned a draw and a victory. "We knew where they would send their passes, how they look for Cristiano," said Klopp. "Our plan was to take Xabi out of the game, because if Alonso can play as he wants it is impossible to defend against Madrid. And (Mario) Gotze covered him. We knew that if our full-backs, (Lukasz) Piszczek and (Marcel) Schmelzer, moved around a lot, the advantage would be on our side against Cristiano. If you block Xabi, you make it so Pepe always has the ball. That is a big difference."
Perhaps the only downside to this approach is the extraordinary discipline required from Welbeck to track and pressure Alonso, which may impede his attacking freedom. United will need and prefer to be cautious, as discussed in the first question, but would assigning two man-marking roles be focusing too much on Real's strengths and less on what they can achieve in the final third? Reading between the lines of Klopp's use of Mario Gotze, is seems possible to instruct Welbeck to perform a semi-marking role, pressuring Alonso when Real have the ball in their own half to force the centre-backs into making a long pass, and then easing off to prepare for the counter-attack when Real have possession around the United box.
Although there may be a middle ground for Ferguson to find, it's worth noting that Dortmund's tactic largely failed at the Santiago Bernabeu as Alonso created four goalscoring opportunities while Gotze's threat was extinguished. However, in the first match at the Westfalenstadion Alonso was effectively restricted and failed to create a single chance for his teammates as Dortmund battled to a 2-1 victory.
Even if Ferguson decides to put Welbeck on Alonso from the start, the first leg showed that Real always have someone capable of stepping in. Sami Khedira, playing alongside Alonso in the centre, played more key passes (5) than he had ever contributed previously in a Champions League match. This serves as a warning to United and they should be wary not to become preoccupied with Real's most obvious threats when there is a team of talent that could hurt them.
Who should play in the attack?
It's incredibly unlikely that Ferguson will switch from his favoured 4-2-3-1 formation, with four players forming a cohesive attacking unit that can certainly do damage to Real. Robin van Persie will undoubtedly start as the '1', as long as he has no late fitness problems, while Welbeck is almost certain to start on the left after his impressive performance at the Santiago Bernabeu and substitute appearance against Norwich at the weekend.
"He was marvellous," said Ferguson when he praised Welbeck after the first leg. "It is a pity he got cramp at the end of game, but he worked so hard.
"It was only second goal of season. We expected more, but he is young. They found it difficult to handle him."
This would leave two positions available, with Shinji Kagawa occupying a central role behind Van Persie in the 1-1 draw in Madrid and Rooney asked to perform a thankless task on the right where he supported Rafael against Ronaldo and Fabio Coentrao and then Di Maria and Coentrao. Real attacked down the left relentlessly in the first leg, and Ferguson will be focusing much of his planning around that area.
In starting Kagawa on the left against Norwich - Welbeck's position against Real - and Rooney in the centre, it seemed that the manager's intention was to leave the Japan international on the bench and return Rooney to his normal role where he can offer more of a threat while also tracking back to aid the midfield. We all know the extent to which Rooney works for the team, and wherever he is played tonight United will get the very most he can offer.
The problem with playing Rooney in the centre, though, is that Antonio Valencia would need to come in on the right (or possibly Cleverley, which may have been Ferguson's original plan before Jones' injury). Although Valencia can be expected to offer good protection to Rafael, having played right-back himself for United on several occasions, his form this season has been quite erratic, verging on consistently poor. There is something missing from the Valencia of old - the one who tackled the Secret Footballer and left him feeling as though he had been hit by a car. Whether tonight is his chance to find that something he previously had is open to debate.
Furthermore, Kagawa was hugely impressive in his hat-trick performance on Saturday and arguably deserves a place in the starting XI. He will no doubt be full of confidence and United need players who will be eager to receive the ball and show what they can do. Ferguson's defence of Kagawa after the first leg demonstrated the manager certainly believes in the playmaker's ability. He would have no qualms in changing what may have been his original plan on Saturday to include Kagawa in the same front four that started in Madrid.
This article first appeared on Football365