The police chief at the Hillsborough disaster has admitted lying about giving the order to open an exit gate at one end of the ground which resulted in Liverpool fans being crushed, causing 96 deaths.
Former chief superintendent David Duckenfield, the match commander at the game, lied to cover up his mistakes after originally claiming fans had forced open the gate and piled on to the Leppings Lane terrace.
"It was a grave mistake and I apologise profusely," he told the inquest in Warrington.
"Everybody knew the truth, the fans and police knew the truth that we'd opened the gates," he added, drawing gasps from the victims' families.
On the day of the disaster, Duckenfield admitted lying to then FA chief executive Graham Kelly. He told Mr Kelly fans had forced open exit Gate C when in fact he had ordered it to be opened following numerous requests from Superintendent Roger Marshall who was outside the Leppings Lane terrace.
"I was probably deeply ashamed, embarrassed, greatly distressed and I probably didn't want to admit to myself, or anyone else, what the situation was," Duckenfield said.
Mr Duckenfield, who was stationed in the Police Control Room when he gave the order to open exit Gate C, said Mr Marshall had repeatedly requested Gate C be opened to alleviate congestion outside the ground.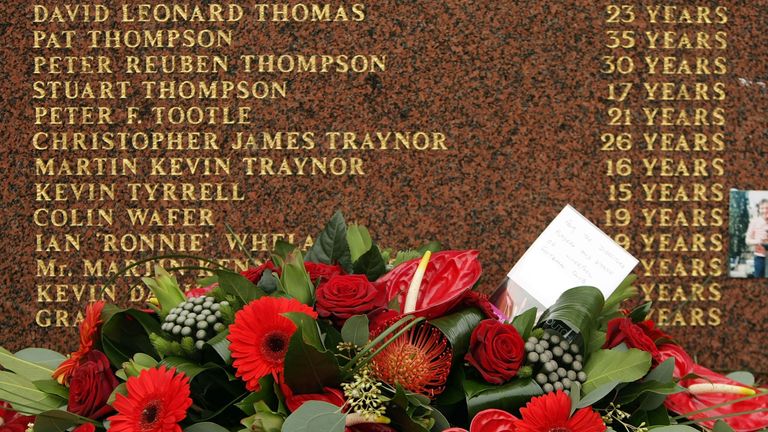 He said the third time he was asked by Mr Marshall to open the gate he was told there was a real danger people would die outside the ground.
But after Gate C was opened at 2:52pm for a period of five minutes, an estimated 2,000 fans poured in, heading straight for a tunnel leading directly to the already-packed central pens three and four, behind the goal.
There were no police officers or stewards that stopped them from entering pens three and four which were already full.
"I think it's fair to say that it is one of the biggest regrets of my life. I was overcome by the enormity of the situation and the decision I had to make and as a result of that, this is probably very hard to admit, as a result of that I was so overcome probably with emotion of us having got into that situation that my mind for a moment went blank."
Mr Duckenfield apologised again to the families of the 96 victims.
"I deeply regret what happened that day," he said. "It was a major mistake on my part. I have no excuses. I apologise unreservedly to the families and I hope they believe it is a very, very, very, sincere apology.
"I'm an honest person, I don't lie, I set high standards. Nobody can understand my behaviour least of all me."
Mr Duckenfield will return to the witness box on Thursday morning.