After reporting for Soccer Saturday and reviewing the best of the Premier League action on Goals on Sunday, Chris Kamara looks back at the big talking points from the weekend on skysports.com every Monday morning.
Here, the Sky Sports expert looks back at a red card for Wayne Rooney, Arsenal's injury issues and what Liverpool should do with Steven Gerrard...
Rooney deserved red but no need for overreaction
KAMMY SAYS: There's no way can you condone what Rooney did. It's a sending off all day long, the referee got it right and he's off, but let's not have a massive overreaction about it. I was in the car on the way home and heard people questioning whether he should be captain of Manchester United or England. There's no doubt he should be more responsible, but players have done stupid things throughout the years, more experienced professionals, so let's not have a massive overreaction about this. Yes he was wrong, he shouldn't have done it and he will be missing for the next three games but now he has done it, let's not go over the top.
Spurs deserved point but Wenger needs to address Arsenal issues
KAMMY SAYS: I think a draw was a fair result in the North London derby. Spurs deserved it, they capitalised on a mistake for the first goal but Chadli stuck it away brilliantly and they had a few chances in the second half. The one thing you noticed about Arsenal was they didn't have their normal fluidity. Nobody seemed to want to play wide, even Oxlade-Chamberlain, so they lost a bit of cohesion. Ozil didn't want to play out wide, Wilshere doesn't play there for me, nor Aaron Ramsey, so their play was getting clogged up, they had loads of possession but not loads of chances because they didn't have that extra bit of width.
I think it's something Arsene Wenger needs to address. He made a comment saying they're all number 10s and the Brazil team in 1970 were all number 10s but they still got on with it and did it. Well, the Brazil team from 1970 was one of my favourite teams and Jairzinho was a right winger, Rivelino was a left winger, Gerson was a central midfielder, Tostao was an out-and-out centre forward and Pele was a number 10, so there was only one 10 in that team and I would have to argue with Arsene on that one. But I have done it myself when a manager has asked me to play out wide on the right and I wanted to play centre midfield, because you don't want to be pigeonholed and stuck out there the whole time. When you look at Arsenal, you can see them all drifting inside and that's causing them not to be as fluid as they normally are.
Costa the key for front-runners Chelsea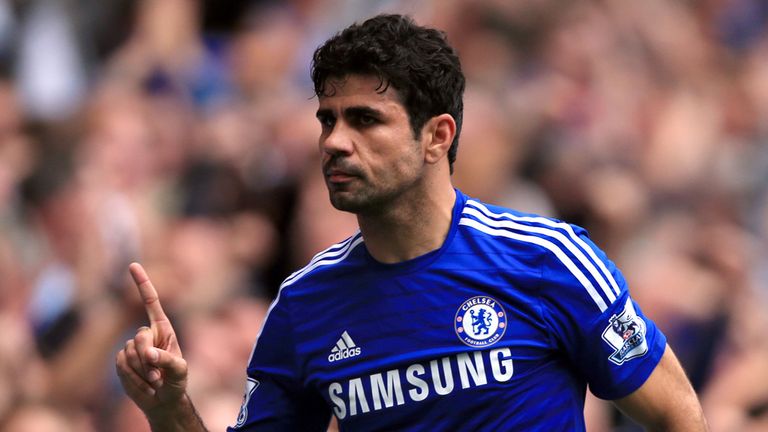 KAMMY SAYS: Chelsea are ahead of everyone else and they know it. There's a certain confidence about them. It's a different Chelsea from the first time Jose was in charge; then it was a case of get 1-0 up, put the shutters up, don't entertain and conserve energy. Now you see players wanting to show that extra bit of flair, and it's good to watch. Diego Costa looks an absolute machine, he's the key to their major success, the others are all playing parts but at the moment Costa is the key to it all.
Liverpool still a work in progress - but Gerrard can play holding role for another five years
KAMMY SAYS: Everyone is having to adapt to a different system at Liverpool because of all the changes. When it was Sturridge and Suarez, it was different - they took the game to the opposition. It's not quite happening for them yet in terms of how they would like to play. There have been a few changes in personnel, notably Balotelli, and they all have to get used to each other. It's a work in progress rather than the team we were so impressed with last season. When it comes to Gerrard, though, I have never doubted him for one minute, I think he can play that holding role for another five years. For someone who has been up and down the pitch like he used to, to just sit in that holding role is easy for him I think.
Jagielka strike was a joy to behold
KAMMY SAYS: Steven Gerrard summed it up when he said Jagielka's strike was the goal of a lifetime for a defender. They don't score many goals like that. They get a few from set plays but you certainly wouldn't think Jagielka had got that in his locker and he hit an absolute screamer. We had Ray Parlour on Goals on Sunday talking about the importance of goals this weekend and spoke about Edin Dzeko scoring a brilliant goal to make it 2-0, Pelle making 2-1, Charlie's equaliser for 1-1, but with time ticking away in the Merseyside derby to come up with something like that was brilliant.
Superb Pelle winner eclipses Austin's effort
KAMMY SAYS: I was at St Mary's on Saturday and I thought Southampton were good while QPR will be happy with the way they defended but not with their attacking intent, even though Charlie Austin scored that wonderful goal. Steven Caulker had things organised at the back but they just don't get enough supply to the front players. Southampton weren't as fluid as they were when I saw them against West Ham a few weeks ago, maybe because they had a few changes in midfield. Steven Davis and Victor Wanyama were the two central players while Morgan Schneiderlin, who is so good at coming from deep from the centre, was shoved out wide and I don't think that suited him. But it was another wonderful goal from Pelle that won it for Saints. There wasn't much to choose between that goal and Charlie Austin's but I think Pelle's just edged it due to the degree of difficulty.