Chris Kamara: David de Gea's unhappy period behind him after Everton masterclass
Arsenal have improved tactically and Dynamo the magician can decide the relegation battle
Last Updated: 06/10/14 12:33pm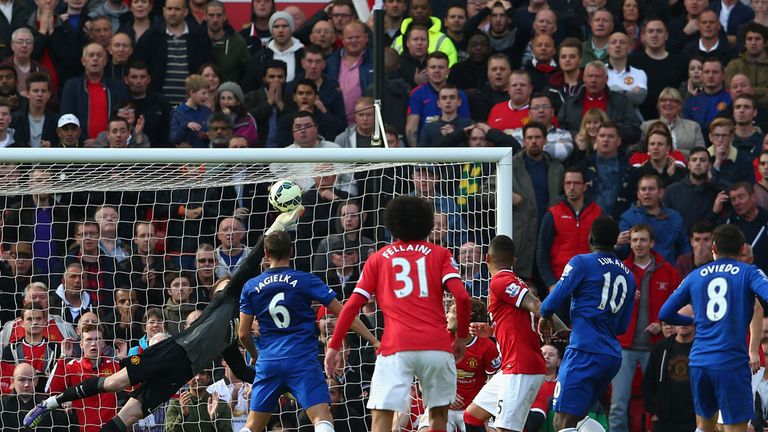 After reporting for Soccer Saturday and reviewing the best of the Premier League action on Goals on Sunday, Chris Kamara looks back at the big talking points from the weekend on skysports.com every Monday morning.
Here, the Sky Sports expert looks back David de Gea's improved body language, Arsenal's new-found resiliency and Burnley's mission impossible.
De Gea hasn't been happy at Manchester United but won them the game at Everton
KAMMY SAYS: It's been a difficult time for David de Gea, I'm sure at some stage this season he didn't know whether he'd be the number one. When he played the Capital One Cup game at the MK Dons I looked at his body language and he didn't want to be there. In that particular game, he thought 'the new manager has come in and doesn't fancy me, I'm stuck with the reserve players in the game at MK Dons' – he didn't cover himself in glory. When he first came to the club he was nervous, but there's a difference between being nervous and not wanting to be there.
You switch that around to his performance against Everton and it was amazing. The one he tipped over was great but the best was the save when the ball came through lots of bodies and still stuck to him like glue. It doesn't matter that the goalkeeper had a 10-out-of-10 performance, you just remember they won.
Arsene Wenger set Arsenal up to be cautious and defensive - but it didn't work
KAMMY SAYS: Arsenal were more resilient against Chelsea than they've been for a while. Tactically, Arsene Wenger wanted a clean sheet but the penalty scuppered that. Eden Hazard was brilliant when he jinked through and he probably would have scored if he wasn't brought down. Until that point they contained Chelsea very well. They weren't as expansive as they usually are.
Wenger is now taking into consideration the opposition which, from their point of view, can only be a good thing. It didn't work so it's difficult to give him the credit he deserves. If you get a 0-0 out of it then you can justify it and say 'well done'. But when you go 1-0 down you have to chase an equaliser so he changed the style.
The team will be happier how they set up away from home against one of the big teams. They will be happy knowing it's not gung-ho. They've got the players to do it. Players are players! Last season and when he was in the Premier League before, Jose Mourinho made his most talented players defend. That was his style. Everyone loves to go forward, you want to play nicely and when it's going well, it's great. But as a footballer, especially at the top level, they know about tactics and know when they need to do a job. That was evident certainly until the first goal.
Chelsea haven't won anything yet but Jose Mourinho knows what he's doing
KAMMY SAYS: Nothing is won in October, that's the thing. Once you start believing you've won it, you won't. There's a lot of football to be played and obviously they're favourites but the big games will keep coming and coming so there's no doubt the manager is something else. Sir Alex Ferguson was a phenomenon and while Mourinho isn't up there yet, he's getting there in terms of how he builds teams and gets them to play how he wants. He doesn't allow big players the luxury of doing what they want, they have to do what he wants, and that's what makes Mourinho stand out.
Falcao can replicate former Atletico Madrid team-mate Diego Costa's scoring spree
KAMMY SAYS: Falcao is a brilliant player, welcome to the Premier League! And Diego 'The Machine' Costa scored again. However, Falcao's different to Costa; he's still getting used to our football so he's not constantly in the game like Costa. He's probably not as fit and he'll need more game-time under his belt, but he's one of those players who is constantly finding the angle to goal, whereas Costa can play with his back to goal and go running the other way. Costa's made such a difference; he was tailor-made for the Premier League – rugged, strong, and a player's man.
QPR don't have the players that Harry Redknapp needs
KAMMY SAYS: Redknapp hasn't got the players to play his usual all-out attacking style and that's the reason for their poor form. What you have to remember is that they're a team that's come up from the Championship so he's still building them back into a Premier League team. They need another striker so it's January when he'll get someone in. At the moment he's trying to get the best out of what he's got but they are falling a bit short. Harry has said that not everyone is 100 per cent fit and that we should judge him when everyone's fit.
Burnley need a miracle, but they created one last season...
KAMMY SAYS: I was at Leicester v Burnley, where Ross Wallace's late equaliser led to a 2-2 draw. Burnley are resilient, like their manager, with a never-say-die attitude although they could do with some more quality. The objective for the club is to stay solvent and from the manager's point of view it makes it difficult to spend money and survive. If they stay up this year he'll get more help but at the moment it's a chicken and egg situation. Do you go for it and if it doesn't work out you suffer? Sean Dyche pulled a rabbit out of the hat last year, Paul Daniels style. This year he'll need to be Dynamo the magician.
Leicester won't be involved in a relegation battle
KAMMY SAYS: I don't think it's right to say they have set the bar too high with their 5-3 win over Manchester United. They won't be in trouble. They're strong at the back, the goalkeeper's good and they've got pace and ability with the wide fellas. They've got strength and pace with Leo Ulloa and Jamie Vardy plus a bit in reserve as well. Vardy didn't have one of his better games on Saturday but he's impressed me this season.