Diego Simeone is staying at Atletico Madrid, says Guillem Balague
Last Updated: 31/05/16 10:33pm
Diego Simeone will stay at Atletico Madrid this summer, but the Argentine wants a stronger squad - including Chelsea striker Diego Costa - with which to compete next season, according to Sky Sports' Spanish football expert Guillem Balague.
Atletico were beaten 5-3 on penalties by Real Madrid in Saturday's Champions League final, the second time in the space of just three years they have lost out on Europe's premier club trophy to their city rivals.
Simeone's side also finished only three points behind champions Barcelona in La Liga in what turned out to be a campaign of near misses for the Rojiblancos.
In the aftermath of defeat at San Siro on the weekend, Simeone hinted that he may now have to think about his future in the Spanish capital.
"For me, it is time to reflect. I think I have to think about things. It wouldn't be good if I didn't want to reflect after losing two finals," Simeone told reporters following defeat to Real.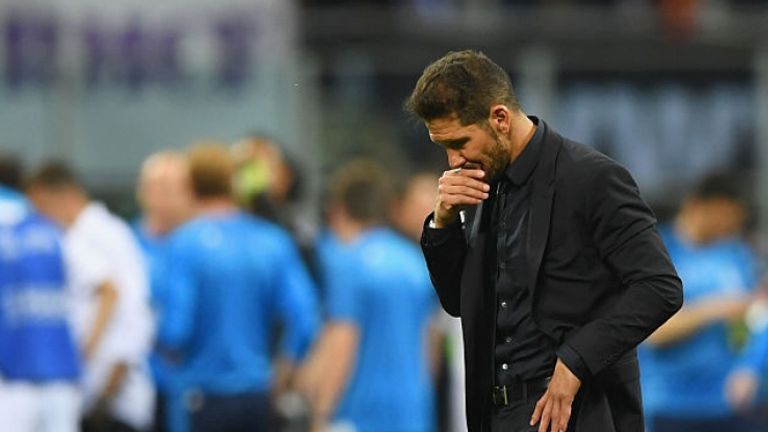 However, despite clearly being disappointed having ended the campaign without a trophy, Simeone will be at the Vicente Calderon at the start of next season, says Balague.
"It all started in the press conference after the Champions League final when Simeone himself said he was going to think about what to do next," Balague told Sky Sports News HQ.
"He wasn't actually pointing at his future, not with those words, but certainly left a question mark.
"The club immediately said: 'he's just upset, that's all it is'. We have been planning the season for six months, the club said, and we want him to stay until 2020, which is the end of his contract.
"In the middle of that, of course, in the 2017/18 season, Atletico Madrid will move to a new stadium and they want him to be the coach there. But Simeone has not said a word since then, suggesting that there are problems."
Atleti's boss, though, does want his employers to bring in more players over the summer, in particular forwards, in order to help him realise his managerial ambitions.
One of those striking targets is former Atletico frontman Costa, who left the club to join Chelsea two years ago, although Simeone's future at the club is not thought to be dependent on re-signing the Brazilian, says Balague.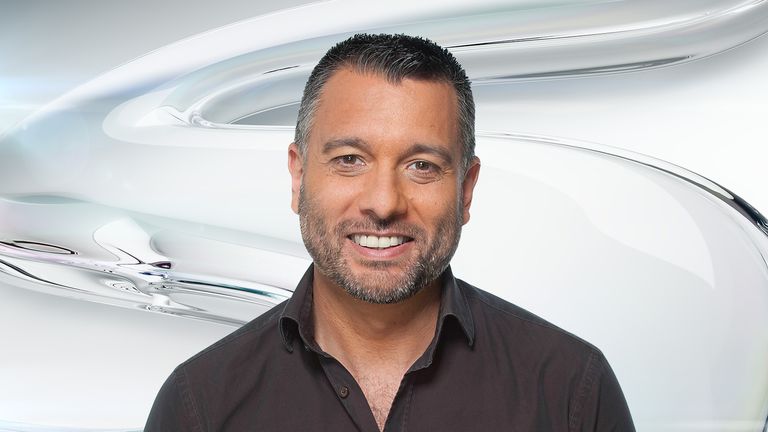 Yes, Diego Costa is one of them, but he hasn't put the condition that if Costa doesn't come, he will go.
Guillem Balague on Simeone's transfer targets
"I think the kind of problems that there are is number one, players," said Balague. "If he is going to win titles, the Champions League, he is not going to do it with Fernando Torres up front.
"He needs a bigger striker and a bigger scorer throughout the season because you saw that in the league, 18 goals conceded, all that Atletico Madrid had was the best defence in Europe.
"But they didn't score enough goals, which made them short to win the league.
"So it's a little bit of a scary moment for Atletico Madrid. The club is certain that he is staying but Simeone will say: 'I will with conditions.'
"I do feel that he was upset and wanted to take all the blame, all the responsibility for the defeat and didn't want the players to have any, so he said if I failed - and he used the word for the first time in four-and-a-half years at Atletico Madrid - then it is down to me.
"I feel it's that and his conditions are that he wants a stronger squad. He now realises that with more money coming from television, more investment from China, they are a healthier club and he wants better players.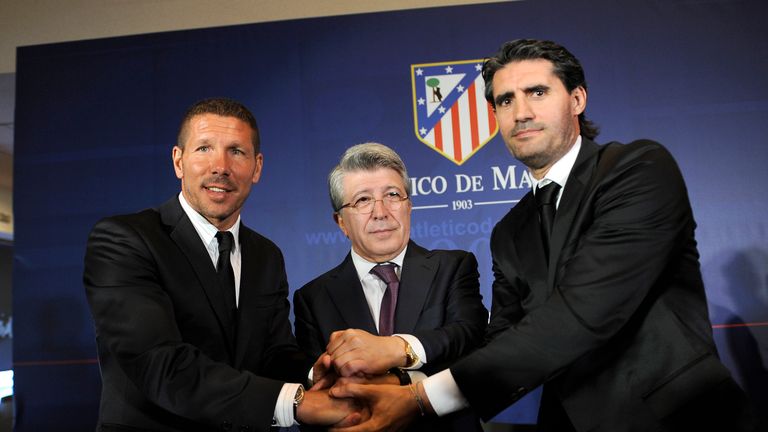 "Yes, Diego Costa is one of them, but he hasn't put the condition as such that if Costa doesn't come, he will go.
"It will be an interesting summer for Atletico Madrid and it was a double hurt for Atletico Madrid fans after losing the Champions League."
As for where Simeone may end up when he does finally decide to leave Atletico, Balague believes the 46-year-old will have many suitors from all over Europe interested in his services.
"He hasn't got a team in the Premier League," he said. "He will have Inter Milan at some point when he wants it, but I do think he is going to stay."