Cristiano Ronaldo and Karim Benzema problems analysed by Guillem Balague
Last Updated: 06/11/17 7:13pm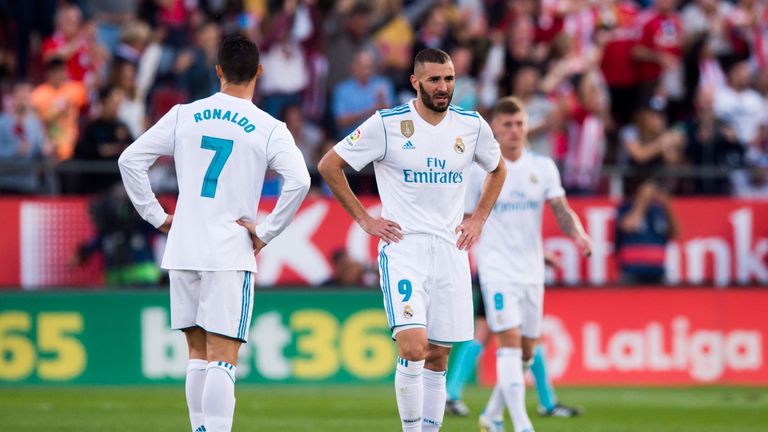 In his weekly column, Guillem Balague provides us with five big talking points from the La Liga weekend, including why misfiring Real Madrid strikers Cristiano Ronaldo and Karim Benzema are lacking in confidence.
Balague also analyses Antoine Griezmann's form and whether he could leave Atletico Madrid next summer, as well as Luis Suarez's goal drought, and the fine form of Simone Zaza at Valencia.
Real strikers lacking confidence
They started very slowly in the 3-0 win over Las Palmas, but after the first goal, and especially in the second half, the ball and the players moved a bit quicker - a weight had been lifted off their tense shoulders.
But there are still a lot of players lacking in confidence. Out of those two up front for Real, there is one rebelling, and one who is just accepting his fate.
Karim Benzema has scored two goals in 28 shots, and he doesn't seem to be too bothered. He is the kind of guy, using the expression used by Johan Cruyff, who needs fireworks up his backside. He needs somebody to challenge him.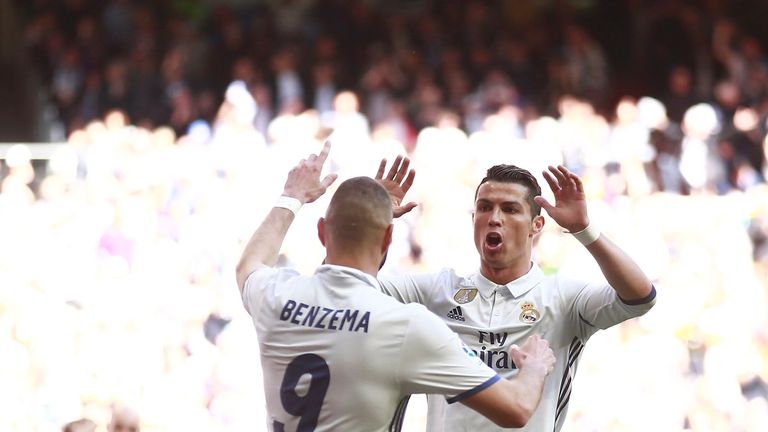 There is nobody on the bench who could take Benzema's role, so he is comfortable, even if he is not scoring and is being whistled by the fans, something that usually impacts him.
He only gave 12 successful passes on Sunday, and didn't get involved in the link-up as much as he should.
For Ronaldo, it's one goal in 48 shots. Not even giving the assist for Isco's third goal made him happy; he didn't celebrate, and looked like he had just missed a chance!
Both of them have scored just one goal in the league this season, and the fans were actually reacting to Ronaldo differently to how they react to Benzema, clapping him and telling him his fate will change, but it's interesting how often he shoots on goal and the fact that he is the least effective he has been in his Real career. It is a matter of being too anxious, lacking that touch of confidence. But things could turn around very quickly.
Griezmann not firing
Diego Simeone's side are finding it very, very difficult at the moment. Carrasco and Koke were missing in the narrow 1-0 win at Deportivo, and they are the two creative forces of Atletico. That also impact Antoine Griezmann.
There has been a lot written in Spain that the fans are not happy with Griezmann, and that he faced them when Kevin Gameiro was being criticised in the last home game. That is in fact media trying to create havoc. Most fans back him and he interprets his form as a consequence of a team that attacks less.
The team (all very good friends of him, Antoine is godfather to Diego Godin's son, for instance) are trying to back Griezmann up, but it has been seven games since he scored. Without the service and the right companion up front, he suffers.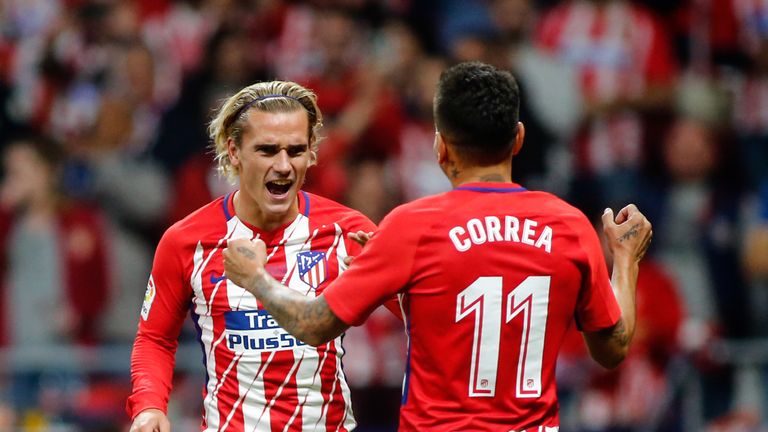 Next up is the derby against Real Madrid at home, but it's an interesting situation because even Simeone made two statements. 1) Without talking, he replaced him 10 minutes before the end of the game at 0-0, and then 2) In the press conference, he said Atletico do not have anyone to win games. To me, that's a clear message to Griezmann, who of course needs to improve.
Remember, he has a 100m euro buy-out clause, and if Atletico get knocked out of the Champions League, they will lose out on the 25m euros they expected to gain.
Barcelona want him, quite clearly, and as we know Manchester United want him as well. Jose Mourinho spoke to him and convinced him to join United but it was the player who, as a gesture of loyalty to the club and mostly to the group of players he adores, decided to stay.
If Barcelona feel the deal for Philippe Coutinho is not possible for whatever reason, they may go for Griezmann.
They surely won't go for him in January, but if he's available in the summer, and if Coutinho doesn't come, Griezmann is clearly a target.
Political platform
In the Nou Camp during Barcelona's 2-1 win over Sevilla, there was a huge Catalan flag lifted, organised by the club, with the word 'Justice' written in Catalan and English.
The section of the fans controlled by the club shouted 'freedom', referring to what Barcelona see as a political oppression.
There were 70,000 leaflets demanding their freedom given away outside of the stadium, and there seems to be a clear sense of frustration, and as always, the Nou Camp is a place where a political stance takes place.
Sometimes the club prefers not to get involved, or do it in a subtle way, but historically fans have used the stadium as a place to show their political stance, and they did the same against Sevilla.
Suarez's struggles
Luis Suarez won't be travelling with Uruguay for their upcoming internationals due to a knee issue, and he will appreciate the rest.
Physically he seems fine in the outside but a cyst in his knee is bothering him, but Barcelona's formation does impact him, with Messi used in a more central position. On Saturday, Messi was played more as a No 10, with Suarez and Paco Alcacer ahead of him. That helps Suarez, because it meant he wasn't on his own with the centre-backs.
It also helped Barcelona, because by keeping the centre-backs fixed, the Sevilla full-backs also had to come inside because they had Messi, Iniesta and Rakitic coming through the middle, and that in-turn gave freedom to the Barca full-backs.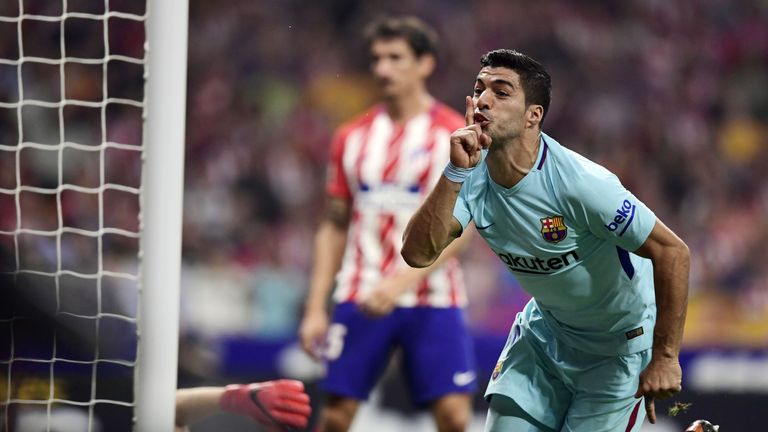 But this season, without wingers, the centre-forwards suffer because they don't have as much space, and that is evident in the fact Suarez shoots only half as much as he used to. He's only scored three goals, once every 417 minutes.
By the way, the second tier of the Barcelona team - against my prediction - are key to what the successful season so far. As well as the three goals of Alcacer, Paulinho has scored three goals, Denis Suarez was key against Getafe, Gerard Deulofeu is often placed next to Messi and Suarez, and Nelson Semedo has also done well.
Gaga about Zaza
Simone Zaza has now returned to the Italian national team, and what a turnaround for a player who had really struggled last season following that penalty miss in Euro 2016 against Germany.
He is a passionate and nice guy, who struggled with criticism. He thinks the problems in the Euros meant he didn't approach the Premier League move to West Ham in the right way; he was anxious, lacking in confidence, not at his best, and he's used Valencia as if it's his last opportunity. He has definitely taken it.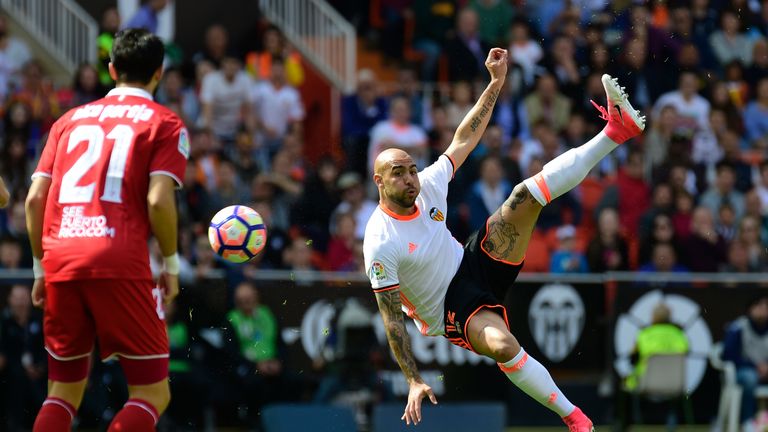 That is proof again that the lack of patience in the Premier League causes clubs to miss out on the growth of talented players. I do hate it when he is called a Premier League flop, or a West Ham flop, inferring that if you don't make it in the Premier League you are not good enough. I think scoring eight goals in nine La Liga games is very good, and now he has the World Cup play-offs against Sweden to show what he can do again.
Last season Zaza played 21 of the 22 games under Voro, and he has played every game under Marcelino. He did get a bit upset at the weekend having been taken off with 12 minutes remaining of their 3-0 win over Leganes, because he had scored in the previous six and wanted to make it seven. He went down the tunnel, but after going to the toilet, he returned to the bench to watch the end of the game.
His father recently said that he struggles with over-criticism, and he felt it was a little bit unfair, and that he needed a club that loved him and gave him calmness. Quite clearly Valencia are the right club, and have managed to do this.