Guillem Balague: Liverpool stand on Philippe Coutinho, Real Madrid target Kepa and Barcelona's formation
Last Updated: 11/12/17 6:56pm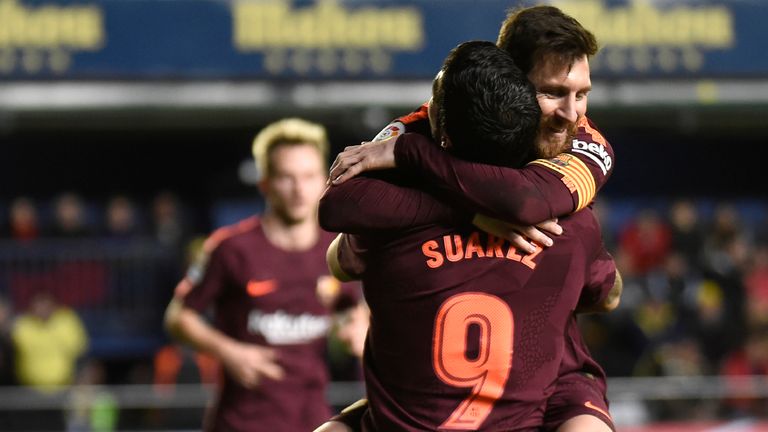 Guillem Balague brings you his five main talking points from the weekend's La Liga action, including Barcelona and Real Madrid's contrasting fortunes with their formations, plus he answers your questions on Philippe Coutinho's future and Real Madrid's goalkeeper target Kepa...
Alcacer's introduction helped Suarez
Barcelona are now winning games thanks to Lionel Messi, of course, and Marc-Andre ter Stegen in goal, but also Paco Alcacer, strangely enough.
Everything goes through Messi and it is too much, Barcelona have to find other solutions. Denis Suarez wasn't at the level necessary against Villarreal, Paulinho hasn't been either in the last few weeks and the 4-4-2 formation just doesn't work.
Paco Alcacer has come in and changed the performance of the team. He was helped by the fact that two minutes after he came on Daniel Raba was sent off for Villarreal but Luis Suarez said after the game that he enjoys having Paco Alcacer next to him. On his own, he has to fight against all the defenders, there is not enough space and it is easier to defend against Barcelona when Suarez is the only forward.
A stat that proves the point is that Paco Alcacer has played 608 minutes in ten games, scoring six goals and providing two assists. He has scored a goal or given an assist once every 76 minutes. While Suarez has given a goal or an assist once every 159 minutes.
Added to that, Jordi Alba was outstanding. He wasn't as impressive in the first half when he was in forward positions rather coming from deep, which he did more of in the second half. Finally, Ter Stegen, for me is with Jan Oblak and David De Gea, one of the best goalkeepers in the world.
Is 4-4-2 back in fashion?
It's interesting that both Barcelona and Real Madrid are playing 4-4-2 at the moment. Barcelona have been doing it for the last three games. It worked really well with a diamond shape in the first half against Valencia but then there is a lack of depth out wide with everything going through the centre and Messi.
The problem is without Ousmane Dembele - he could be physically ready for the Clasico but I don't think Valverde will risk him - they just don't really have that player that can be decisive as a winger as Gerard Deulofeu has been disappointing.
They have been trying different things like having Paulinho defending close to Sergio Busquets in midfield and having another player in an attacking position next to Messi, but again it was very predictable and slow and it needed the appearance of Alcacer to make Barcelona more dangerous.
Real Madrid used it against Sevilla and it was fantastic. They were brilliant in the first half going 5-0 up and that was the end result. Zidane left Isco on the bench, had Luka Modric and Toni Kroos in the middle with Lucas Vazquez and Marco Asensio on the wings, but they had the facility to move anywhere. Asensio drifted centrally quite often.
Because Casemiro was missing, they had Modric and Kroos filling that role and the 4-4-2 worked because Lucas and Asensio helped the full backs deal with the danger of Nolito and Jesus Navas.
So it's funny. At a time when many see the 4-4-2 as old-fashioned, both Barcelona and Real Madrid are using it.
There are two Manchester Citys in La Liga
Manchester City are doing so well in the Premier League but I don't hear anyone saying that the Premier League is poor. But when Real Madrid and Barcelona are ahead of the rest in La Liga a lot of people say that La Liga is poor.
Imagine having this City twice in the league every single season which is what Atletico Madrid, Valencia and everybody else has had to fight against. For Atletico Madrid to win the league when there were two clubs as good as them was fantastic.
They are still competing well, of course. Atletico Madrid went one year without losing away, have only conceded seven goals and are still unbeaten this season. And Valencia have made the best start to a La Liga season ever after 15 games with just one defeat so far and they managed to beat Celta Vigo this week, even without Goncalo Guedes.
Getafe are over-achieving
This is a team that has averaged 38% possession this team which means that they are the third-worst team in possession terms in Europe's top five leagues.
They have been accused of having a dry pitch that has benefited them because they don't have too much possession. Valencia were complaining about the pitch last week when they were beaten but there are other reasons why teams cannot beat Getafe.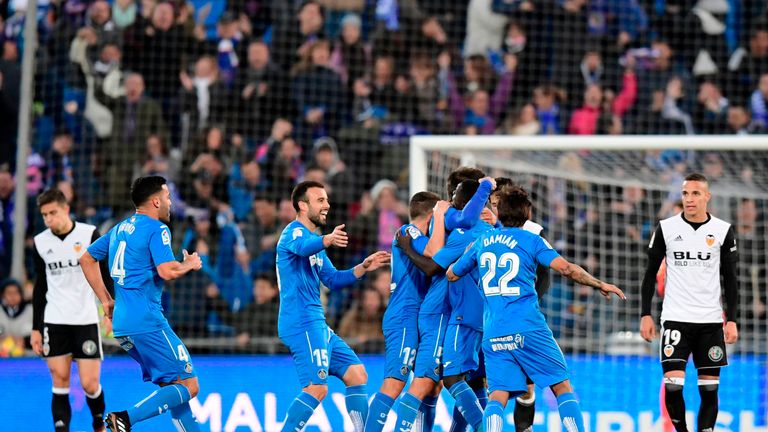 The other reasons are:
They have the seventh-best defence in La Liga and they don't make a lot of mistakes.
The axis of the team is strong. Guaita, the 'keeper is doing so well, Djene the centre back is also strong, Markel Bergara is one of their top goalscorers even though he's a holding midfielder and up front Jorge Molina and Angel Rodriguez have got ten goals so far.
They drew at the weekend but they are absolutely over-achieving.
Abelardo's great start at Alaves
Since taking over at Alaves, Abelardo has had two victories against Girona and Las Palmas.
They were two key games because even though Girona are punching above their weight, they may be fighting relegation at the end of the season and Alaves have moved off the bottom of the table with Las Palmas replacing them there.
Abelardo was a player for Sporting, Barcelona and Alaves, played over 50 times for Spain and he won two La Liga titles with Barcelona, so he's a legend of Spanish football and it's good to see that generation of players taking charge of teams in La Liga.
Time for your questions…
Will Coutinho join Barcelona in January?
GUILLEM SAYS: Liverpool's stance is the same, meaning right now they don't want to negotiate with Barcelona. They are not sitting down with Barcelona and are not setting a price for him. In the summer, it will be a different story, but they have no intention of selling him right now.
What are Barcelona's attacking midfield options?
GUILLEM SAYS: The problem for Barcelona right now is that they don't have a huge amount of money. Arthur Melo (of Gremio) is still the priority, they will put in an offer for Coutinho but they aren't very optimistic as Liverpool do not want to sell right now. It is absolutely necessary that they get one or two players in - one could be a centre back - if Mascherano leaves, which we will know soon. Mascherano wants to leave in January and he's asking Barcelona to let him go so he can play regularly before the World Cup and he has a huge offer from China.
Who will be Real Madrid's first choice if Kepa joins?
GUILLEM SAYS: This situation is interesting. Kepa wants to keep playing because he doesn't want to miss the World Cup. But if Kepa doesn't renew his contract with Athletic Bilbao, which he doesn't want to do at the moment, it could mean that he will spend the last three or four months of the season on the bench as Athletic will try and put him under pressure.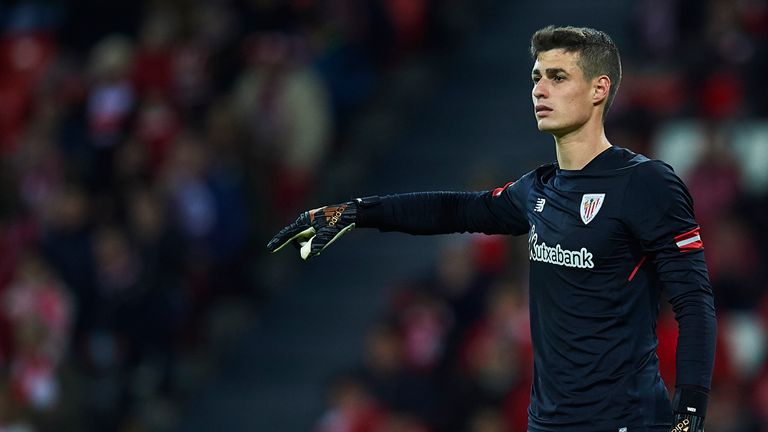 Hence, Real Madrid are offering €20m and are hoping to get him. Real Madrid want Kepa to join January but if he does, Keylor Navas will still be the No 1. When you see Kepa play, he has the calmness of De Gea, the reactions of Oblak and the intelligence of Lloris, but he has less experience than all of them. But he can be one of the best goalkeepers in the world for sure.
Will Atletico Madrid do any business in January?
GUILLEM SAYS: With the arrivals of Vitolo and Diego Costa in January, what they will do is look to sell. Luciano Vietto could definitely be one, Angel Correa could be another.
Where will Thibaut Courtois be playing next season?
GUILLEM SAYS: Courtois is waiting to see what happens with everyone else. So, for instance, if Kepa goes to Real Madrid, what will happen to Navas? Is Oblak going to go to PSG? It's definitely going to be an interesting summer for goalkeepers but it is too early to say what will happen with Courtois.