Is there room for Neymar and Cristiano Ronaldo at Real Madrid?
Last Updated: 20/03/18 6:09am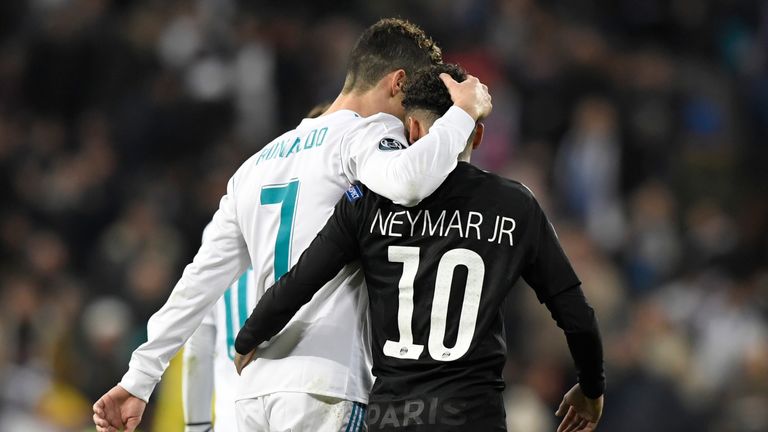 In his latest 'Five things from La Liga' column, Guillem Balague explores how Neymar would fit at Real Madrid after Cristiano Ronaldo strengthened his claim as football's greatest ever striker.
Room for Ronaldo and Neymar?
We have to start with Ronaldo, who else? Not only is he the best striker of all time but now there's a case that he is the greatest first-time finisher in history. He only needs one touch to score. His movement is clever, he is strong competing for aerial balls, he sees space and the most importantly, his team-mates see him in those spaces.
He scored a goal every 311 minutes in the first half of the season to one every 44 minutes since January, which is amazing. He's three goals shy of old adversary Lionel Messi in the race for the Pichichi too. Interestingly, the press in Madrid have billed the Pichichi as the biggest award ever, almost as important as winning the league. That, of course, has to do with the fact Real are 15 points behind Barcelona.
Sunday's 6-3 win over Girona provided further evidence that Gareth Bale has fallen behind Macros Asensio and Lucas Vazquez in the appreciation of Zinedine Zidane. Bale got on the scoresheet at the Bernabeu but Asensio and Vazquez do something Bale has not been doing lately, and that's to revel in games like that.
He's been a little bit resigned, a little bit down and it would be good for all concerned if he demanded the ball, ran into space and positive things that would win back Zidane's faith. To be left out of a game of this stature, though, shows he is yet to win Zidane over.
Karim Benzema, on the other hand, was very good at linking the midfield and attack. With just four La Liga goals to his name this season, this has proven to be his best asset. If say Neymar was added to the equation it would make for an interesting proposition - would Cristiano accept that?
There was a time when Benzema was thinking of leaving Real Madrid and there was a time when Real Madrid were thinking about moving Benzema on. Ronaldo lobbied for Benzema to stay and Gonzalo Higuain eventually left. If Neymar came along, despite Paris Saint-Germain insisting there is no way he is leaving this summer, Real Madrid, Ronaldo and the squad would have to be in favour of his arrival - which they are.
The only problem with this potential transfer is the small matter of wages. Cristiano earns £18m (€21m) net and that's soon to increase to £22m (€25m) with bonuses. Neymar earns a staggering £31m (€35m) net at PSG, so Real Madrid will need to sort that out, perhaps by bringing Ronaldo's wages up to "26m (€30m) and asking Neymar to reduce his wage.
It remains to be seen if they work that out, but at this stage we have to take note of PSG's stance that Neymar, who has no buy-out clause, will not be leaving the Parc des Princes. That being said, Barcelona towed the same line until they realised it was too late.
With Juventus on the horizon in the Champions League, conceding three goals to Girona from aerial situations does not bode well. It seems Real Madrid are the first giants of football to think the Champions League is the competition of this era. In an era of short memories and Twitter, Real appear to think that 13 games weigh more than 38.
To be honest, if they win the Champions League again, their season will be classed as a success, despite their poor form in La Liga. All things considered, Real are certainly looking for the shortest route to glory this season.
Life after Iniesta?
Andres Iniesta revealed on Wednesday he had until the end of April to decide if he goes to China or stays. Barcelona fans had the chance to express their thoughts during the Athletic Bilbao game, and there were cries for Iniesta to stay.
He played an important role, especially in the second half when Barca were leading 2-0, to help control the game against a Bilbao side that grew in the game.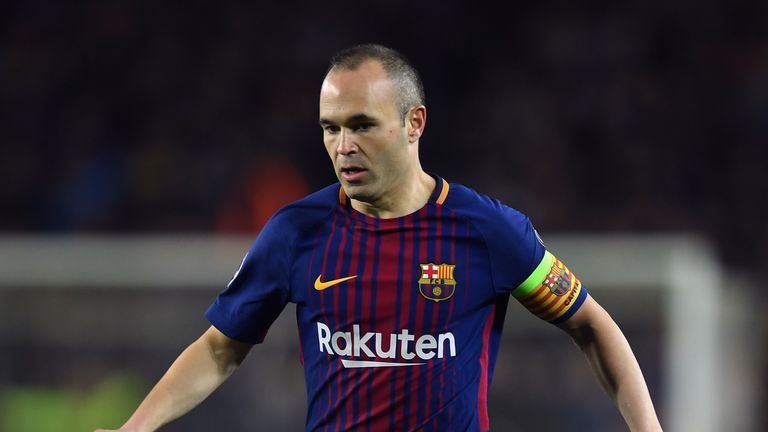 Interestingly, though, for those that say Iniesta cannot be replaced, he did not feature in the first half as Ivan Rakitic, Paulinho and Philippe Coutinho started. The three of them are more offensive than defensive and that allowed Barcelona to create chances and do so in the way it had to be done, at different paces ranging from slow to two or three gears quicker.
Ousmane Dembele provided danger from the wings and allowed right-back Sergi Roberto to do things that created havoc in the Bilbao defence. On top of that, Coutinho and Jordi Alba's partnership continued to blossom on the left flank.
All of this was achieved by a combination of control and direct football. It was very good to see and showed there is life after Iniesta.
Simeone comes up short
Diego Simeone held his hands up after Atletico Madrid's defeat to Villarreal, admitting he did not give the team the weapons to win the game. They were 1-0 up with 10 minutes to go before Villarreal turned the game around. Two goals from Enes Unal, both from crosses into the area, will particular hurt Atleti, a team that pride themselves on defensive surety. They seem to concede in that manner too often.
Atleti have won nine games 1-0 this season but they have also dropped points from winning positions for deciding to defend too deep - Simeone accepted his decision to replace Antoine Griezmann with Gabi was costly.
Simeone will decide whether to give up on title when he knows where Atleti are with five games to go, with both clubs still involved in European competition, and with Barca's task in the Champions League tougher than Atleti's in the Europa League, it's hoped points will be dropped to help bridge the current 11-point gap between first and second.
The rise of Rodri
Villarreal didn't have much depth for three quarters of the game, they tried things but they found a wall in the form of Atletico Madrid. But there was one player who went from not playing risky passes to becoming one of the top players on the pitch, and that was Rodri.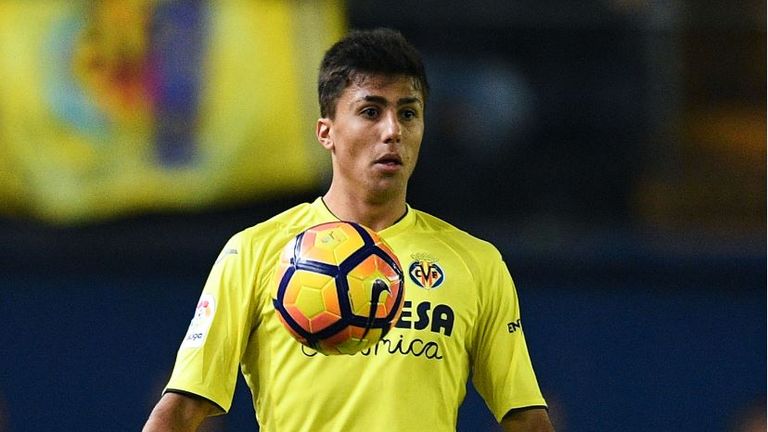 He's a central midfielder that looks like Sergio Busquets and plays in his position. He's been called up by Spain for the forthcoming friendlies this week and he has been signed by Atletico Madrid. He came from Atletico Madrid, went to Villarreal and will return to be the new Tiago, former Atleti player and current coach, and he will replace captain Gabi, who is getting older.
Great substitutions from head coach Javier Calleja to bring on Enes Unal, who scored two goals, and Samu Castillejo gave the team completely different pace, although Rodri played a key role in that, winning the ball high and passing through lines of pressure. He's a player worth keeping an eye on in the future.
Axe wielded at the Anoeta
Eusebio and the director of football, Loren, have left Real Sociedad. Loren resigned after the fans chanted they wanted him out and Eusebio soon followed when he was sacked. Both of them had recently renewed their contracts but, as the old adage goes, I guess that's football. Eusebio is the 11th coach to get the sack in La Liga this season. It's a shame because his style - possession football, football based in Barcelona - make everybody - the fans, the board, the media - happy.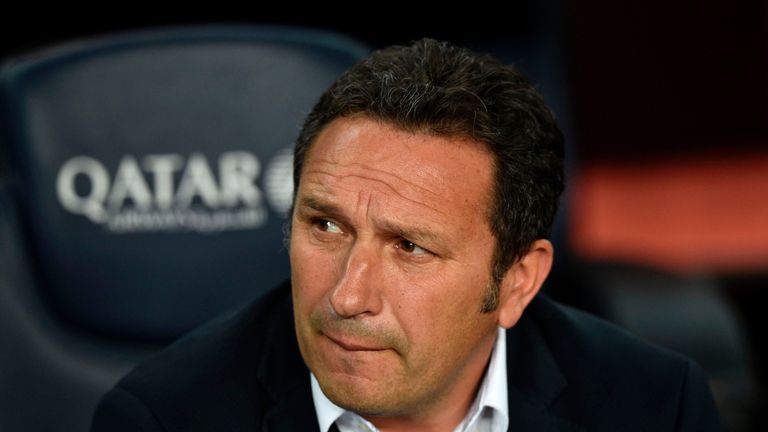 He came when David Moyes left and found a team that was in disarray and bereft of confidence but he steered them to ninth that season and sixth the season after. But they were knocked out of the cup by Lleida this season and were eliminated from the Europa League in the round of 32 by Salzburg. After that, it was only a matter of time before Sociedad parted company with Eusebio, with B team coach Imanol Alguacil taking charge of the team.
In the case of Loren, he took charge of the team 10 years ago when they were in the Segunda Division and they have been in Europe the past three seasons so that was good. On the whole, with the exception of Moyes, he got his managerial appointments right and has overseen the pathway for players to come through the ranks - a necessity at Real Sociedad.
The likes of Alvaro Odriozola, Jon Bautista, Igor Zubeldia and Kevin have all flourished. He signed good players like Carlos Vella, Claudio Bravo and Willian Jose and sold well, the Asier Illarramendi, Antoine Griezmann and Inigo Martinez deals for example.
But his decision to sell Yuri Berchiche to PSG and allow Vela and Martinez to leave this season left an unbalanced and uncompetitive squad. Nine wins, six draws and 14 defeats suggest the team has not been able to maintain their level in so many competitions. In the last two months they have dropped so many points that despite being 12 points from relegation, the board felt the need to change things and prepare for next season.