Gareth Bale giving Zinedine Zidane a nice headache before Champions League final, says Guillem Balague
Last Updated: 14/05/18 11:51am
In his latest column, Sky Sports' Spanish football expert Guillem Balague gives his verdict on Gareth Bale's form ahead of the Champions League final, plus other talking points from La Liga.
Bale scored twice in Real's 6-0 win over Celta, giving Zinedine Zidane a positive headache ahead of the May 26 final against Liverpool in Kiev, and Balague also gave his take on Neymar's future after more links to the Bernabeu.
After Barcelona's unbeaten record was thrown away at Levante, Balague again questioned the champions' strength in depth, and we also look at how Atletico Madrid will approach the Europa League final against Marseille.
Bale's form / how Liverpool can hurt Real
We're getting closer to the Champions League final, and Zinedine Zidane has got another headache to deal with, and it's one of those headaches managers like.
Gareth Bale is in the best form of his season. His recent goals, and his two against Celta on Saturday, suggest Bale is ready for the line-up against Liverpool, and Zidane has said so himself too.
Regarding his future, Bale does not want to go anywhere, he wants to stay in Madrid. Real are telling him exactly that, too, but Real will need to raise money if they are to go for another big Galactico for next season.
The way Real played against Celta suggested a style that would be put into practice against Liverpool. It was a direct Real Madrid, one with an intention of being offensive; when Kroos, Isco and Modric got the ball, they quickly turned and looked for the players up front.
That type of football is difficult to beat. In fact, I would expect Liverpool to do exactly the same. Interestingly, I was in Newcastle this week and spoke with Rafa Benitez about what he expects from the final, given he managed both. He pointed out something which could take the game into Liverpool's favour; the intensity of their play with or without the ball. The fact that when they have the ball, their sole intention is to go forward.
For Real, it is about quality, control and game management at times. No doubt they have the experience for it, but the intensity of Liverpool's football can beat Real, Rafa believes.
But then we saw that same intensity when Real played Celta on Saturday; that's why this game seems like a coin flicked in the air for me. It could go either way.
This was a good game for Real; they started to recover some of their injured players. Isco was back, Carvajal will be ready for the final, Ronaldo may even get some minutes in the last game of the season, and things are going well in that department. Everyone will be fine for the final.
Neymar a Real no-go
There has been a lot of talk on Neymar, and how Real want to get him away from PSG. Real would quite clearly like to get Neymar on board, but I don't think it is going to be possible this summer.
From PSG the message is clear: he is going to stay. He has taken a picture with the new shirt, saying he's looking forward to wearing the shirt with PSG. Yes, he may be playing a game, but it seems like the pressure is not on him leaving this summer, but perhaps the summer after.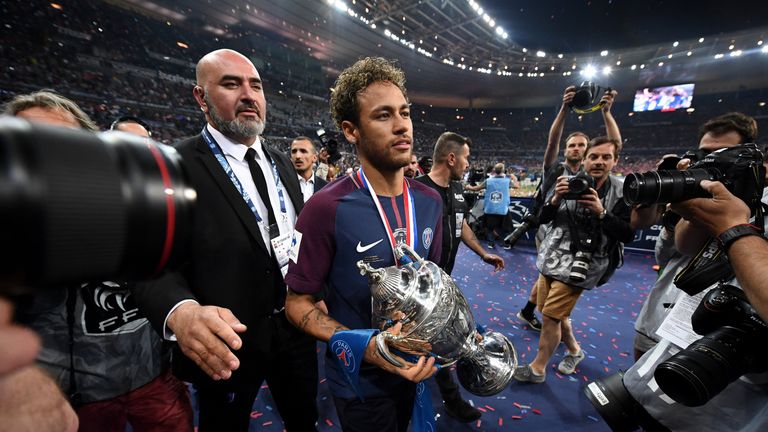 I can see Neymar staying, because the PSG owners have no intention of letting him go. It has become a personal issue, and even if they get fined for FFP breaches, they will try to sort it out by trying to sell other players.
For instance, Angel Di Maria has made contact with Barcelona, he'd like to go there, and though he isn't a top target for Barca, it means he will be looking to move to a top club soon.
Barca's lack of depth evident again
Barcelona lost the unbeaten record against Levante, and that was down to a poor defensive performance, not just from the back four.
In that back four, Yerry Mina was bad, very bad, and this was confirmation that he needs to go out on loan. He not only uses one of the non-European places, but also he hasn't shown enough quality to be part of Barcelona's side just yet.
No Messi, no Iniesta, and that was obviously something which impacted the team, but Philippe Coutinho still managed to put out one of his best performances.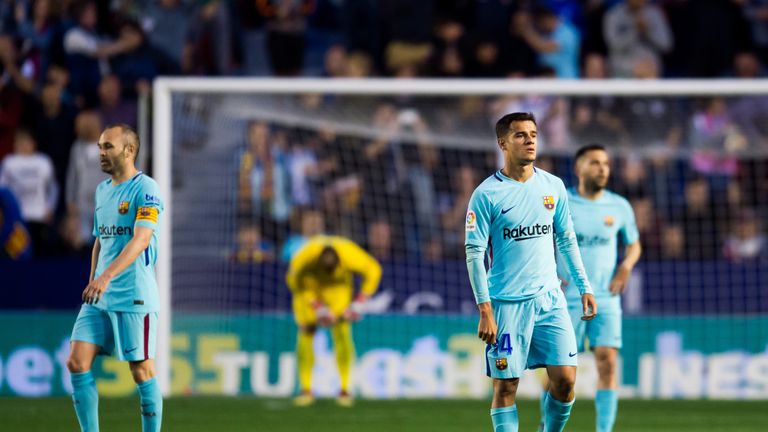 He has nine goals and six assists since joining in January. So, in the five months he has been at Barca, the statistics would suggest he has had an extraordinary start, though his performances suggest he still has much room to improve.
When he is a clear forward, Coutinho has got all that is required to play for Barca, but he is not a replacement for Iniesta and is not a midfielder. In any case, Coutinho shooting from distance was useful, and the fact he has great vision for the last pass made him very useful, too.
But the unbeaten record is over. The two moments where Barcelona needed an extra wind from their non-regulars, like in the last few minutes against Roma and against Levante, they didn't deliver.
As I keep saying, this Barcelona is not strong in terms of depth, they need to improve on that, and everyone is aware of that.
Credit to Levante and Paco Lopez
You have to give credit to Levante on an extraordinary season. Paco Lopez has done an unbelievable job with this team.
They have won eight of the 10 games he has been in charge, having gone 15 without a win before he came in. This suggests he has given something special to the side.
He has asked the players to be more offensive, but more importantly, he has released them of pressure. He says: "Be free, do what you can do on the pitch, don't do more, don't do less." Everyone has been better since then.
Starting with Morales in central midfield, he has been one of the stars of the season, even before Paco Lopez came in, plus Emmanuel Boateng, Roger Marti and Enis Bardhi, three more players that have been extraordinary for them. They have quality, commitment, strength and pace.
Atletico's Europa League approach
In the 1-0 win over Getafe, Diego Simeone used a formation they haven't used a lot, but it is probably the style he will play against Marseille in Lyon in the Europa League final.
He had Thomas Partey in front of the defence, with Gabi, Saul Niguez and Koke behind the two strikers. It's more offensive than usual, with the four central midfielders linking better instead of being across the pitch, and also linking better with Griezmann and Costa up front. Neither Griezmann nor Costa finished the game against Getafe, resting ahead of the final.
It gave an indication of what Atletico will do not just with the ball but without the ball, and that's where Koke will perhaps be one of the most important players.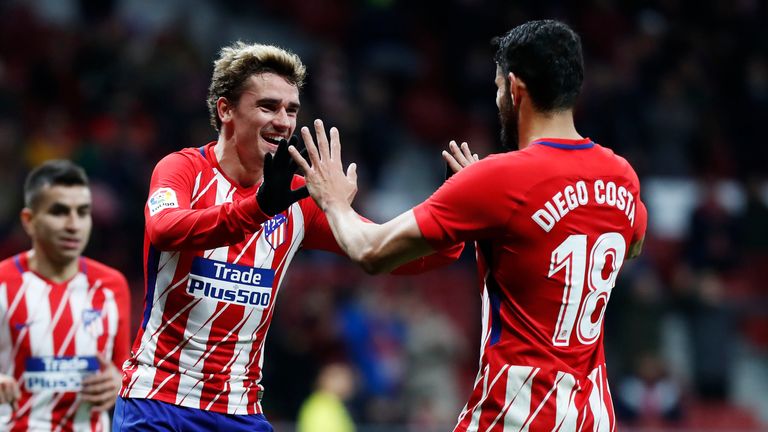 We still haven't seen the Koke which linked superbly with Costa before he went to Chelsea, but this is a Koke who still works really hard. He has a lot of intelligence, a great first touch and can move the ball fluidly into wide positions or up to Costa and Griezmann.
We will see ex-West Ham star Dimitri Payet, who is having an extraordinary season, and ex-Newcastle man Florian Thauvin, who has scored eight goals in his last eight games, coming in from the right on his left foot.
Expect Marseille to have chances, but not only do Atletico have more experience at this stage, they can transform themselves in any way necessary; they are comfortable suffering, but when they have to attack they have a lot of possibilities.