Guillem Balague answers your questions and previews Atletico Madrid v Barcelona
Guillem Balague answers your questions and explains why the trip to Atletico Madrid is vital for Barcelona.
Last Updated: 08/01/14 11:33am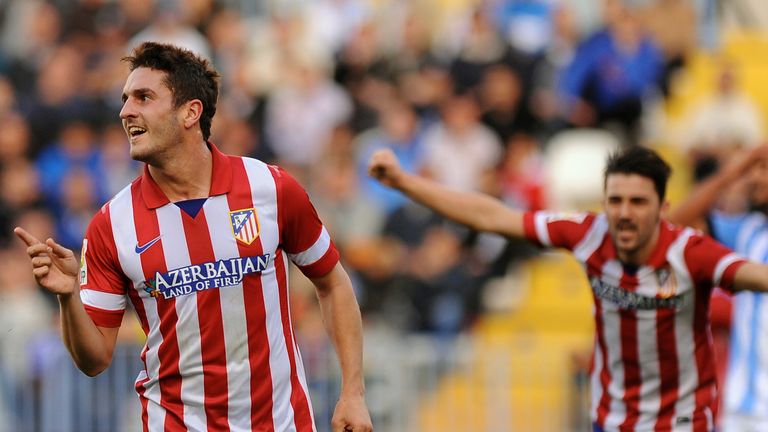 Although Atletico Madrid didn't play great against Malaga at the weekend when they won 1-0, they just don't concede goals.
They have the best defence in La Liga with just 11 goals conceded and that allows them to score at any minute. Sometimes it's not even as a consequence of the football they've played; Diego Costa will do something or a substitution will change things.
Diego Simeone has got everybody so switched on that when Adrian came on he really helped the side and when they scored their goal Diego Costa dragged away three defenders and Adrian was on his own before the rebound came off the goalkeeper and was finished by Koke.
My last word about Atletico Madrid will be about Koke. Atletico Madrid have never had 49 points in 18 games in their history, they've only lost five points this season and scored 47 goals (six less than Barcelona and two less than Real Madrid) - these are stratospheric amazing stats.
Koke is about to turn 22 years old; he has four goals - which is the best goalscoring record of his career - and eight assists. He's got a buyout clause of 60million euros and yes I do understand that Manchester United like Koke.
So do Bayern Munich and so do many big teams in Europe, but he IS staying at Atletico Madrid and he doesn't want to leave this season.
Conundrum
There is obviously an interesting conundrum in terms of Barcelona's line-up because Pedro - with 15 goals - has become their leading goalscorer in all competitions ahead of Lionel Messi with 14 and Alexis Sanchez with 11.
It's quite clear that titles are won by the likes of Messi and Neymar but sometimes what makes a team are the likes of Pedro and Alexis because they complement each other.
But when you come to selecting your team there are some big decisions to be made; Neymar was left on the bench at the weekend because Tata Martino felt that Alexis is better at the moment, which is an interesting choice.
You would think that against Atletico Madrid they will play Neymar, Messi and another because Atletico Madrid defend very deep. I will go for Pedro out of those because he is better in small spaces; Alexis is better when the team manages to stretch their rivals and he doesn't have to think too much about it, the ball comes to him and he kicks it with one or two touches.
So I think with less space Pedro is better but we'll see; obviously Sergio Busquets, Xavi and Andres Iniesta should be the three in the middle and that means that Cesc Fabregas will be on the bench - it would be surprising if he isn't.
It's quite clear that the 4-0 win against Elche wasn't the best test but Iniesta is getting better, Alexis and Pedro have been good before the New Year and after so far and the team seems to be balancing out the direct football with the possession football.
But the real test will be against Atletico Madrid. I've still got my doubts about Barcelona this season, I need to see them perform at their best against a team like Atletico Madrid and this game is a key point in the season for them.
Don't forget you can watch live coverage of Atletico Madrid v Barcelona from 6.55pm on Sky Sports 4 this Saturday and catch four Copa del Rey fifth round fixtures across the week on Sky Sports
Guillem answers your questions...
Got a question for Guillem? Then send it in using the feedback form below, and then look out for his answer next week...
CHELSEA STRIKER
Fabulous work Guillem! Which La Liga striker do you think can solve the predicament at Chelsea? Nyakzin
GUILLEM SAYS: I think a striker needs to score a lot of goals for a team like Chelsea. I like Jackson Martinez at Porto. I wouldn't look for anyone in La Liga because the best strikers are gone or at Real Madrid and Barcelona.
MATA TO MOVE?
Hi Guillem, after Mourinho said the door is open for Mata to leave in January where are his most likely destinations if he does leave? Thomas
GUILLEM SAYS:
1. Mata has not been told that he has to leave.
2. He wants to stay.
3.IF the club decide to let him go or tell him to look for a team there are a lot of options available for him but he has not been told that and he does not want to leave so really it's in the hands of the club and unless Chelsea tell him 'yes, go' he doesn't have any intention of leaving.
LEAVING ATLETICO?
Hi Guillem, do you believe any players from Atletico Madrid will come to the Premier League in order to clear these debts they have? Darshan
GUILLEM SAYS: Atletico are fighting to win the league so no one is leaving in January - not Costa and not Koke, but then in the summer I can see how they can probably sell Costa and IF (a big IF) he goes he'll probably go to the Premier League and IF it does happen it will be a big sale for Atletico Madrid for sure.
BARCA CENTRE-BACK
Hi Guillem, Do you think Barcelona desperately need to sign at least one new centre-back in January? Michael
GUILLEM SAYS: Barcelona definitely need a centre-back, they've given Carles Puyol a chance to come back but there are rumours he'll retire in the summer, but in any case they just need a centre-back, we've been saying it for years and it is very strange that they haven't gone to get one. It's interesting that Javi Martinez was wanted but they thought that 40million euros was too much. With him they would have got a central midfielder and a centre-back and that wouldn't have been that expensive really.
SPLIT THE MONEY
Guillem, will there ever be a change in La Liga when it comes to division of television rights. Last summer there was a huge exodus of Spanish players going to the Premier League and if this continues the quality of the league will drop every year. It also makes the league boring when only two teams can realistically win the league. Dom
GUILLEM SAYS: I think deep down the big clubs want a European League so there is no rush for Real Madrid and Barcelona to give up any of their television money but what's happening is that there is more power and more concentration of interest in the rest of the league and they may get a bigger percentage of television rights away from Real Madrid and Barcelona in the future. That's what they're fighting for and I think they'll get it but there'll still be a big gap between the top two and the rest and I think so partly because the intention of both clubs is to have a European League in the long term.