Barcelona and Real Madrid's Champions League rivals will not be concerned after watching El Clasico, says Guillem Balague.
Real Madrid lost to Barcelona on Sunday night, but in the first 55 minutes they could have won the game.
They showed a lot of discipline defensively, played with two banks of four, with Gareth Bale very involved defensively and making sure he was always backing up the full-back.
Attacking with the fantastic Karim Benzema, they created a lot of chances. Cristiano Ronaldo was the Disney Ronaldo - a man of moments - and he is still very useful to Real Madrid. He hit the bar, scored a goal, headed the ball on for the disallowed goal and had a chance that Claudio Bravo saved.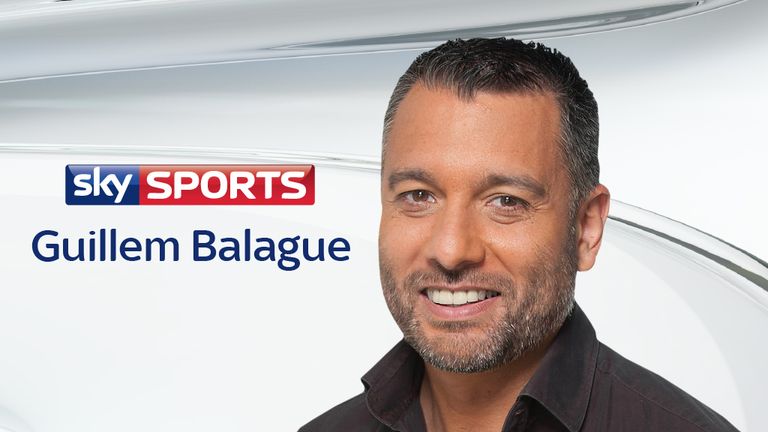 Cristiano Ronaldo was the Disney Ronaldo - a man of moments - and he is still very useful to Real Madrid.
But he is not a player to get involved in the build-up a lot and when the team drops their level, both physically and mentally, he doesn't have the strength at the moment to lift them, as we saw when Barcelona scored.
Barca were a team who lost control. They demand their midfielders to get into the box and that leaves a lot of gaps and the team exposed sometimes.
Because of the way Real Madrid defended, it was difficult for Barca to build up, but they changed when Lionel Messi, who has the freedom to do what he wants on the pitch, moved himself moving into the centre, which helped balance things out.
He did that at the end of the first half but the first 10 minutes of the second half it was still Real Madrid who had chances - but then the goal killed it.
It came from a long ball from the back and then great control and a great goal by Luis Suarez which reminded me of Gary Lineker.
After that, Sergio Busquets and Xavi came on and they played the other variation of Barcelona which makes it difficult for teams.
It is interesting that the impression from a lot of fans of Barcelona, as well as the media, is that the performance created question marks. Jorge Valdano (former Real Madrid general director) even hinted that it would be very difficult for Barca to beat Paris Saint-Germain.
On the other hand, a lot of Real Madrid fans were expecting less and realised that the team gave more than they expected - it was certainly the best game they have played this season.
Everything is about the result and it was Barcelona who won, but neither of these teams will scare PSG or Bayern Munich. They have a lot of strengths but a lot of weaknesses too.


Guillem answers your questions...
Sky Sports' Spanish football expert answers your questions on Cristiano Ronaldo, Luis Suarez, play acting and Gareth Bale...
Is there a reason why Bale goes missing in so many games? Also, when chances fall to him, he doesn't take them? (@MarkMcLellan1)
GUILLEM SAYS: He is still learning about Real Madrid and how they want him to play. I was disappointed to see him celebrate the way he did against Levante because I knew if he didn't do the same against Barcelona then people would say 'look, you didn't do it against Barcelona'. He should just accept criticism and try to improve. I hope Bale is learning from all this and it will make him a better player.
He was missing in the second half of El Clasico, as Neymar was in the first half. Neymar got more involved in the second half when the team played better but both of them have to give more to the team.


Will Bale & Ancelotti be at Madrid next season after both coming in for plenty of stick after last night? (@ManCityArmy1894)
GUILLEM SAYS: I am convinced Bale will be at Real Madrid next season and unless everything gets turned around Ancelotti will not be there. Clearly it depends on results for Ancelotti but I am convinced Bale will stay in Madrid.
Do the Spanish media and fans get embarrassed by all the diving and play acting? It spoils the game every time. (@edmonds_mark)
GUILLEM SAYS: Yes, there was some of that and it was disappointing but the obsession in Britain with diving is a little bit unhealthy. For me there were other things happening in the game that were more important than that.
It would be good if it disappeared but the way the players reacted tactically, the way the coaches tried to win the game, the individual quality of some of the play, that, for me, is more important.
Why don't people in Britain focus on that and not always on the diving? I would love to hear from fans about that. I would love the same kind of attitude towards a bad pass for example - 'Wow! Bad pass, spoils it all the time, embarrassing. All these people earning so much money and they still hit a bad pass sometimes.' But it is not like that.
Do you think Luis Suarez could get 40-plus goals for Barca as he did for #LFC? Even with Messi in the side? (@MrS007Porter)
GUILLEM SAYS: Not this season obviously, but at some point yes because Barcelona score a lot of goals and because of the style they use now which suits Suarez. They create space by quick transitions and that certainly suits him, so he could be a 40-plus scorer in all competitions.
Is Suarez now more important to Barcelona than Neymar? (@alexwhitaker57)
GUILLEM SAYS: The most important player is Messi and Neymar and Suarez are working around that. The way it is going, a fit Neymar who scores goals is also very important because he loves driving with the ball and he loves using that space that is created by the new style of Barcelona.
Is it true Madrid never bid for Suarez as he doesn't fit their club profile/image? (@gagenewton)
GUILLEM SAYS: That is not true. In fact, Madrid tried to sign him but realised very early that Barcelona had basically convinced him to come.
Do you think if Ronaldo was sold it would solidify RM? Bale barely gets the ball passed to him. (@JEM1429)
GUILLEM SAYS: Ronaldo will stay next season, no doubt about it, he will be a Real Madrid player next season. Why do you have to have only one? Barcelona's dream team had four or five top guys and still played well, like Laudrup, Koeman and Stoichkov. So what is this obsession with only having one?
Do you think it is necessary to have an Alonso/Khedira in the Real Madrid team to win big games? (@aaronh_96)
GUILLEM SAYS: Not Khedira because his mind is somewhere else. For three days he didn't go to training and there's not actually a reason for it. He has signed for a German team, some say Bayern some say Schalke.
It would help to have Xabi Alonso but I feel the whole team dropped after 55 minutes physically and mentally and not even Xabi Alonso would have been able to hold that. There have not been enough rotations during the season and that's the accusation that Real Madrid have got towards Ancelotti.