Gareth Bale must rebel against Cristiano Ronaldo and demand more of the ball in order to succeed at Real Madrid, according to Guillem Balague.
Bale's future at the Bernabeu, accelerated after a poor performance in Tuesday's Champions League defeat to Juventus, has come under scrutiny.
Spanish expert Balague believes the Welshman can still succeed in Madrid but reckons the current dynamic between the Welshman and fellow superstar Ronaldo is proving a hindrance to the former Tottenham player.
Speaking to Sky Sports News HQ, Balague said: "Sometimes you feel that Cristiano Ronaldo being there doesn't help, because he wants the ball, wants everything to go through him, and I think Gareth Bale has proved too shy about that.
"He should rebel, he should rebel against all that and we'll see a Gareth Bale similar to the one who was at Spurs and certainly the one we see when he plays for Wales."
Manchester United and Chelsea have been linked with the 25-year-old, but Balague insists there is no possibility of Bale moving back to the Premier League this summer.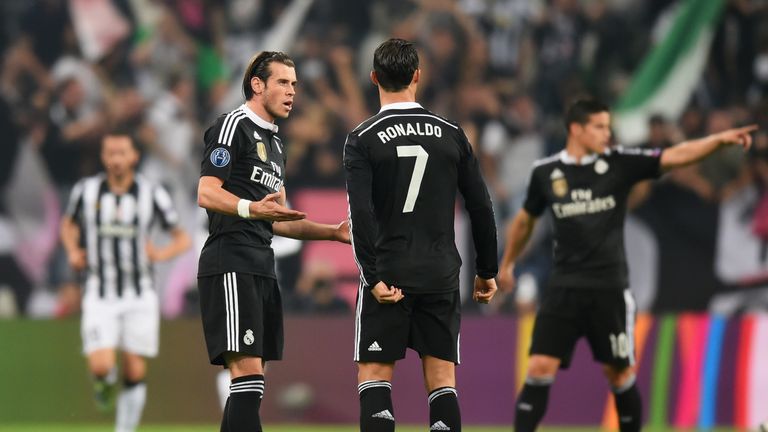 "We've been saying on Revista de la Liga for the whole season, there is no chance whatsoever, zero chances, of Gareth Bale leaving Real Madrid. This is not just because his form is so extraordinary that it wouldn't make sense to get rid of him, it's not just that."
Balague believes there are a number of things Bale can do to improve his chances of succeeding under Carlo Ancelotti at Real Madrid, starting with increasing his understanding of the club and the way they play.
"He didn't have his best game against Juventus, he's just come back from injury, he needs to be sharper," Balague continued. "He has to improve, he has to understand the game of Real Madrid better, he's got to link up better, but of course he was also out of position. He's got to want the ball more, he's got to want to be the protagonist."
Live UEFA Champions League