Swansea v Cardiff could be the last Welsh derby in top flight for some time, says Jeff Stelling
Saturday's match could be the last Welsh derby in the Premier League for some time, says Jeff Stelling.
Last Updated: 08/02/14 3:40pm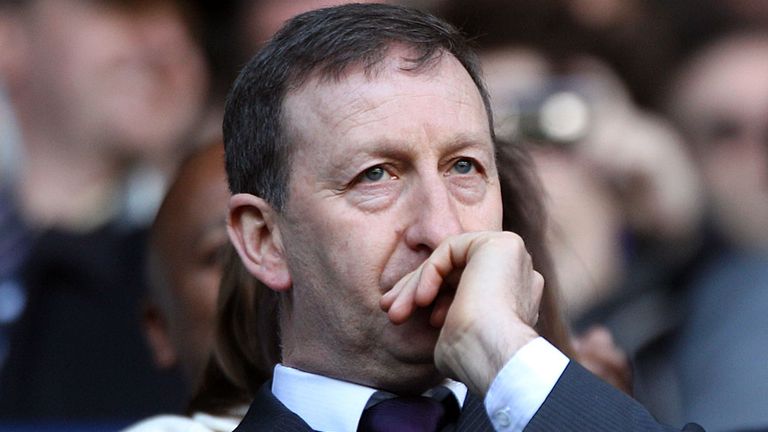 But the fans better make the most of it because it could be their last top flight derby for some time.
Both of the clubs started the season with such promise; in my opinion, had two of the best managers in place in Malky Mackay and Michael Laudrup, while there had also been a lot of money spent by both sides.
Cardiff were buoyant from their promotion to the top league of football for the first time since the 1961/62 season, and Swansea had silverware in the cupboard having won the League Cup.
What could possibly go wrong?
Now we have them both looking over their shoulders at potential relegation, two rookie bosses in charge and the pair of them going in to a derby that neither of side dare lose.
Swansea
Laudrup has gone this week but his departure hasn't been condemned by Swansea fans, so they clearly weren't by any means behind him to a man.
Obviously that was partly down to results but he's an urbane, laidback character, not really a shouter or the sort that shows passion on the touchline, and maybe that's gone against him.
They haven't been the same team this season as they were last, there's no question about that, but they've played a huge number of games with the Europa League and the FA Cup as well.
They've missed Michu, in particular, who's been out for the last 10 games and one or two of the signings have not paid off, while plenty of players have been below form.
I wouldn't excuse Laudrup for the things that have gone wrong because every week it was change, change, change - there were more changes than Taylor Swift in concert!
It looks likes Laudrup may have been leaving at the end of the season anyway and I suspect that's one of the reasons why Huw Jenkins has decided to sack him because Swansea have got a great reputation for appointing good managers and giving them plenty of time.
I saw an article that quoted 'Wales Online' this week saying: "It could be his style works well at a different club.' Well, where exactly do Swansea see themselves?
They're in the Premier League at the moment, they may well be a Premier League side next season as well, they won silverware last season, they're in Europe.
It strikes me his style was working pretty well at this club not a different one! Do they believe they're going to be contenders for European places season in season out, because that's not going to happen!
I might be in the minority in terms of Swansea fans but I'm sorry to see him go but, having said that, you've got to say good luck to Gary Monk.
They've got some tough away games to come and they need to win their home matches but they've got Wilfried Bony, who has got 15 goals this season and really looks the part, and with him you've always got a terrific chance of survival.
Cardiff
And that brings us on to Cardiff.
Although they have brought Kenwyne Jones in, they don't have that goal scorer - Wilfried Zaha came on and made an impact in the game against Norwich but he's not prolific by any means.
Thirteen goals in 129 league games is one in 10 and a lot of those games were in the Championship. He's a game changer but not necessarily a match winner and that's a big concern for Cardiff and Ole Gunnar Solskjaer.
They got that win against Norwich last week which reportedly prompted Vincent Tan to say afterwards: "I'm very happy with Solskjaer, he's much better than Mackay."
Two years down the line he might be saying the same thing and at that stage he might be saying it with some sort of credibility, but at this stage we give him none whatsoever.
Malkay got some terrific results and although Ole Gunnar may go on to be a great manager, not everything was perfect to say the least in that win over Norwich.
The Canaries had 27 shots on the Cardiff goal and you're not often going to win games when the opposition have 27 shots at your goal, while they've also not kept a clean sheet in the league yet under Ole.
It's very, very early days but they're going to look at their games to come and think they have a chance; they've got Villa, Hull, Fulham, Palace and Stoke all to come and they're going to be key.
But, how did we get to this position with both these clubs from a season that started with such great potential.
JEFF'S GEM OF THE WEEK
First of all I must mention Torquay, who went to Portsmouth and won 1-0 despite being woken at 2am the night before when their hotel started to flood. The squad were then left in the reception area to their own devices until 5am in the morning, which proves you don't necessarily need a good night's sleep to get a good result.
Under some circumstance they MIGHT have got 'Gem of the Week', but there were some great performances this week including Chelsea's win at Man City and Sunderland's at Newcastle but, I'm going for Leeds beating Huddersfield 5-1.
Obviously it was the circumstances of this victory. It says a lot about what the players and the fans think about Brian McDermott that they reacted in the way they did in a local derby and Ross McCormack's hat-trick spoke volumes. That was brilliant but I do wonder, who's turn it is this week to have a go managing Leeds?