Houston Dynamo manager Owen Coyle reflects on first season in MLS
By James Kilpatrick
Last Updated: 11/11/15 1:34pm
It's been nearly a year since former Bolton, Burnley and Wigan manager Owen Coyle crossed the pond to take charge of MLS club Houston Dynamo.
The Dynamo failed to qualify for the MLS play-offs after finishing eighth in the Western Conference standings, but Coyle is relishing the challenge of improving next season already. 
With his first MLS campaign under his belt, Coyle discusses topics ranging from travel, the playing standard Stateside, this year's play-offs and his club's ambitions for 2016...
How would you assess your first season in MLS?
We assess it with the respect that we implemented a lot of good things to really take us forward. When you go into any job you've got to evaluate everything about it and that's what we did. We inherited a team that missed out on the play-offs in the eastern conference.
It's a very tough environment but we performed very well for lots of the season and one thing we need to add is a bit of consistency, but that should come in terms of adding key pieces in terms of player personnel moving forward.
Certainly, in the second half of the season our home form was terrific. I think we had the third best home record in the league with only New York Red Bulls and Dallas above us, so what we have to do as well is improve on the road in the league games.
The difference, and what I have learnt, is the road games. It's not like back home in England where there are 20 teams in a 50 mile radius. In Texas, it's nearly three times the size of the whole of the UK. When we travel, I'd actually equate it to playing a European game every second week in terms of when you go on the road because flights can range from anything between one hour and five hours.
There's no buses, you've got to fly everywhere because of the size of the country and we're changing time zones all the time, we change altitude. I've got to say the first season has been so much of a learning curve but within that we've done very well at different things.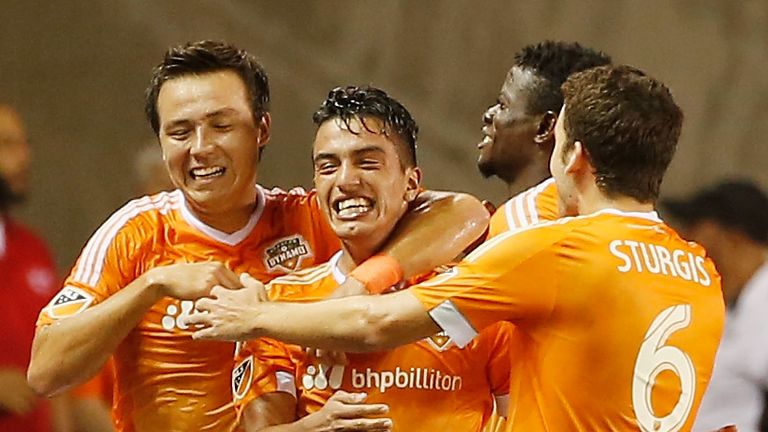 We have a young team and that's growing as well, in terms of the young players we're bringing in, have been getting better so we know the bits we need for next year. We'll get a clear plan, and we'll know that we'll have a team competing year in, year out to try and win the ultimate prize.
Is travel the greatest challenge?
I think it's certainly been eye-opening in that respect, there's no doubt about that because I think we now have to get the club up with modern trends so we've brought in a regular sports scientist, we've got an analyst in, something the club never had before, and obviously everything we do is ultra-professional so that's what we're implementing at the club and will stand everybody in good stead moving forward.
There are many things that I'd say we're far better for the experience, and that's a huge one other than the travel because I think you can look in terms of the training schedules and make sure that when we go on our travels we can replicate our home form, because from May onwards we lost one game at home and in our last 10 games we scored 21-22 goals at home so we're certainly showing terrific form and learning on that front, what we've got to do is replicate that on the road.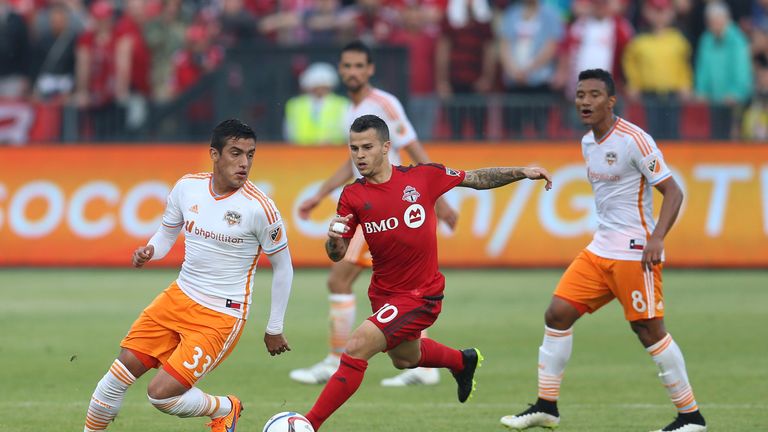 We will be moving forward because we know the bits we need to make it a better team. When we came in last year, we probably inherited a squad. We tweaked one or two things but nothing major. Whereas now, there's probably a number of players in a position that are out of contract and so forth so we can free things up a little bit to get our own type of players in and take us to the next level.
What is the playing standard like in MLS?   
It's always difficult to compare different leagues because they're played in different styles. There's players that will be very successful within MLS in terms of the league, the type of attributes you need to be a successful player, they might not be successful in other leagues and then vice versa.
It's fair to say, when you look at the level and all the different teams, you would probably equate it with the Championship back home because what will happen is, with all due respect to the teams back home in the Championship, you'll see that nobody's going to have a Sebastian Giovinco or a Kaka, a Robbie Keane or a David Villa, boys of that standard which we have in the league.
But then equally will the balance be there if some of the kids that come out from college, and they're learning as well, so I think it's fair to say the balance would probably be a championship level. If I was asked to go and play a championship team tomorrow it wouldn't hold any fears for me.
Former Derby and West Brom midfielder Giles Barnes appears to be thriving in MLS?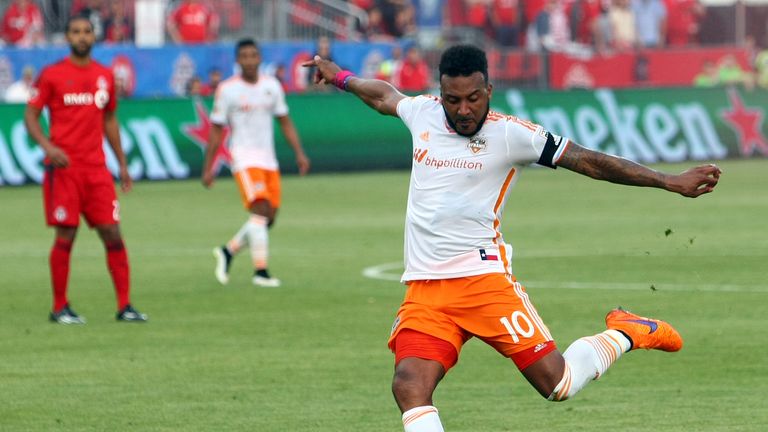 The first half of the season, prior to going to the Copa America with Jamaica, Giles was one of the top two, three players in the league with his level of performance so he was up there with Giovinco in the early part.
It was the first year for him he's been a bona fide international. He went to Copa America, he went to the Gold Cup and had all those extra games with the travelling and for us over here as well, we don't stop. If I'm at Bolton and I get 15 internationals, none of them miss the game for their club whereas over here we had players making 38 appearances within our league campaign because we had five internationals going to Copa America and the Gold Cup.
Not only did they go there but when they went there they picked up injuries. Jermaine Taylor, the centre back from Jamaica, picked up a season-long injury, he's not played another game this season. Giles picked up bumps and bruises, two Honduran lads,  DaMarcus Beasley for the USA as well, so that's the bit that complicated the league in that respect.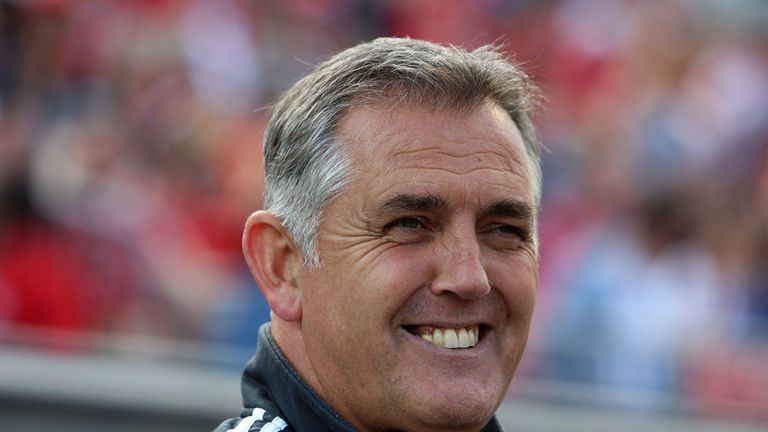 Giles Barnes... next year he's going to light the league up.
Owen Coyle
When Giles Barnes is fresh, I have such a high opinion of him, I think he can play at any level, but what we've got to make sure we do is get the balance of the club games and international games. The travelling does take a real toll on people and that's something we have to give balance to. For Giles, I think you'll see next year for me he's going to light the league up and will be up there with the top, top players.
Are you lining up any star signings at Houston Dynamo?
We're never going to have the finance of the New York Citys and the Torontos and the Galaxy so what we have to do is be very clever in terms of our signing targets so we can go out and bring young, talented players and that's what we want to do.
I think it's fair to say we don't have the finance to go and get a Steven Gerrard, somebody who is a ready-made player and costs millions and millions because we have to be very clever within our own structure but obviously still be successful. We have no doubt we've got the pieces we have to move forward. Of course, with any other coach and manager, you'd love to be able to get the best players that finance brings, but ultimately we've had to keep the club within its own surroundings and that's what we want to do.
It's great, because of the time difference really, I'm able to watch the games back home on a Saturday morning, the Premier League and Championship. I'm going to be home for a few weeks in the run-up to Christmas, I'll be out to games, probably more in the Championship in terms of what the finance can afford but if there are one or two players that can catch your eye you can probably do something.
Who's going to win the 2015 MLS Cup?
I think MLS shows that in any given day you can be successful and you can win games, and even last night I thought Dallas put in a great performance in Seattle even though the Sounders had great chances to win the game.
I thought Columbus' front three with Ethan Finlay, Justin Meram and Kei Kamara, are always going to be a threat to anybody and then you look at Portland who are stunning defensively with Liam Ridgewell, and big Nat Borchers. With Fanendo Adi and Darlington Nagbe they've got a real goal threat as well.
The Red Bulls, as a team, are a very good passing side and Bradley Wright-Phillips, when he's on fire he scores goals for fun. Lloyd Sam, he does very well in the wide area so I think it's going to be fascinating, I really do. And it's hard to actually pick out one of those teams because they all have different attributes.
I think Dallas, truth be told, have been the best team in their conference all season long. The Red Bulls won the Supporters' Shield instead of Dallas so it'll be no surprise if those two make the final but again if it's Columbus or Portland then anybody is in a good position to win. That's what makes it such a fascinating league. 
Does this year's play-offs give you confidence that teams on lower wage bills can thrive in MLS?
We've always punched above our weight and with the Dynamo as a club we've got a history of that as well so it's not a challenge that fazes us. It's one we're looking forward to and we hope to implement our ideas. Certainly Dallas, they're a team that's been building for three or four years to get to the level they are so of course these things take time, but it's a great challenge ahead and one we're really excited about.
Watch the MLS conference finals live on Sky Sports.