'Humble' Wayne Rooney ready for his DC United debut
The former England captain is due to make his first appearance in the MLS against the Vancouver Whitecaps live on Sky Sports.
Last Updated: 14/07/18 11:20pm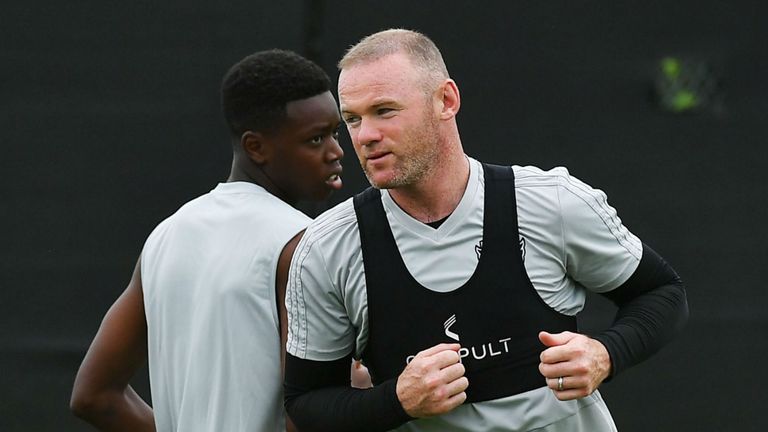 DC United's head coach says Wayne Rooney has been impressive in training and his "humble" approach has made him an instant hit with his new team-mates.
Ben Olsen believes Rooney is ready to make his bow for the MLS Eastern Conference bottom club against the Vancouver Whitecaps, live on Sky Sports.
"He's looked very, very sharp in training," said Olsen, "He's fitting in with his team-mates and we're looking forward to incorporating him in some way.
"Whether he's in behind a lone striker or he becomes the lone striker, a lot of that depends on the game and the situation in the moment.
"We know his versatility but we also know he's scored a few goals in his day, so it will be a balance of that.
"It will take some time to figure out what is best, it is still a group and there are relationships around him, and we need to work out what will be best as a whole."
Olsen has already seen signs Rooney is beginning to build partnerships with some of his new team-mates.
"Good soccer players learn to play with good soccer players very quickly," said Olsen, "With the young guys, the old guys, he's fitting right in.
"It's a honeymoon right now, there's a lot excitement and positive energy right now, so how we'll see how that goes but he's been fantastic in every aspect so far.
"I think the community instantly has gotten behind Wayne. Whether it's the kids or a new fan base that hasn't been with us or supporting us for a while."
It's not just Rooney's ability on the training ground which has impressed Olsen and he picked out another key trait which has made him an immediate hit with everyone at the club.
"Just how humble he is," said Olsen, "Just being a selfless guy."