Why Atlanta United striker Josef Martinez deserves MLS MVP prize
Watch Atlanta vs Portland Timbers in the MLS Cup Final, live on Sky Sports Football at 1am on Sunday morning
By Nick Howson
Last Updated: 06/12/18 6:03am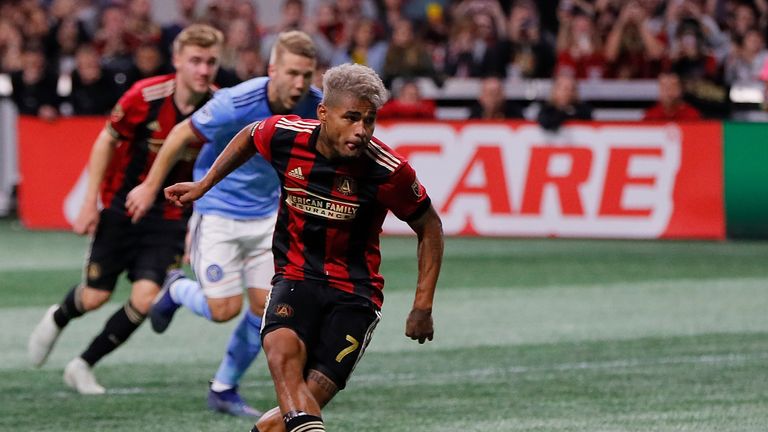 Atlanta United striker Josef Martinez has won the MLS MVP. But what has the Spaniard done to merit succeeding the likes of Landon Donovan, Robbie Keane and David Villa in being named the leading light in American soccer?
With Zlatan Ibrahimovic, Wayne Rooney and Atlanta teammate Miguel Almiron among those shortlisted for the annual prize, many would forgive Martinez for not giving a second thought to scooping the award.
Short in stature at five-foot seven-inches, with an inconsequential club career which lurched irreverently around Europe and a poor international return with Venezuela, Martinez's career was dwarfed by his rivals for the prestigious honour.
But there is a tangible quality to Martinez's contribution in 2018 which has given him the edge over Ibrahimovic and Rooney.
In 38 appearances he has scored 34 times - the runaway golden boot winner - to guide Atlanta through the play-offs and into this weekend's MLS Cup final.
And if The Five Stripes are to become the 13th side to win the MLS' top honour in just their second campaign as a franchise, the explosive 25-year-old will have a vital role to play.
Martinez has already left an indelible mark on the MLS even if his displays this season see him lured back to Europe.
His goal tally this term ahead of the meeting with Portland Timbers is already the highest of any MLS player in a single season, a feat he achieved back in August against Orlando City.
That chipped finish in a 2-1 success came at the end of a run of 14 goals in nine games which propelled Atlanta into play-off contention.
Josef Martinez
Age: 25
Position: Striker
Club: Atalanta United
Goals in 2018: 34
Assists: 5
He has left the previous record of 27 - held by Roy Lassiter, Chris Wondolowski and Bradley Wright-Philips - for dust, though it was suspected the timing of the record might actually count against him.
Whether the achievement would still be remembered as fondly come October when the annual MLS awards are voted on was uncertain, and could have seen his inferior profile lose out to the aforementioned new arrivals.
Upon reaching the landmark, Martinez stated Atlanta's achievements should be held in equal esteem with his own. "I want people to remember me, to remember us, for winning," he said. His gracious nature has even extended to endorsing Almiron for the MLS award, rather than himself.
Thanks to a consistent run of goals, coupled with Atlanta's inaugural play-off appearance, Martinez has remained firmly in the public spotlight but he will hope being named the MLS MVP won't be the end of his achievements.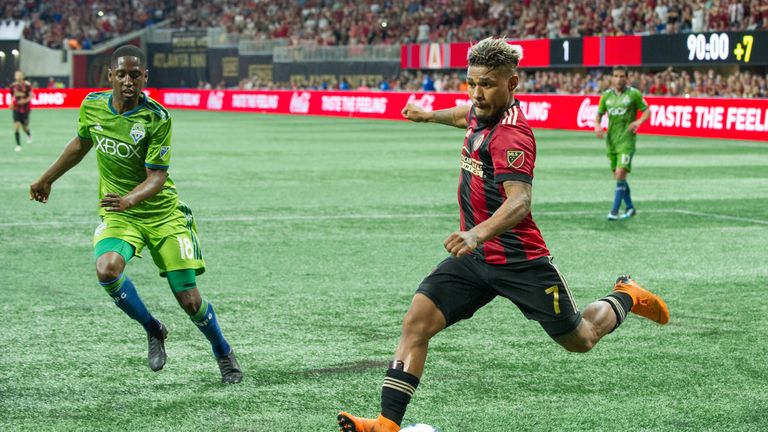 Regardless of the outcome of the weekend's showcase final, for how long can Atlanta hope to retain Martinez?
Manager Tata Martino, who will depart himself at the end of the year, said in the middle of the campaign that he was looking to help Martinez "get back to Europe".
Everton were heavily linked with a move for Martinez in the summer, while it was suggested that clubs from England, Spain and France are also monitoring the forward following his record-breaking goal in August. A €10m offer from an unnamed European club has also been turned down.
Former Bolton Wanderers midfielder and now FOX commentator Stuart Holden said: "If that price tag, whatever it might be - $15m, $20m, $25m - is it worth it for Atlanta United and [owner] Arthur Blank to say 'we want to take that,' or do you keep Martinez and pay him big money and keep him and make sure you continue to win games and you are the best team in Major League Soccer?"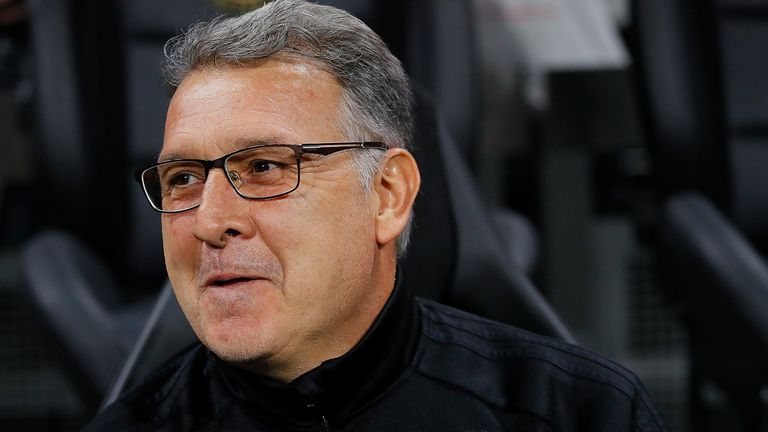 "I'm here to help with his education and try to contribute something to him that helps him get back to Europe, something I told him I would do back in our first phone conversation."
Tata Martino
But Martinez could yet spurn offers to leave Atlanta, even if the influential Martino leaves. In November he wrote for The Players' Tribune paying tribute to the club and outlined why his emotional attachment to the Eastern Conference play-off winners is so strong.
The reality however is it may require more than just a big name and a major financial offer to lure him away from the Mercedes-Benz Stadium. Indeed, it might require a project.