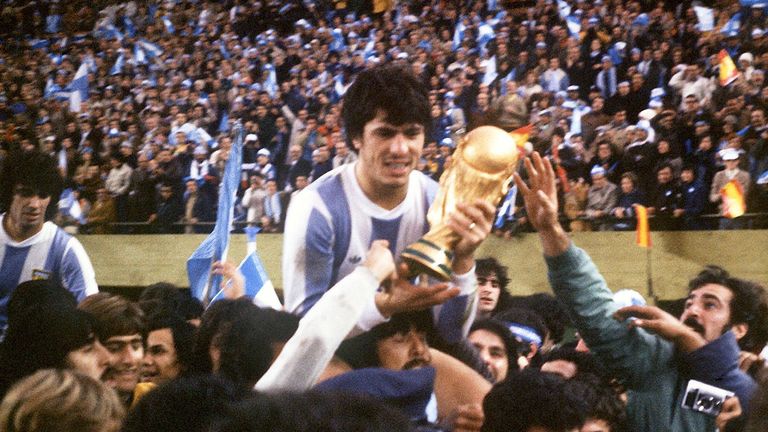 The hosts' triumph may have been overshadowed by off-field events but Argentina still knew how to party.
Argentina give country relief as Scots exit early
The backdrop to the 1978 World Cup finals was not exactly ideal. A country in turmoil and led by a military junta used the world game's four-yearly jamboree to forget. And how they forgot.
One of the enduring images of the tournament was of the austere General Videla watching stony-faced from the stands as his country became world champions for the first time. The sight of him meant few forgot what was going on outside the stadiums, but inside it was a different story.
To be honest the football wasn't great - too many teams played defensively, even the brilliant Brazilians, but there were flashes of genuine genius, and an ultimate triumph for the home country.
The ticker tape welcome that greeted Cesar Luis Menotti's team every time they emerged from the tunnel at the River Plate Stadium was one of the all-time World Cup sights.
And if the football didn't put a smile on everybody's face there were some funny moments to get people laughing.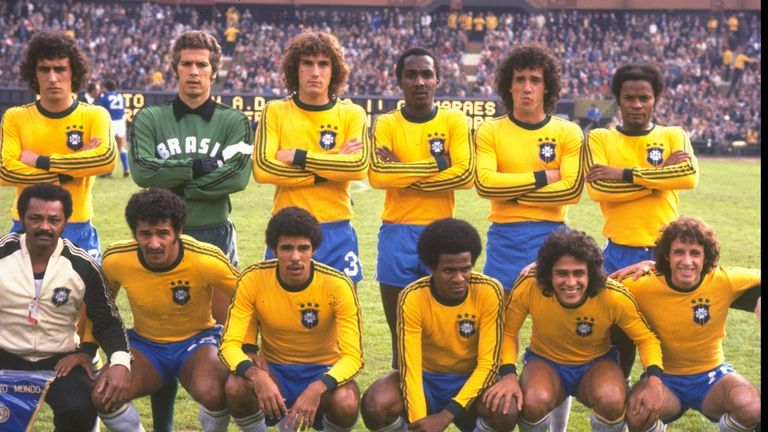 Like the moment British referee Clive Thomas blew for full-time as Brazil prepared to head home a last-gasp winner against Sweden. Wicked sense of humour, Clive.
Or the moment Dutch striker smiling Dick Nanninga was sent off for something one of his team-mates said in English to a Spanish-speaking ref. How he figured it was dissent I'll never know, and I'm not sure either how he figured it was Nanninga. Took them five minutes to sort that one out.
Another great sight was Sir Bobby Charlton trying to out-juggle talented five-year-old Argentine boys in an impromptu ball skills display, and failing miserably.
Meanwhile, on the streets, inflation was so rife that Buenos Aires taxi drivers had to carry a special book to calculate the fare at the end of your ride.
Despite the fact 16 countries were competing in the tournament, the big story for us surrounded just one. What most of us remember most vividly was how bonny Scotland came, saw and went home very early.
Before the tournament, we had what in hindsight seems the zany picture of lovable boss Ally McLeod telling us his team would come home champions of the world. In the end they returned as laughing stocks, after an experience filled with disaster and misfortune.
The Scots had the bad luck to be the first team to really suffer at the hands of the modern media. Stories about events in their camp portrayed McLeod's team as happy-go-lucky drinkers rather than professionals preparing for the biggest test of their lives.
Their training complex at Alta Gracia was spartan to say the least, and the Scots never really settled into their new surroundings.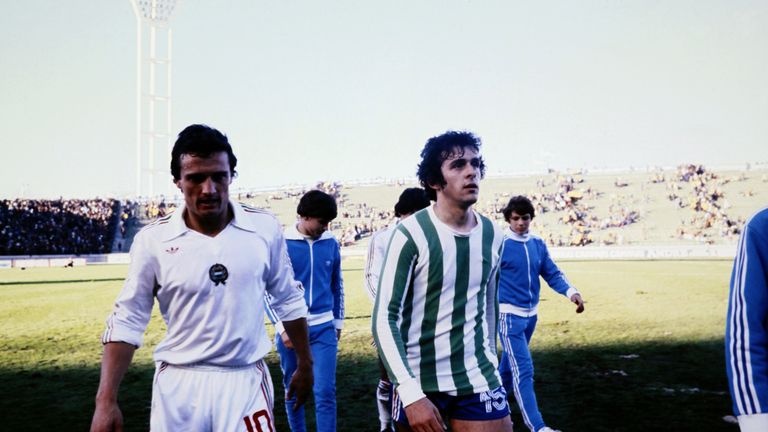 It all started well when Joe Jordan put them ahead in their opener against Peru, but then Teofilio Cubillas took a hand. He struck twice as his team came back to win 3-1, with Don Masson missing a crucial penalty at 1-1.
To add insult to injury the Scots had to listen to Hugh Johns commentate on their demise after home boy Arthur Montford's mic failed.
Shattered
If that was a shock for Ally's Army, then the second game shattered any illusions they could still be world champions. Surely even if they couldn't beat Peru they could beat Iran - wrong!
Even after being given the tonic of an own goal by the Iranians, the Scots allowed their minnow opponents to equalise and claim a point.
It was a bad night for Scottish football - the image of McLeod with his head in his hands and long-suffering fans chanting "We want our money back" will live long in the memory.
In typical fashion the Scots rose from their lowest moment to make their exit from the tournament gloriously. A brilliant 3-2 victory over Holland wasn't quite enough to take them through but that display saw them come home with some respect.
It didn't save McLeod, though, who parted company with the SFA soon afterwards.
So Scotland didn't conquer the world, and many copies of Andy Cameron's World Cup anthem still lie unsold in a garage somewhere in Scotland.
If the players didn't produce on the field, many Scottish fans had a ball. There are many stories of young men taking Freddie Laker's Skytrain to New York and hitching from there to Argentina - and several spent months getting home.
With Scotland out of the running it was left to the favourites to get serious when the second stage began.
Holland, without Johan Cruyff after he refused to take part, still managed to get through despite that defeat by the Scots and they were to go all the way to the final after a stunning 2-1 win over Italy.
Long-distance strikes from Ernie Brandts and Arie Haan booked them a spot at Estadio Monumental.
One of their other victims were 1974 champs West Germany, ageing and without Franz Beckenbauer and Gerd Muller.
In the other group, hosts Argentina had moved from Buenos Aires to the compact Rosario stadium. Two goals from the emerging star Mario Kempes beat Poland, and then came a brutal 0-0 draw with the dreadful Brazilians.
But even Brazil beat the Peruvians and Poles, and Argentina went into their game with the former needing to win by four clear goals. Amazingly, with Kempes scoring twice again, they won by six in a stunning performance.
Ever since that day there have been all sorts of theories that all wasn't above board that night, but nothing has been proved. Whatever happened, Argentina were in the final, with a chance of glory.
They got one up before the game even kicked off by making the Dutch wait on the pitch for 10 minutes before finally emerging from the tunnel and once on the playing surface, they caused even more delays by complaining about the cast on Rene van der Kerkhof's hand.
Kempes gave Argentina a first-half lead, but the Dutch fought back strongly and Nanninga levelled. The visitors then hit the post in a frantic finale to normal time.
In the extra 30 minutes the hosts summoned up extra reserves of energy, and Kempes became the man of the hour. He stormed through to put his side in front, and Daniel Bertoni ensured more ticker tape by rounding things off.
Player of the tournament: Mario Kempes
It has to be Mario Kempes. The Valencia forward started slowly but gradually began to produce what was expected of him by the frenzied home fans.
His six goals in the second stage and final ultimately carried Argentina to glory, and made him a national hero. His silky skills, strength and excellent finishing made him the perfect foil for fellow frontman Leopoldo Luque - he of the superb "tache".
Kempes continued to play for Valencia and Argentina after the finals, but never quite hit the same heights again.
Other players who get an honourable mention in this category include Osvaldo Ardiles (soon to join Spurs), Daniel Passarella and a youthful Michel Platini.
Goal of the tournament: Archie Gemmill v Holland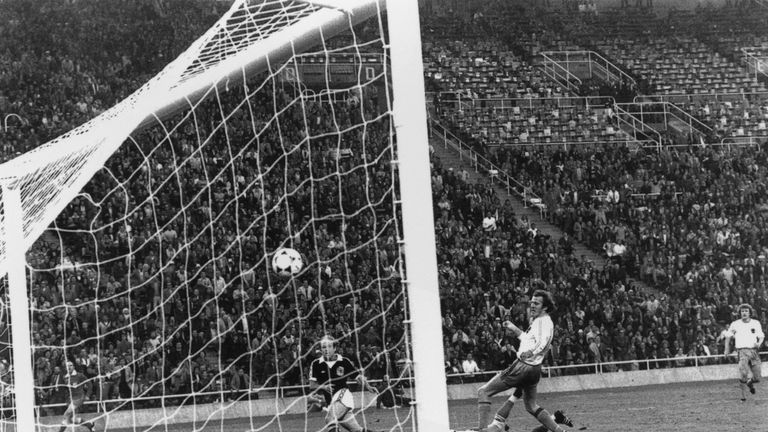 This tournament will be remembered rightly for a host of sensational long-range strikes. Who could forget Haan and Brandts both blasting home against the Italians, or Haan and Johnny Rep doing the same against Germany and Scotland respectively. Even the dour Brazil got into the act in the third-place play-off against Italy when Nelinho swerved one in past Dino Zoff seemingly from the touchline. Didn't John Motson have fun calling that one.
But despite those blockbusters, the best goal of the tournament was way more subtle than that. Who could forget Archie Gemmill jinking past what seemed like 10 Dutch defenders before chipping the ball into the net to give the Scots brief hope of a second-stage place.
Match of the tournament: Brazil 0, Argentina 0
In the absence of a game that was truly memorable for the football on offer, I've gone for something a little bit different.
Brazil v Argentina in phase two in Rosario was meant to be the clash of two heavyweight champions - it turned out just like that - literally.
For 90 minutes, the two South American teams pinched, kicked and hacked at each other in a shameful spectacle. All the whole thing lacked was Michael Buffer on the pitch beforehand warbling "Let's get ready to rumble".
Even future Tottenham star Ricardo Villa made a cameo appearance as a substitute and got into the act.
When soon afterwards he jetted off for White Hart Lane we all expected a bearded hatchet man after seeing that. How wrong we all were.
Home nations
England fell short on goal difference when it came to qualifying for the 1978 World Cup. Even a 2-0 win in their final group match against Italy was not enough to outdo the table-topping Azzurri.
Northern Ireland failed to qualify from Group 4 after they managed only two wins from their six outings. Holland topped the group with Belgium second.
Wales came bottom of qualifying Group 7 with local rivals Scotland topping the standings ahead of Czechoslovakia.
For Scotland, though, it turned out to be a disappointing World Cup as they began with a 3-1 loss versus Peru - Joe Jordan had put them in front.
They were then held to a 1-1 stalemate against Iran before a memorable 3-2 win over Holland proved too little, too late as they departed the competition.