Joe White and Di Cunningham are discussing the correspondence they have received from people in Russia, since making it known they both plan to attend the 2018 World Cup.
"Well, we have had lots of positive stuff," stresses White. He smiles a little, before acknowledging another interview he has recently given on this topic. "I mentioned that there was one email containing a picture of a knife.
"I think the media are trying to highlight the right things - but sometimes the focus has shifted, for the headlines."
Cunningham nods: "It's sensationalist, even though we have received some very real threats." However, like White, she chooses to focus on the goodwill. "The response to those headlines around the world has also been really positive."
White is the campaigns lead of Pride in Football (PiF), the UK alliance for groups of fans across all leagues who are lesbian, gay, bisexual and transgender. It's a position that's all about passion - he's part Arsenal aficionado, part inclusion activist. Sat opposite him is Cunningham, the chair of PiF and a Norwich supporter, equally committed to both club and cause. The next match she will attend will be England's Group G opener against Tunisia in Volgograd on Monday week, with White then joining her for the other group games. Their respective club fan groups, namely Gay Gooners and Proud Canaries, were the first two founded for LGBT fans in this country - social societies that evolved into something much bigger, galvanising fans of rival teams too and sparking a visible movement on the terraces and beyond. Now they're preparing to take their message to a land with one of the world's worst reputations for homophobia and discrimination.
Understandably, their forthcoming trip east has sparked considerable interest at home and abroad. What matters most to them, however, has been the reaction from LGBT Russians. "They think it's brilliant that we're going out there, and that we're going to be visible," says White. "We've heard that from many non-LGBT Russians too. A crucial part of our trip is to show solidarity and help however we can."
Since the country's anti-gay 'propaganda' law was passed in 2013, hate crimes against LGBT citizens in Russia have been on the rise - and that's only the recorded incidents. Talk from the authorities in recent months of greater tolerance has been met with scepticism. With staging a World Cup bringing such intense focus on a host nation's society, the disparity on human rights - particularly regarding race and sexual orientation - between Russia and the west is being highlighted alongside the football. For example, just over a year ago, reports emerged of a 'gay purge' in Chechnya; in the meantime, FIFA approved the republic's capital Grozny as the tournament base for the Egypt team.
Cunningham has had to weigh up what she knows about the environment with the opportunity to change it. "From the outset, I didn't feel I'd be welcome there but that made me want to go even more. I also wanted to go to support the England team, and to have that experience of being at a World Cup.
"Now, as the publicity's rippled out globally, we've sensed that those LGBT organisations really want us to go, and they want us to be visible too.
"I wasn't sure if anybody would notice, or even care, or worse whether LGBT Russians themselves would feel that our visibility might make them vulnerable. But given the appetite, we feel obliged to go. Obviously we do want to be safe but I think it's even more important now that we are seen to show solidarity with our Russian counterparts."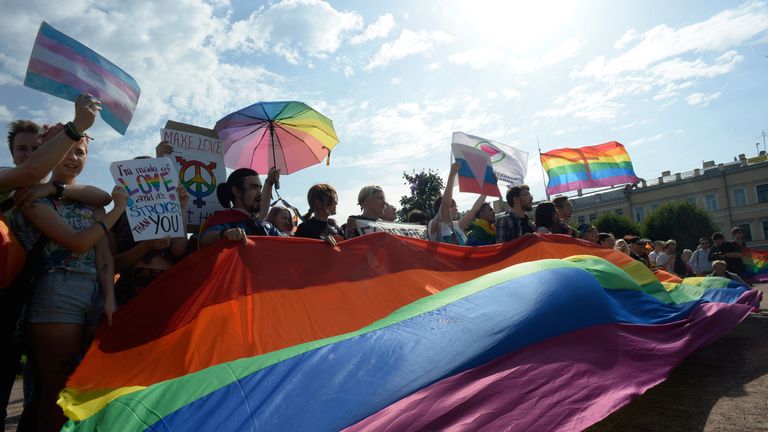 The aforementioned threats have been raised with FIFA, whose initial response was "supportive", says Cunningham. The Russia 2018 Local Organising Committee (LOC) - the body that handles tournament security - was notified of the violent language and imagery being used in the emails and Facebook posts. "One was quite engaging to start with, but steadily got more sinister and ended by saying, 'if you don't behave, you might lose your head'. We've asked several times what the outcome has been but have heard nothing back. Not only that, but we've had emails from the same addresses that the initial threats were from, which means they've not even managed to close those down. It doesn't necessarily make us feel great about our personal safety."
Nevertheless, the intention remains to unfurl the new banner of 3 Lions Pride, the LGBT England fans group White and Cunningham have set up with the backing of the Football Association. "I really hope we feel safe enough to have that and our scarves on show in the stadium, and get some pictures, so people are able to share them," says White. "We've also got meetings arranged with LGBT Russians and organisations which is a crucial part of the trip. All that would make for a successful World Cup for us.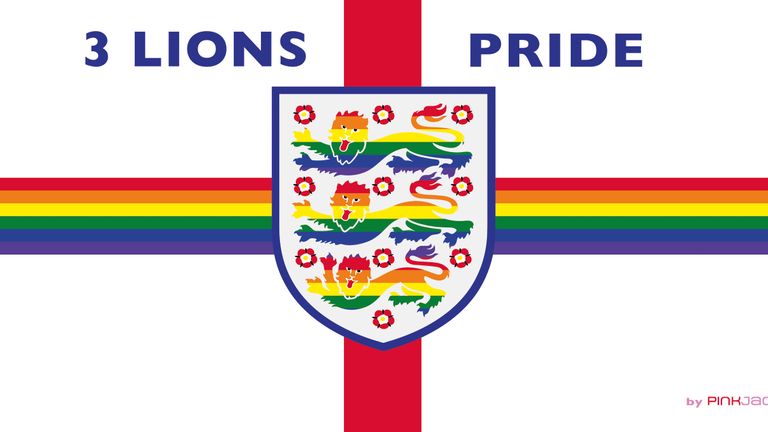 "But also we need to make sure that, after the tournament, we don't just forget about what's happening in Russia with LGBT rights. We want to help ensure there's a legacy of a positive impact for the community there, from everyone - whether people are going out to Russia or not."
Back home, the FA have listened and responded to the concerns of Cunningham, White and their PiF colleagues. In March, a specially-commissioned 'Call It Out' cartoon highlighting how to challenge homophobia and 'show some respect' was displayed on the Wembley big screens during the half-time interval of England's friendly against Italy. "We wouldn't have seen that five years ago," says White. "That's a really strong message from the FA. We've got to give them credit for how much they're engaging."
'Call It Out' is also the title of PiF's symposium which is being held at Nottingham Forest's City Ground stadium on Saturday. It's a programme of panel discussions and workshops designed and run by fans themselves which will examine football's all-round approach to LGBT inclusion, and follows on from last year's successful event at the National Football Museum in Manchester.
Cunningham emphasises that it has been 12 months of significant progress. "We've had 20 more groups start up since then - in fact, we've gone from only four at the very start to over 40 now, in just five years. It's quite extraordinary. It not only shows the mobilisation of LGBT fans but the power of football supporters in general. It's a total 'do it yourself' operation." This year will see further engagement from the EFL, who have actively encouraged club supporter liaison officers to attend, particularly those that don't yet have LGBT fans groups. Millwall are among those signed up, while League Two Mansfield are learning the ropes from West Brom's Proud Baggies. "The clubs have now moved to the stage that they think it's something they really ought to be doing, rather than saying 'why would we do that?!' There's still over 50 in the Premier League and EFL that don't yet have groups. But the progress has been brilliant."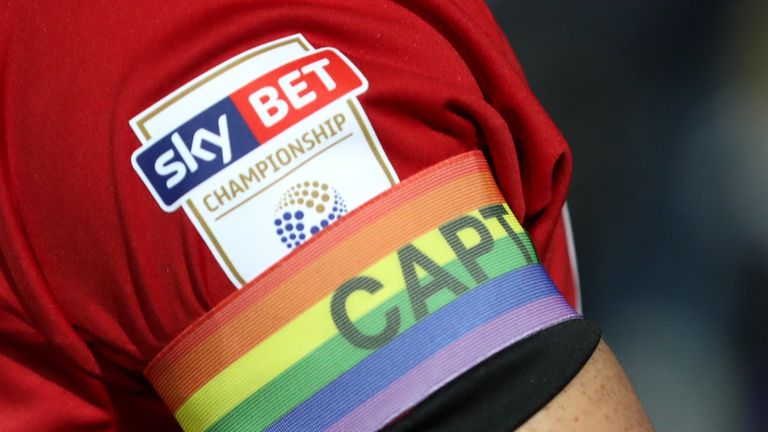 Leeds United's Marching Out Together have been one such success story; they will run a workshop on Saturday on how to get a group off the ground. "Leeds really show how transformative having an LGBT fans group can be for the broader fanbase," says White. "So many Leeds fans are now allies of MOT, saying how having the group shows they are embracing equality and that they aren't the hooligans that they might have been viewed as in the past." The club itself has even signed up to be headline sponsors of Leeds Pride in August, such is the strength of their bond with MOT. "They've acknowledged them, worked with them and they've appreciated their visibility," adds Cunningham. "And they must have seen the impact on social media - those fans feel reinvented by the fact their club is having a dialogue with LGBT people."
Due to the geographical difficulties presented by having a UK-wide alliance, there is considerable interaction and discussion between the various club LGBT fan groups on social media. Last month, much of that was centred on a sponsorship approach to PiF made by the bookmaker Paddy Power. A vote was held on whether or not to pursue a potential partnership, resulting in a vocal split.
Cunningham admits it has been a "tricky" period. "Of course we're not a business, we're just run by volunteers," she says. "And having grown to over 40 groups, I think any business would struggle to deal with that in terms of capacity and sustainability. We're constantly being asked to go to meetings and conferences, and we're having to pay for it ourselves.
"And like any organisation - perhaps more so in the LGBT community - there are competing aims and values. People feel strongly, quite rightly, about the ethics of how a group runs. So there have been some disagreements.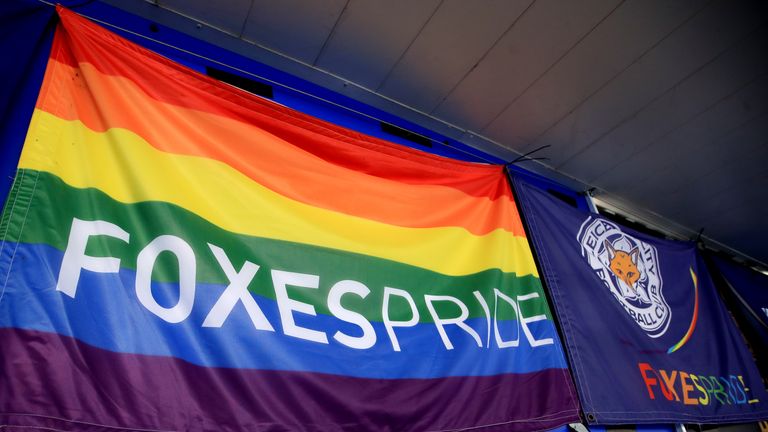 "However, I think we've pretty much got through it. One of the key things was that we were weak constitutionally - we'd never really had to vote about anything before, because everyone just agreed with each other. We didn't have the right machinery to get to a decision.
"But the underlying value is that there's all these different groups of LGBT fans working with their clubs, sharing good practice, networking and corporately having a view that can influence policy and the game's guardians. I think everybody agreed that it was too good a thing to lose."
Alternative sponsorship opportunities are now being invited and investigated. "We haven't gone with it [the Paddy Power proposal]," confirms Cunningham. "We've got an AGM this weekend where I'm sure there'll be a heated discussion!"
White insists gaining the attention of those who haven't previously shown much interest in fans who are LGBT is still a primary objective. "Football has such a power to be able to change hearts and minds. For example, West Ham went to Brighton in February and there was homophobic chanting in the away end. Some of the members of Pride of Irons (the Hammers' LGBT fans group) turned round and explained why they were offended, and actually the people that were doing it stopped and apologised.
"It's about talking outside of people who already push for LGBT equality, with those that might not know much about it or even think 'why do we need this in the game?' Let them see why it matters - we're all football fans, but we want to be able to not have to worry about whether it's safe to go to a World Cup, or whether we can go to a game with our partners without any trouble. It's not about 'shoving LGBT in your face', it's just about being able to be safe and enjoy the football."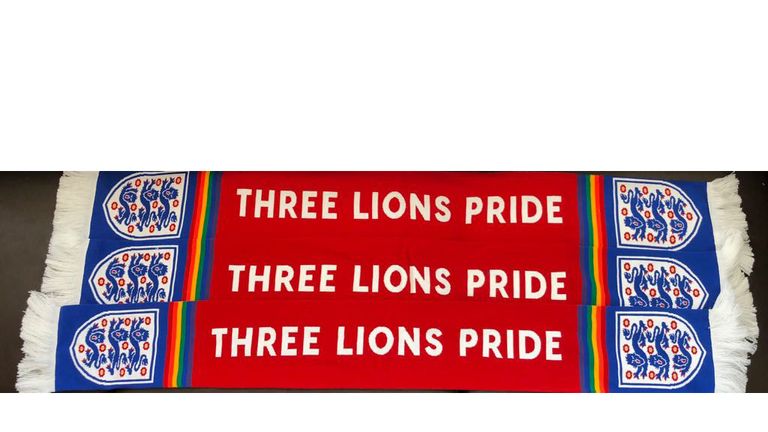 While safety in Russia is the current concern, 3 Lions Pride are looking to the future too. Euro 2020 could feasibly send England to Azerbaijan, where discrimination against gay, bi and trans people is rife and which ranked last out of 49 European nations for LGBT rights in the annual IGLA 'Rainbow Europe' Index. Turkey, hoping to become Euro 2024 hosts, were just two places higher in that same index released last month. Meanwhile, same-sex relationships are criminalised in World Cup 2022 hosts Qatar, and also in Morocco, which hopes to win Wednesday's vote to stage the 2026 tournament. Both UEFA and FIFA have introduced human rights and anti-discrimination policies in the last few years, but the prevailing trend is also to take the global game's showpiece events to 'newer' territories.
"If it wins, Morocco would be the third World Cup host country in a row that didn't welcome LGBT people," says Cunningham. "The biggest sporting event in the world. It's so disappointing." White shares her frustration, and cites the example set in Dublin last weekend as to what can be communicated by a relatively simple alteration in a football match. "The Ireland and USA kits with the rainbow numbers were brilliant symbols of what can be done by international football. It gets to a point where FIFA keep saying football is for all but for how long, when the World Cup keeps going to countries that have homophobic laws or where it's illegal to be gay?"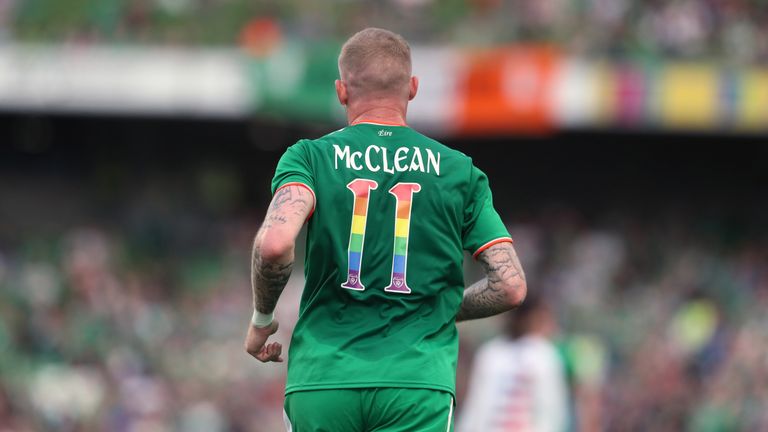 Russia awaits - the flights and hotels booked, the tickets in hand. Meanwhile, news arrives that FIFA has just launched a new "complaints mechanism" - a web portal where reports can be submitted anonymously - for both journalists and "human rights defenders". Cunningham and White fall into that latter category; it's suggested the wording makes them sound like superheroes. "We're getting capes made!" laughs Cunningham. They might not be wrapping themselves up in rainbow flags, but 3 Lions Pride do want to be seen at the World Cup - particularly by LGBT Russians. "After all, they would be in a lot worse position if they tried to be visible," says White. "Actually, the truth is, they would be attacked for it."
Pride in Football's 'Call It Out' event is being held at the City Ground in Nottingham from 10am on Saturday.