Liverpool star Mohamed Salah has questions to answer after he was used for "political propaganda" by Chechen leader Ramzan Kadyrov, gay rights and equality campaigners said on Wednesday.
Salah, who remains an injury doubt for Egypt's opening World Cup match against Uruguay on Friday, posed with Kadyrov at the Grozny stadium on his country's arrival at their base for the tournament.
Kadyrov's regime has been criticised for alleged human rights abuses following reports of gay people being tortured and extrajudicial killings.
Kick It Out and Pride in Football released a joint statement, taking aim at football's governing body FIFA, the Egyptian FA, and asking why Salah or his advisers did not consider the consequences of Sunday's photographs.
"Kick It Out and Pride in Football are extremely disappointed to see football being exploited for political propaganda by the leader of a region with a horrendous record on human rights, particularly towards the LGBT+ community," the statement read.
"No footballer, particularly one as distinguished and internationally-recognised as Mohamed Salah, should be used for this purpose."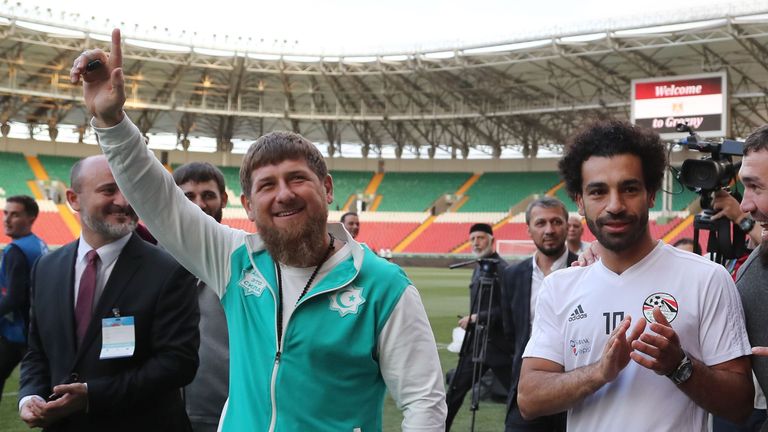 The statement raised a number of concerns, including why the Egyptian FA has picked the Chechnya region for its base and why Kadyrov was allowed to visit.
It asks: "Why did Mohamed Salah and those advising him not consider the message his appearance alongside Kadyrov would send to LGBT+ people across the world, including Chechnya, Russia and Liverpool itself?"
The campaign groups added: "Ultimately, the widely-publicised photos are a reminder that football and sport do not exist in a vacuum. Players, football associations and international governing bodies must always be aware that their actions can influence wider society and in turn, the rights and lives of minority groups.
"Ramzan Kadyrov has already secured a PR victory for his domestic audience, but it is not too late for Mohamed Salah, the Egyptian FA, FIFA and everyone in football to learn from this incident.
"We must always do everything we can to prevent the game being exploited by human rights abusers, and continue to send a clear message that the LGBT+ community are an integral part of football and wider society."
Salah, meanwhile, returned to group training with Egypt on Wednesday as he steps up his rehabilitation from a shoulder injury.
The 25-year-old suffered shoulder damage in the Champions League final on May 26 following a collision with Real Madrid's Sergio Ramos.
The Egyptian Football Federation announced it did not expect Salah to be sidelined for more than three weeks and he was named in the squad for the tournament.