Jermain Defoe made his England debut alongside the golden generation but was still around to play his part in helping the team to this summer's World Cup. In conversation with Adam Bate, he explains how Gareth Southgate changed the entire England culture…
Such is the pride in England's positive start to this World Cup, it is inevitable that it will be compared with what came before. Those golden generations that promised so much only to disappoint have come in for criticism with Rio Ferdinand and Frank Lampard even leading the way. Why has it taken England so long to approach this challenge with such freedom?
Few are better placed to appreciate the transformation than Jermain Defoe. He made his debut for England in 2004 - against Sweden in what turned out to be Gareth Southgate's final appearance for his country. His longevity is such that he was still around to score the opening goal for Southgate's England in a World Cup qualifier against Lithuania last year.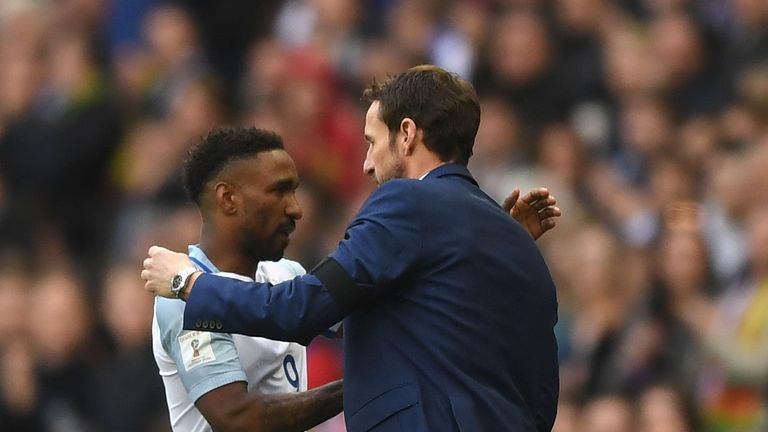 Defoe has played alongside Michael Owen and Raheem Sterling, David Beckham and Dele Alli, Gary Neville and John Stones. When he thinks back to those early days with England, it feels a world away from what he has experienced of late. Back then, he would take his place in the dressing room alongside Tottenham team-mates Ledley King and Jermaine Jenas.
"When I first came into the squad, there were cliques," Defoe tells Sky Sports. "I would just sit with my friends. Not for any particular reason, that is just how it was. There were the Manchester United boys and the Chelsea boys. They were competing at club level and when they came away with England they could not get that bond that the guys have got now."
Southgate himself was acutely aware of these issues and has been successful in eradicating that culture. It helps that many of the team have pre-existing relationships. Four of the starters against Panama, including the captain Harry Kane, were at the European U21 Championships together three years ago. Club rivals but international team-mates.
"Gareth saw all of it and that's why it is so good that he is the manager," says Defoe. "He is the perfect fit because he knows a lot of players from the Under-21s too. There is a different vibe now. It is just banter all the time. It is a group of boys just messing about, but in a good way because there is no pressure on them. It is a completely different atmosphere."
There is a different vibe now. It is a completely different atmosphere.
One anecdote seems to sum up that change in atmosphere for Defoe. "Before we played Scotland and France last summer, we went to the marines for two or three days," he recalls. "That would never have happened back in the day. It just would not have happened. Do you think you are going to tell David James or Sol Campbell to camp out in a forest?
"We did not have our phones. I did things that I never thought I would do. There were times when I felt a little bit scared doing it but you have to because your team-mates are pushing you on and it's all about building that trust. There was no direct relevance to football but at the end of the day it was about taking the players out of their comfort zone.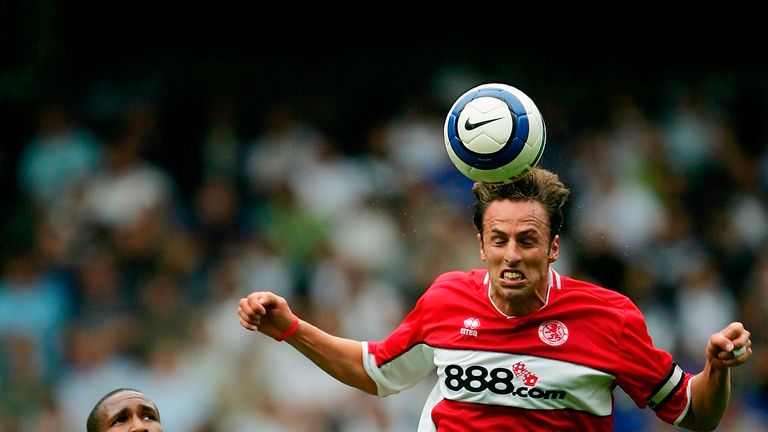 "When it comes to the tournament, there might be a game that you need to win and you go down to 10 men. You are out of your comfort zone then too and you need to be able to keep calm and deal with it. Gareth has done so much stuff to get the boys close it's amazing. It's clever and you can see the spirit. The boys look really relaxed and that is so important."
That is the big change and arguably Southgate's greatest triumph. If the spirit is maintained, there could be bigger successes ahead. "People say that we shouldn't get carried away but it's hard not to," adds Defoe. "If I were one of those players I would be buzzing. It's the World Cup so it's normal to get excited."
Perhaps there is finally something to get excited about.
Defoe on charity work
What was it like to find out you will be receiving an OBE?

"When I got the phone call, it was like… wow. To get honoured like that is so special. You never in a million years think you will get something like that. I am really looking forward to going to Buckingham Palace, I am just waiting to find out the date."

Tell us more about the work of the Jermain Defoe Foundation…

"When people think about St Lucia, they think about the nice beaches and the hotels. It is a proper honeymoon destination and such a beautiful country but underneath that there are lots of problems that people don't see. That's why we decided to build a children's home for the kids that are homeless and are being abused. It was needed and it wasn't happening."

"We have had gala dinners to raise the funds and we have actually got another one in September. The money that we raise helps sick kids in the UK too and my family have been a big part of it. All the volunteers and the hard work that they have done. Recently we had a football tournament that we have every year. This year we had about 42 teams of various age groups and raised a lot of money. It was just amazing and it is for such a good cause. You can't change it overnight. But we are trying to make a difference."
Comment below to get involved in the debate, but please adhere to our House Rules. If you wish to report any comment, simply click on the down arrow next to the offending comment and click 'Report'.