Argentina are through to the knockout stages of the World Cup following their 2-1 win over Nigeria. Problems remain but one may have been solved thanks to the impressive impact of Ever Banega and his link-up play with Lionel Messi, writes Adam Bate.
Argentina stumbled through to the knockout stages in dramatic fashion thanks to Marcos Rojo's late goal in their 2-1 win over Nigeria. It was a victory that was as unconvincing as it was emotionally intense but at least Lionel Messi belatedly announced himself at this World Cup with a brilliant opening goal. The introduction of Ever Banega helped to unleash him.
The midfield playmaker remained on the bench throughout Argentina's miserable 3-0 defeat to Croatia last time out but was included in the starting line-up for the first time in Saint Petersburg and his impact was obvious. Finally, Argentina had a player who was willing and able to play forward passes between the lines of the opposition defence.
Ten minutes in and there was a simple ball into Messi's path that invited the captain to run at the Nigeria defence. Moments later, there was a chipped ball that found Enzo Perez in a pocket of space in the right channel. Banega made it look easy but these were the passes that have appeared beyond Javier Mascherano and the Argentina defenders all tournament.
The crucial through-ball came when Banega measured one over the top to Messi that the little genius was able to control and fire past the goalkeeper to give his side the lead. Much has been made of Messi's muted performances but here was a reminder that in a team sport everyone needs a playmate. With Banega, he now had creative company.
"A player like Banega, a great enabler, gives Messi the chance to move into the opponent's area," said Jorge Sampaoli soon after taking on the job last year. Perhaps that only makes the error of his omission more baffling. He was the game's outstanding player in the first half.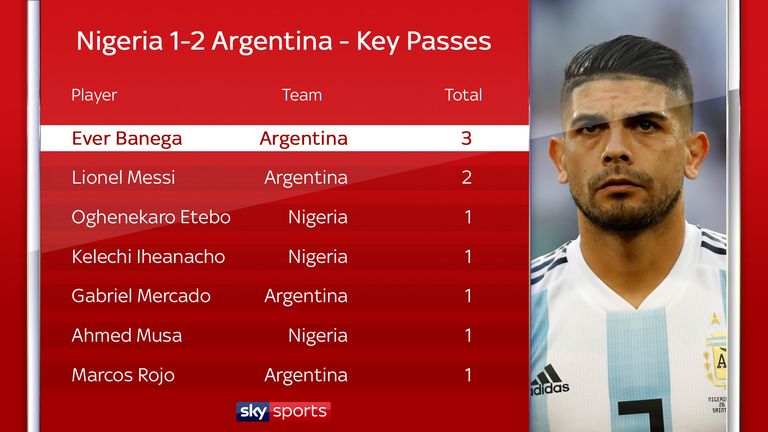 Banega played another gorgeous through-ball to Angel Di Maria just after the half-hour mark, with Messi hitting the post from the subsequent free-kick. He had a game-high 49 touches in that opening 45 minutes and made as many accurate through-balls in that one half of football as any other player in this World Cup has managed in total.
"He dictates the pace of the game, gives assists, organises the play from deep and he runs the game," Amedeo Carboni, his old Valencia sporting director, once said of Banega. He could have been talking about this Nigeria game. But Argentina's problems run too deep to be solved by one man - that was already clear - and it was underlined in the second half.
Argentina may still be unbeaten in their last 40 World Cup games in which they have taken the lead but the fragility of their confidence was clear once Nigeria equalised. This was the oldest team that they have ever named in a World Cup match but their discipline did not match their experience as the exit door loomed. They were a team on the brink.
Rojo's dramatic winning goal means there will be yet another opportunity for Sampaoli - or whoever it is who is now in charge of making decisions in regard to this Argentina team - to problem solve on the job. Unfortunately, it is akin to asking someone to fix an engine on an aeroplane that is mid-flight - and new issues are emerging all of the time.
Certainly, neither Di Maria nor Gonzalo Higuain came close to seizing their chance, with the latter adding to his alarming list of missed opportunities in the most important of moments. Mascherano looks shot and the decision to send on Maximiliano Meza instead of Paulo Dybala suggests that the supremely gifted Juventus player is still not fully trusted.
But one problem that had been so costly against Croatia has been solved and could well now be France's concern instead come this Saturday in Kazan. Banega has shown that he can help to increase Messi's involvement in the game. If he can continue to pick out that No 10 shirt, then Argentina's hapless bid for glory could yet have a happy conclusion.
Comment below to get involved in the debate, but please adhere to our House Rules. If you wish to report any comment, simply click on the down arrow next to the offending comment and click 'Report'.