Kylian Mbappe stole the show with his genius as France beat Belgium 1-0 in the World Cup semi-final in Saint Petersburg, writes Adam Bate.
It was the 56th minute that really had you wondering what you were watching. Firstly, there was the extraordinary pace to break on Belgium and the intelligence to pick the right pass in setting up Blaise Matuidi. Secondly, there was the outrageous skill, the sheer impudence, to turn and flick the ball to Olivier Giroud in one motion. Cue collective gasps the world over.
Any player can have a video of their best bits cut favourably to showcase their talents. This needed no editing. It required only one minute and two phases of play to highlight that Mbappe has just about everything. The speed of body and mind. The technique and the temperament to make the right decisions - brilliant decisions - on the biggest of stages.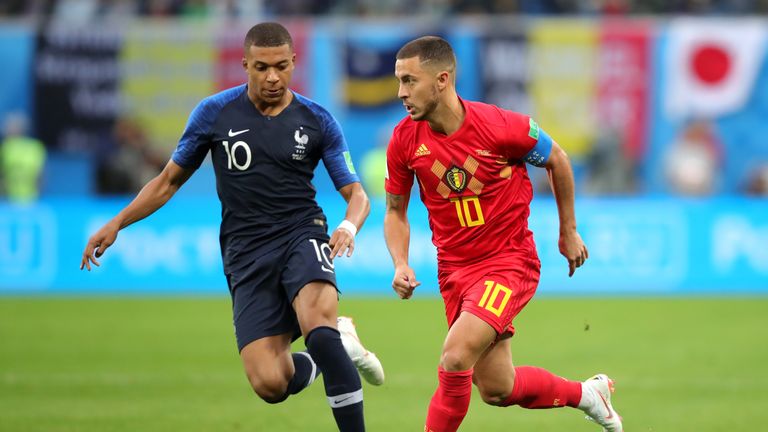 The clues were there from the outset. It took barely seconds for Jan Vertonghen to be left fearful for what lay ahead. A drop of the shoulder and Mbappe was away, shrugging off Mousa Dembele too as he fashioned the first chance of the game after just 14 seconds. The match itself was a tight one but the runaway star of it was the only teenager on the pitch.
There was a cushioned volley to set up Giroud towards the end of the first half, and a pass nudged between the lines to Benjamin Pavard. Giroud stumbled under pressure. Pavard's shot was well saved by Thibaut Courtois. There were no complaints from the man who had set them up, only a growing awkwardness that they could not meet him halfway.
Mbappe's best bits
1 – Beats two men down the right wing and crosses inside 14 seconds.

13 – Shows lightning pace in almost latching onto Pogba's through-ball.

34 – Cushioned volley sets up Giroud but the striker slips under pressure.

39 – Threads it through to Pavard in the right channel but the shot is saved.

47 – Starts the second half with real purpose and it takes three to stop him.

56 – Magic minute as he sets up Matuidi and then Giroud with sublime skill.

66 – Delicious flick on the move to put Pavard away down the right wing.

67 – Skips away from De Bruyne and sets up Griezmann but Giroud skies.

78 – Turns playmaker before inducing a Fellaini foul with a quick one-two.
"What he has done so far is fantastic, but he can continue improving a lot," France coach Didier Deschamps had said in his press conference last week. "Kylian is very intelligent but he is still learning and regardless of his talent at this stage of his career, he must continue to learn." Standard stuff but while Mbappe does have raw pace, he is anything but raw.
Young players are often told that they need to improve their decision-making in order to fulfil their potential. At 19, it was easy to wonder whether Mbappe's decision-making was actually too good. A bad decision - maybe trying to skip beyond that third defender instead of passing to an unmarked team-mate - might make sense if you're this good.
As it was, Mbappe kept cutting through and his colleagues kept missing. It took Samuel Umtiti's header to separate the sides. Mbappe did not provide the assist. He did not have a shot in the match, let alone score a goal. But when it was over, he had provided six key passes - twice as many as anyone else on the pitch. No Belgium player managed more than one.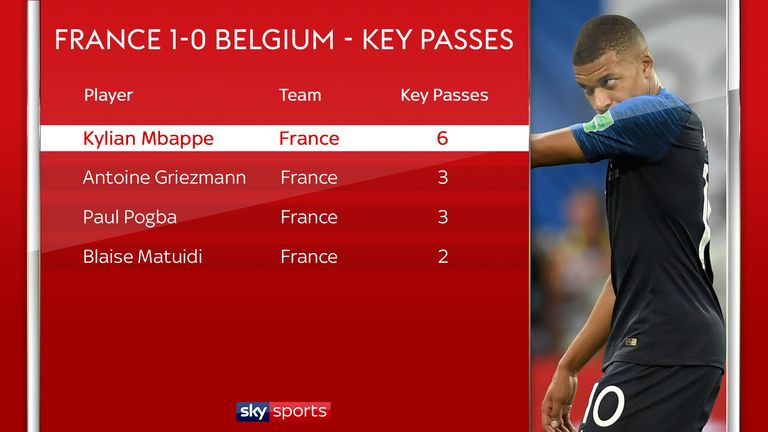 Mbappe also completed seven dribbles. The rest of his team-mates managed three between them. It underlines the fact that he is the outlet for this team - a team with considerable gifts, but one that would appear rather prosaic were it not for his presence. There are many world-class players in this France team but their number 10 is that little bit different.
It was Cristiano Ronaldo's transfer from Real Madrid to Juventus that took the headlines earlier in the evening but when the football began, it was Mbappe who took over. Before the final whistle had blown, Florentino Perez's fingers may well have been twitching over that cheque book. If Mbappe keeps this up, then he might even have to leave the figure blank.
But club matters are for another week, not now. Not when a World Cup final looms. Against Lionel Messi's Argentina in the last 16, Mbappe became the youngest player to score two goals in a World Cup match since Pele in 1958. But Pele did it in the final. With Mbappe in this mood, who could rule out the prospect of him matching the feat in Moscow on Sunday?