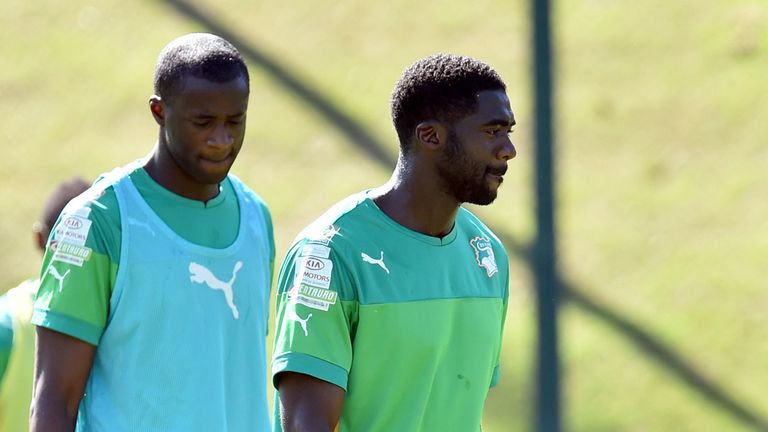 Ibrahim Toure, the younger brother of Premier League-based Ivory Coast duo Yaya and Kolo Toure, has died aged 28, according to the country's football association.
Ibrahim was also a professional footballer, playing as a striker for clubs including Egypt's Misr El-Maqasah and Lebanese side Al Safa.
In a statement released on Friday, the Ivory Coast Football Association pledged its full support to the Toure family.
The statement read: "Kolo and Yaya Toure just heard about the death of their young brother, Toure Oyala Ibrahim. The entire Ivorian delegation want to show their support to the players.
"The football Ivory Coast federation president (FIF) and the Executive Committee announced to the entire family of Ivorian football the death of Toure Oyala Ibrahim, the younger brother of Toure Kolo Abib and Toure Yaya Gnegneri, which happened on the 19th of June in Manchester (England).
"In such a sad situation, the players from the Ivory Coast national team, and the entire delegation here in Brazil, show their support to the Toure brothers and their whole family. The president of Football Ivory Coast Federation and the Executive Comitee ask Ivorians for their prayers."
FIFA president Sepp Blatter used social networking site Twitter to offer his condolences.
He wrote: "Very saddened to learn of the death of Oyala Ibrahim Touré, younger brother of Yaya & Kolo Touré. My deepest condolences for your loss. RIP."
The cause of Ibrahim's death was not officially confirmed but reports have surfaced suggesting he had been receiving treatment for cancer while in Manchester.
Manchester City offered their sympathy to their central midfielder Yaya and former defnder Kolo who now plays for Liverpool.
"The thoughts of everyone at Manchester City FC are with Yaya and Kolo Toure following the death of their younger brother Ibrahim," a City statement read.
"Ibrahim was a regular visitor to Carrington and was a popular figure among the staff and players and was extremely close to his two older brothers.
Yaya played for Ivory Coast in the 2-1 defeat to Colombia on Thursday while Kolo was an unused substitute.
The Ivory Coast currently lie second in World Cup Group C and face Greece in Fortaleza on Tuesday.