Sky Sports News HQ reporter Paul Gilmour has spoken exclusively with super-agent Mino Raiola, who gives an insight into life at Liverpool for his client Mario Balotelli.
Liverpool and Balotelli have struggled to adapt to the needs of the other, but the Italy striker is happy at the club according to his agent.
Mino Raiola, who also includes Paul Pogba and Zlatan Ibrahimovic as clients, believes the Italy international will return "stronger than ever".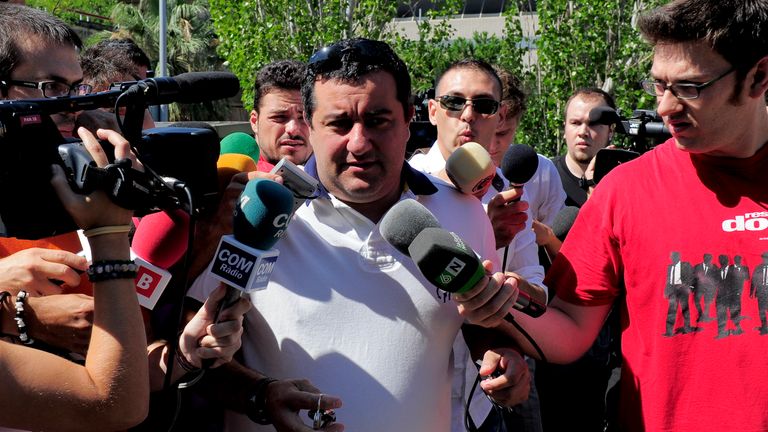 "Yes, he is happy at Liverpool," said Raiola after Balotelli was left out of the squad to face Bolton in the FA Cup at the weekend.
"Nobody is happy to be left out but he reacted in a professional way."
Balotelli arrived at Anfield with a tough act to follow after the prolific Luis Suarez scored 31 Premier League goals on the way to a tilt at the title.
"They are different players," he added. "Liverpool knew that and people need to know he is not Suarez. Mario needs to adapt and Liverpool need to adapt."
Following the summer move from AC Milan, Balotelli is yet to register a Premier League goal and has started just eight games after problems with injury and form.
Raiola continued: "He was injured and moved to a big club. Mario will win this struggle and become better. It is then up to Brendan Rodgers to give him a chance."
So how is his relationship with Rodgers?
"They're talking and it is a good relationship," explained the agent. "Mario likes him. They do not agree on everything. It is technical reasons they don't agree on but Mario will strive to give the manager what he wants. This move was the right thing to do in his career. He's still one of the best in the world."
Rodgers says Balotelli is a 'good boy' and will get chances to impress as he rubbished reports the striker could leave in his window.
Raiola agrees, saying: "We didn't ask to leave. It is too early, with the injury, to say we leave in January. There are no big problems. He's adapting to a new style that the manager wants. We'll see in the summer."