Jack Grealish: Aston Villa teenager steals the show in FA Cup semi-final
Last Updated: 20/04/15 12:54pm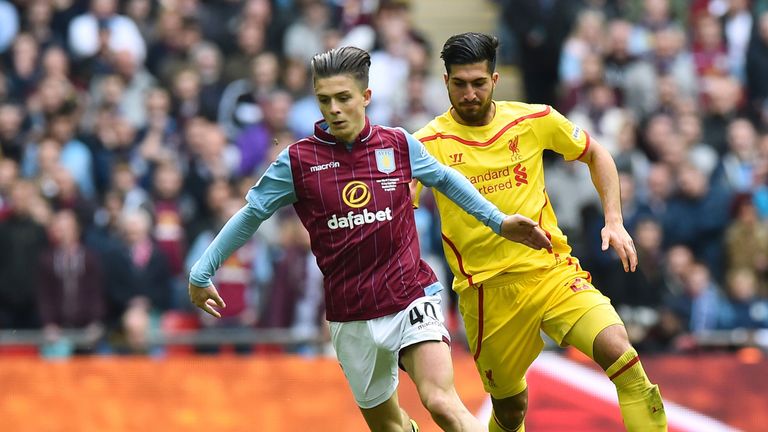 Christian Benteke and Fabian Delph scored Aston Villa's goals as they came from behind to beat Liverpool 2-1 in Sunday's FA Cup semi-final at Wembley. But it was the performance of Jack Grealish that will be the talk of the Villa fans, writes Adam Bate…
The stage was set for a local hero. It got one. But while Steven Gerrard will not mark his 35th birthday and final Liverpool appearance with an FA Cup final, Aston Villa's Jack Grealish will be returning to Wembley. It's no more than his performance deserved.
Grealish, the youngest player on the pitch, marked the occasion with a confident and mature display that was full of energy and quality. He'd been sent off in the quarter-final against West Brom, but this semi-final showing was emphatic justification of the trust Tim Sherwood had placed in him.
The contrast with Gerrard was stark with the older man unable to react to his perpetual movement. It was simple stuff. Collect the ball, pass it to a team-mate and move into space to receive it again. Grealish did that better than anyone all afternoon.
It was his measured ball to Fabian Delph in the build-up to Christian Benteke's goal that helped turn the tie in Villa's favour. Grealish made 33 passes in the first half – no Liverpool player managed more – finding a team-mate with 32 of them. It was the best passing accuracy of anyone on the pitch.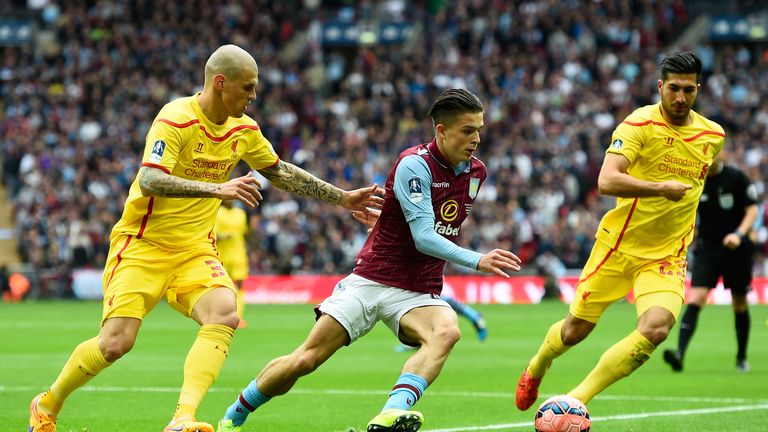 In the second half, there were opportunities as the game opened up and Grealish again seized the moment, finding Delph inside the area with a clever reverse pass for the England midfielder to score the winner. By the time he was substituted with eight minutes remaining, he'd earned a standing ovation and thunderous applause.
Swagger
With socks barely covering his ankles and that Peaky Blinders haircut, he cuts a distinct figure as well. There's a swagger to Grealish that young fans can identify with and older ones will be happy to indulge given his obvious enthusiasm. You sense that Sherwood approves and not just because of the kiss that he planted on the youngster as he left the pitch.
"It's just his style," said the Villa boss recently. "If he performs how I think he can perform for this football club he can dress how he wants. It's not a fashion show. He is good and perhaps he knows he's good. You know what he said to me when I told him he was playing? He just said: 'About time!'
"He's not fazed. He knows the fabric of the club. He knows every turnstile at Villa Park. No one cares more than Jack Grealish. But it's not just about his heart and desire to keep this club in the league. It's also about his ability and what he carries. He's aware, he can open teams up, he can dribble past people, he's got a massive future at this football club.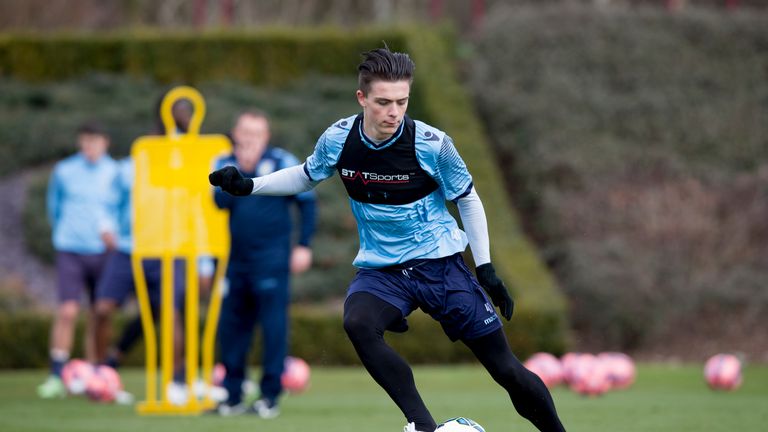 Villa fans have had to be patient. They'd heard the whispers for a while of a boy from Solihull - one whose great-great-grandfather had won the FA Cup with the club no less - who could really play. Last season was spent on loan at Notts County with then boss Shaun Derry talking of how he'd been "unbelievably impressed" by a "special talent". But Paul Lambert was typically cautious, restricting the teenager to appearances off the bench.
Athleticism
Sherwood gave him his first Premier League start in the 3-3 draw against QPR earlier this month and a second followed in the 1-0 away win over Tottenham last time out. Grealish covered more ground per minute than any Villa player in both of those appearances. This was the athleticism – and ability – that was needed and the supporters have responded to it.
"He's absolutely loved here," added Sherwood. "When I first came in he was sitting on the bench, the fans were singing someone's name and I thought 'It's not mine – who are they chanting for?' But it was Jack they were calling for. For someone who's not really played that much, he's a star. I've seen him train - he has intensity.
"I need people who are going to fight for the cause. Not only has he got the hunger, he's got the ability too. If I wasn't sure about him, I wouldn't be putting him in. I looked for a No 10. I looked at my options. He was my No 1. He has good awareness. He plays with wing mirrors."
Of course, this is a career that has hardly begun and in Joe Cole, the man who replaced him on Sunday, there is an apposite example of all that can be achieved in the game and how fickle such success can be. But for now Jack Grealish will surely settle for Aston Villa's first FA Cup final in 15 years and the thrill of upstaging Steven Gerrard at Wembley.
Watch Man City v Aston Villa live on Sky Sports 1 HD from 4.45pm on Saturday