Phil Thompson is unconcerned by Raheem Sterling's future at Liverpool – because the club have another talented youngster coming through in Jordon Ibe.
Ibe is set to return to the Liverpool squad for Newcastle's visit to Anfield on Monday night following a six-week absence with a knee injury.
Sterling's contract wrangle with the club is set to rumble on into the summer, but former Liverpool defender Thommo is excited by the prospect of Ibe coming back into the side.
He told Sky Sports: "With all the hullabaloo about Sterling and whether he'll be signing his contract or not, if he does decide to cut and run from Liverpool, well then we've got another youngster on the production line.
"Ibe has got a lot of potential on various different scales. Ability-wise he's top class. He's got dribbling ability, he's got the final ball and he can score goals.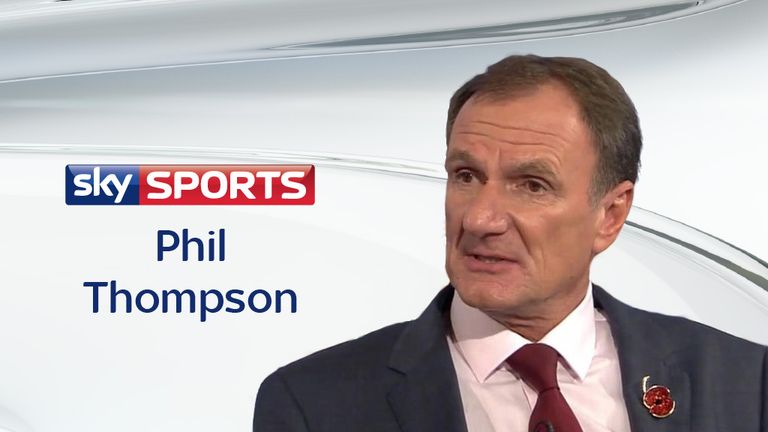 "If the results are not going as well as we would like he would certainly get his opportunity to play and show what he can do next season."
"Obviously, he's not an out-and-out striker, but he's a wide midfield player who's got goals in him, and that's something Liverpool have lacked over the years."
Thommo has also been impressed with the 19-year-old's tactical maturity. Ibe came into the Liverpool starting line-up in an unfamiliar wing-back role in the Merseyside derby in February.
"Tactically, he's shown that he is aware – he can play in different systems," added Thommo.
"He played very well on loan at Derby on either the right or left side of a midfield four, but then he came into the Liverpool side in a wing-back role and he played it very well indeed. So, tactically, he looks good.
Live Ford Monday Night Football


"All-round I think it's positive and it's nice for him to be fit because he came back from his loan, did very well but unfortunately got injured and dropped off the radar.
"So I'm glad to see him back before the end of the season and in contention to play."
Thommo also believes Brendan Rodgers is the perfect manager to nurture Ibe into becoming a regular in the side, with the Liverpool boss having proven his ability to manage youngsters effectively.
He said: "We've seen the other lads who have been developed at Liverpool under Brendan – Daniel Sturridge, Raheem Sterling, Philippe Coutinho, Jordan Henderson – they've all come on under his guidance, so young players have an ideal opportunity to progress under him.
"If the results are not going as well as we would like Ibe would certainly get his opportunity to play and show what he can do next season.
"But at the moment, with some players out suspended, it might give him an opportunity to show what he can do now. And I've got no doubt that he has got the ability and the temperament to be able to play at the top level whenever he's called upon." 
Watch Liverpool v Newcastle on Monday Night Football live on Sky Sports 1 HD from 7pm.