Paul Pogba's agent has put Europe's top clubs on alert by admitting he expects the French midfielder to leave Juventus at some stage in the next two seasons.
The 21-year-old is one of Europe's most coveted players after a string of impressive performances for club and country over the last couple of seasons.
Chelsea, Manchester City and Manchester United have been joined by Real Madrid and Paris Saint Germain in being linked with a move for Pogba who has excelled since joining Juve after leaving Old Trafford on a free transfer in 2012.
While a move in January is highly unlikely, Pogba's agent Mino Raiola has paved the way for a summer bidding war between the continent's biggest clubs this summer.
"I want the club that buys him to believe in him and be willing to pay for him. If Paul leaves Juventus, it is for the absolute top. If it does not happen this year, it will be next year," Raiola told Gazzetta dello Sport.
VIP Competition
Win the ultimate matchday experience at Manchester United v Burnley courtesy of Aeroflot

"Paul is at the same level economically as the other big stars and has a similar reputation, so he could stay for another year. But Paul is the only major star who is available at the end of the season.
"If you cannot take Cristiano Ronaldo, Lionel Messi or Zlatan Ibrahimovic, you can only go for Paul."
Pogba is under contract until 2019 and Raiola has suggested that any club who is interested will have to spend big to get the French international's services.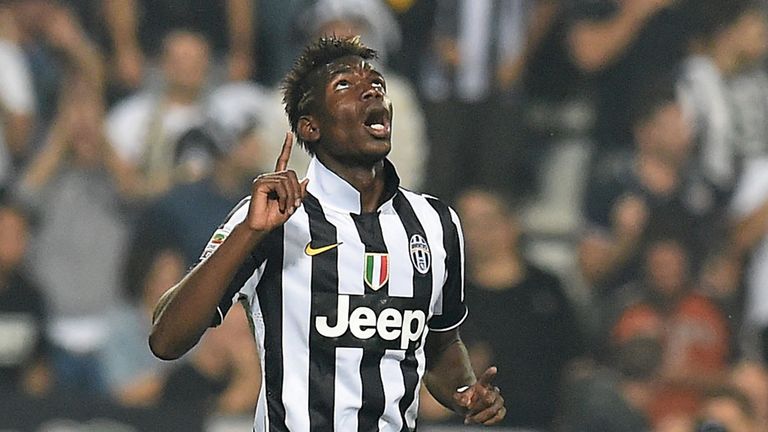 "If someone wants him, the market situation could see him go for more than 100million euros."
Pogba left United because he felt he wasn't getting enough first-team appearances under former manager Sir Alex Ferguson, and his agent admits he had several offers after deciding to leave England in 2012.
"AC Milan wanted to sign him, together with Genoa, and then send him there on loan. Inter said they did not want to create a row with (former Manchester United boss) Sir Alex Ferguson.
"With Juve, the deal was quite simple. They signed him, gave him the wages of a first-team player and did not send him out on loan.
"(Former Juventus coach) Antonio Conte deserves the credit for Paul's development. He (Pogba) needs someone who tells him to do his thing and give him some space."
The player has scored four goals in his last five appearances for Juventus and has scored eight goals in all competitions this season - only Carlos Tevez (18) has scored more for Juve this season.