David Beckham says FA Cup semi-finals are too "sacred" to be played at Wembley and only the final should be held there.
The former midfielder was a two-time FA Cup winner with Manchester United, lifting the trophy in 1996 and then again in 1999.
United reached the final in 1999 after Ryan Giggs' memorable winner in the semi-final replay against Arsenal at Villa Park, but from 2008 all semi-finals have been played at Wembley.
Speaking on 'Beckham's 25 Years of Sky Sports', which will be broadcast on Tuesday, former England captain Beckham said: "Wembley is a sacred place, Wembley is for finals.
"There shouldn't be semi-finals at Wembley.  The FA Cup is about reaching the final and it's about being in a final at Wembley.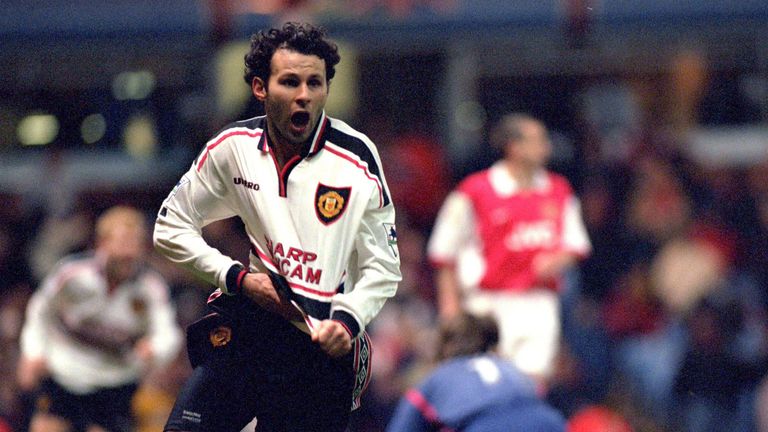 "We had played in a couple of semi-finals at Villa Park, I remember scoring the winning goal against Chelsea in one of my first games as a Man Utd player. Those atmospheres are so special when you travel around. Those occasions are what football is all about."
Beckham has been speaking to Sky Sports about his 10 favourite moments from 25 years of live coverage.
Along with the FA Cup semi-final win was Kevin Keegan's infamous Monday Night Football rant against Sir Alex Ferguson for playing mind games in the climax of the 1996 title race.
"When you've got Sir Alex Ferguson, when you've got Kevin Keegan, when you've got managers like that mind games is an important thing and it worked with some teams and some managers," he recalls.
"I love Kevin, I think he's a great manager and an amazing person but you could tell he felt so strongly about what our manager had been doing.  We came into training and we knew we'd won the league by then."
David Beckham's 10 Favourite Live Sky Sports Moments
Liverpool 4-3 Newcastle (1996)
Kevin Keegan's Monday Night Football interview (1996)
Andy Murray winning the US Open (2012)
Serena Williams winning the US Open (1999)
Tiger Woods putt on the 17th at the Players Championship (2001)
Germany 1-5 England (2001)
David Beckham free-kick v Greece (2001)
Ryan Giggs FA Cup semi-final replay goal v Arsenal (1999)
Ricky Hatton beating Kostya Tszyu (2005)
Sergio Aguero goal to win the Premier League (2012)
Watch Beckham's 25 Years of Sky Sports on Tuesday night at 10.15pm on Sky Sports 1 or see it first On Demand from Monday at 1pm.