Sir Alex Ferguson caused a stir when he recently suggested Peter Schmeichel wasn't world class. But ahead of the Manchester derby on Super Sunday, we look at why the Great Dane's glittering career deserved greater recognition...
Sir Alex Ferguson's new book Leading has prompted plenty of debate since its release last month. But amid the anecdotes and revelations about his 26-year reign at Manchester United, there was one passage in particular which stood out.
"I don't mean to demean or criticise any of the great or very good footballers who played for me during my 26-year career at United," he wrote. "But there were only four who were world class: Cantona, Giggs, Ronaldo and Scholes. And of the four, Cristiano was like an ornament on the top of a Christmas tree."
Ferguson's decision to overlook a long line of stellar performers provoked considerable fallout. He attempted to clarify his comments by saying he regarded world-class players as those who "made a difference", but many observers remained puzzled. Where was Roy Keane? They asked. And what about David Beckham, Ruud van Nistelrooy and Rio Ferdinand? Had personal feuds clouded Ferguson's judgement?
The most conspicuous absentee was Peter Schmeichel, an iconic goalkeeper and a hulking figure in Manchester United's recent history. Sky Sports pundit Gary Neville summed it up on Monday Night Football. "The one that stood out for me is Peter Schmeichel," he said. "If he wasn't a world-class goalkeeper, then I don't know what is."


Neville was just a fresh-faced apprentice when Schmeichel began his eight-year association with United in 1991. The 27-year-old was a relative unknown to his new team-mates having spent his entire career in Denmark, but Ferguson described the £550,000 fee as the "bargain of the century", and, before long, it became difficult to imagine United without him.
Within a year of the move he had inspired Denmark to their unlikely triumph at Euro '92 - famously saving Marco van Basten's penalty in the semi-final - and he went on to win 10 major trophies for United, starting with their first title triumph in 26 years in 1992/93 and ending with their historic, treble-winning Champions League success in Barcelona in 1999.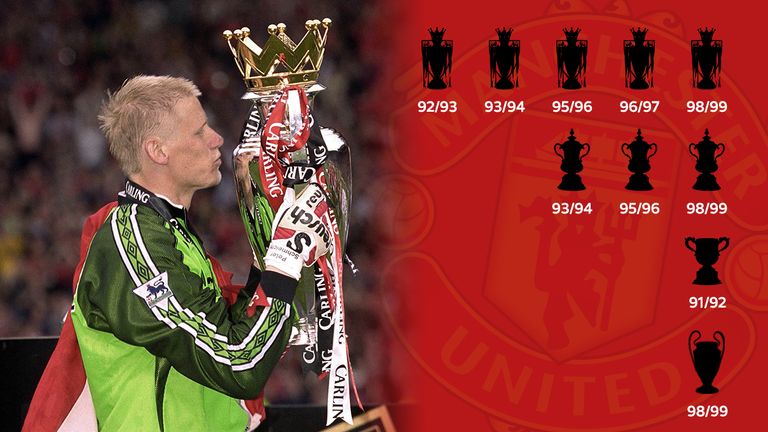 With his blonde hair and giant frame clad in lurid green, Schmeichel cut a distinctive figure. He could move in ways that defied logic, and his saves, his sheer presence, consistently made the difference - whatever Ferguson might say now. The former United manager may have omitted him from his select group of "world-class" players in Leading, but he was rather kinder in My Autobiography, published in 2013.
"Schmeichel pulled off saves he wasn't entitled to make," Ferguson wrote. "There were moments of wonder. 'Jesus, how did he do that?' I would ask. He had such spring, such athleticism." The list of awe-inspiring saves is long, but his astounding effort against Rapid Vienna in 1996 springs to mind, as does his denial of John Barnes at St James' Park in '97, and his reflex stop from Don Hutchinson at Anfield in '93.
But it wasn't just razor-sharp reflexes and expert handling that made Schmeichel special. "There is more to the art than the goalkeeping," added Ferguson. "It's a question of the personality you bring to the job. Not only do keepers have to deal with the business of making saves, they must cope with the process of making errors."
Schmeichel had personality in abundance and his relentless determination made him a force of nature. His saves were almost invariably followed by ferocious verbal blasts for the defenders who had failed to prevent the chance, and Ferguson described him as a "volatile individual" on the pitch.
Never again has a goalkeeper ruled his penalty box in quite such intimidating style. Strikers wilted in his path in one-on-one situations, and he also had a penchant for causing chaos at the other end when United were chasing a goal.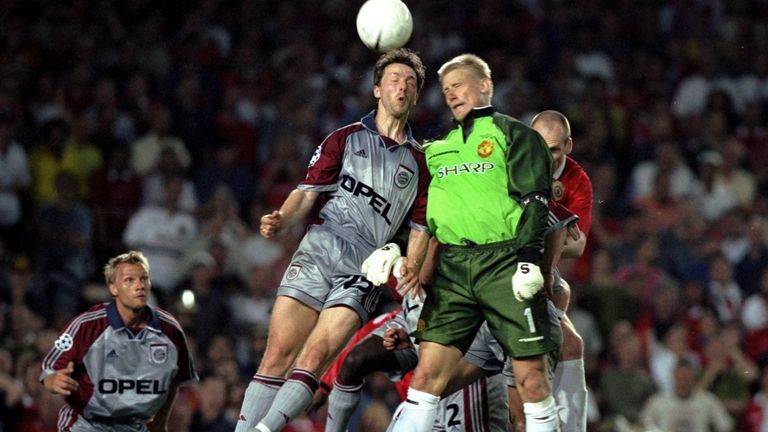 There were clashes with Ferguson and even a physical confrontation with Keane, but he commanded immense respect in the dressing room. Former striker Andy Cole remembers him fondly. "He was different," he told Sky Sports, with a smile. "He was eccentric at times, but he is what he is. He spoke his mind, and there's nothing wrong with that. I've got nothing bad to say about him. He was a great goalkeeper and I class him as a friend. He's a lovely guy."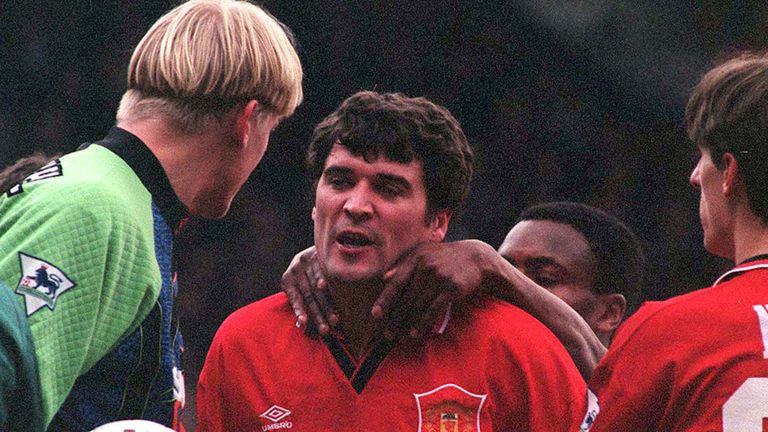 When it's put to Cole that Schmeichel might not be considered world class, his reaction is revealing. "Pfff…," he exclaims in disbelief. "There weren't many goalkeepers better than Peter Schmeichel - in his generation or any generation.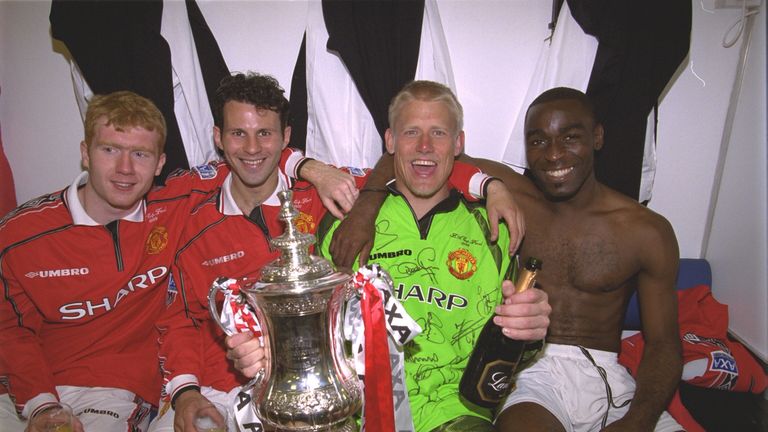 There weren't many goalkeepers better than Peter Schmeichel - in his generation or any generation.
"What he did for Manchester United as a goalkeeper - some of the saves he pulled off, like the one against Ivan Zamarano for Inter Milan - they're world-class saves. But he didn't just do it in one game. He did it in numerous games..." And then that phrase again: "If he wasn't a world-class goalkeeper, then I don't know what is."
Schmeichel's importance to United was magnified after he departed for Sporting Lisbon on a blaze of treble-winning glory in 1999, and Ferguson recalled United's long struggle to replace him in My Autobiography. "You don't recover easily from losing a Peter Schmeichel," he wrote. "He was the best goalkeeper in the world, and his presence, his personality, were suddenly no longer there."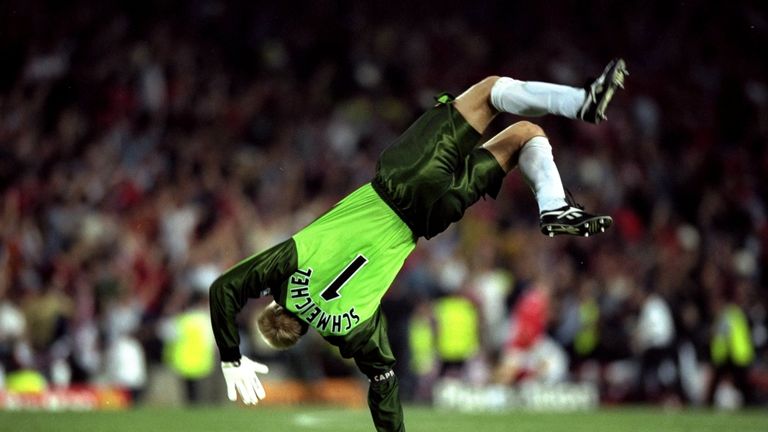 United had won silverware and finished in the top two in every one of Schmeichel's seasons at Old Trafford, and it wasn't until the arrival of Edwin van der Saar six years after his exit that Ferguson adequately replaced him. Three third-placed finishes in four years between 2001 and 2005 highlighted the absence of a world-class No 1, and Schmeichel's departure hurt the dressing room too.
"I was disappointed when he did leave," said Cole. "We'd just won the European Cup but he decided he wanted to go because it was getting too stressful playing in the Premier League…. But a couple years later he came back."
After two years in Portugal and a season with Aston Villa, Schmeichel took the brave step of joining United's Manchester rivals for one final campaign. "I would never have played for Manchester City had they been what they are today," he explained in 2012, but his displays in the other half of the city showed his enduring quality.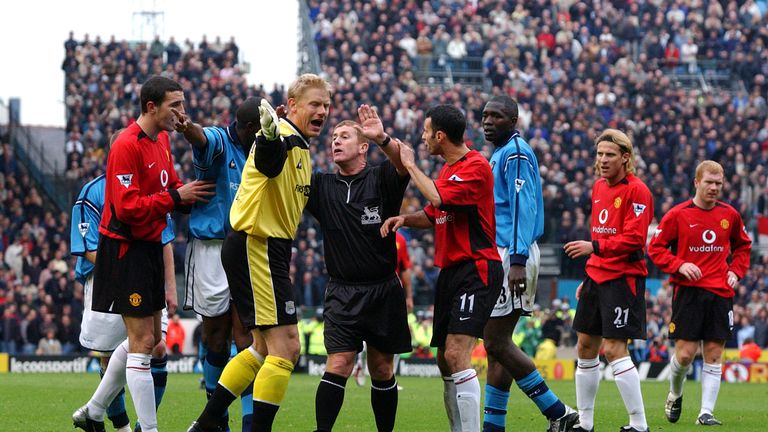 The Great Dane battled through injuries and made 29 Premier League appearances for Kevin Keegan's side, who clinched an impressive ninth-placed finish on their return to the top flight. Schmeichel retired having never lost a Manchester derby, and his brilliance shone through until the last.
Even in the penultimate appearance of his career against Liverpool at Anfield, the Great Dane made a string of superb saves to deny Steven Gerrard, Dietmar Hamann and El Hadji Diouf, keeping City in the game before Nicolas Anelka scored City's late winner. In short, Schmeichel made the difference. He always did.
Watch Manchester United v Manchester City live on Sky Sports 1 HD from 2pm this Saturday