Thursday marks 13 years since Louis van Gaal's disastrous second spell with Barcelona came to an end. If Manchester United fans think they're enduring a tough season, they should take a look at what the Nou Camp faithful were facing in 2003.
Van Gaal had won back-to-back La Liga titles with Barca in 1997/98 and 1998/99 and, after two years in charge of the Netherlands, he returned to the club in the summer of 2002. However, he was unable to recapture the success of his first stint.
After winning just six out of 19 league games, and with the club languishing in 12th place, three points above the relegation zone, Van Gaal left the club.
"I am really upset that as a coach I haven't lived up to the expectations of the Barcelona fans," he said.
Those comments will sound familiar to United supporters. Following the 1-0 defeat to Southampton at Old Trafford on Saturday, Van Gaal said: "I'm very disappointed that I cannot reach the expectations of the fans. They have - or they had - great expectations of me, and I cannot fulfil them, so I am very frustrated because of that."
The similarities don't end there. During his second spell in Catalonia, there were mis-judged signings, a falling-out with a big-name player and a failure to kick on with a squad which, despite going several seasons without the league title, had finished fourth the previous year.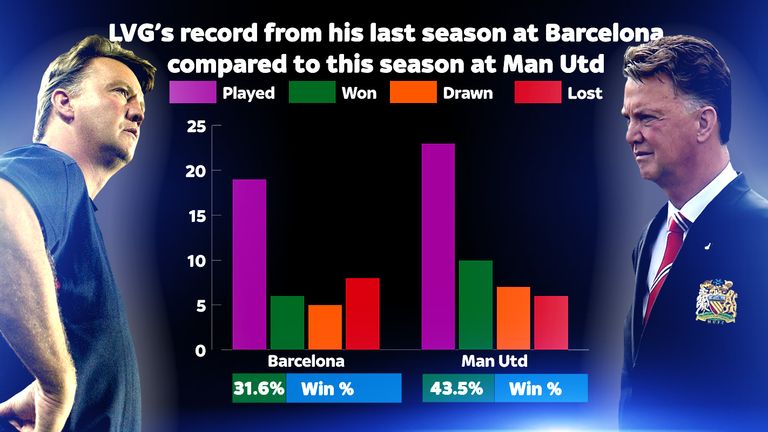 Louis van Gaal record
Barcelona in La Liga 2002/03
P:19 W:6 D:5 L:8 W%: 31.6 Position: 12th

Man Utd in Premier League 2015/16
P:23 W:10 D:7 L:6 W%:43.5 Position: Fourth
"It was surprising that after a good first spell, and not being away from the club that long, Van Gaal returned and made a real mess of it," says Sky Sports Spanish football expert Terry Gibson.
"They had finished fourth the previous season, so they weren't the best team in Spain. But for them to be languishing in 12th place, just above relegation, was remarkable.
"They had the likes of Patrick Kluivert, Luis Enrique, Marc Overmars and Frank de Boer, as well his own signings, Gaizka Mendieta and Juan Roman Riquelme. But there was a failure to get the best out of the team."
A clash with Brazil star Rivaldo, who had scored 36 goals the previous season, led to the attacker being released from his contract before the season. It was a move which failed to impress the powerful Spanish press. Rivaldo wouldn't be the last big-name player to fall out with Van Gaal, with Angel Di Maria and Robin van Persie later given short shrift at Old Trafford.

"Rivaldo was a popular player at Barcelona," said Gibson. "That was a big issue. I don't think the press and the fans particularly enjoyed that falling out. That seemed to cause him a lot of problems. It smacks of similarities to his falling out with Di Maria.
"The Rivaldo situation gave the press something to get stuck into against a manager they always had a thorny relationship with anyway.
"Then, when you don't get results you get it from all angles. The intensity of the Spanish press is huge. They have 13, 14 pages to fill with Real Madrid and Barcelona stories every day. Every area of the club is under scrutiny.
"If you're manager of Barcelona, falling out with big players, three points above relegation and not getting results, you're going to lose your job."
United fans will be hoping Van Gaal can find a way to turn things around this time.