Marouane Fellaini played an important role in shackling Cesc Fabregas for Manchester United against Chelsea
Robin van Persie grabbed a late equaliser to deny Chelsea all the points at Old Trafford, but it was the much-maligned Marouane Fellaini who was arguably Manchester United's best player on Sunday. Adam Bate looks at the stats that suggest the big Belgian is growing into his role...
Last Updated: 27/10/14 12:35pm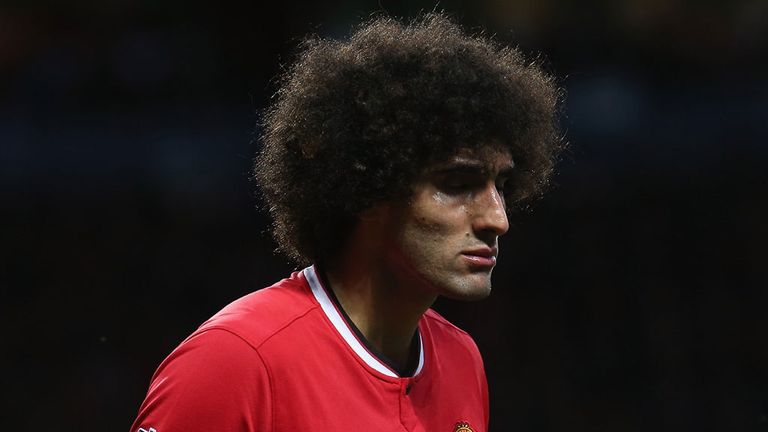 Something seems to have changed regarding Marouane Fellaini. Accentuate the positive as the song goes and the midfielder's first Manchester United goal on Monday night at West Brom looks like it could prove the catalyst for a reassessment of what he can contribute to this team.
It was evident in the early moments of the game. Headed clearances were cheered. A strong tackle to stop Eden Hazard as he closed in on goal drew loud roars from the Old Trafford crowd. The confidence gained from his performance at the Hawthorns seems to have impacted on the player and the supporters.
Chelsea boss Jose Mourinho might have anticipated dominating the midfield zone. Daley Blind is a tidy playmaker but far from a powerful presence, while Nemanja Matic has proven himself to be a dominant force so far this season. But the inclusion of Fellaini for his first start under Louis van Gaal changed the dynamic.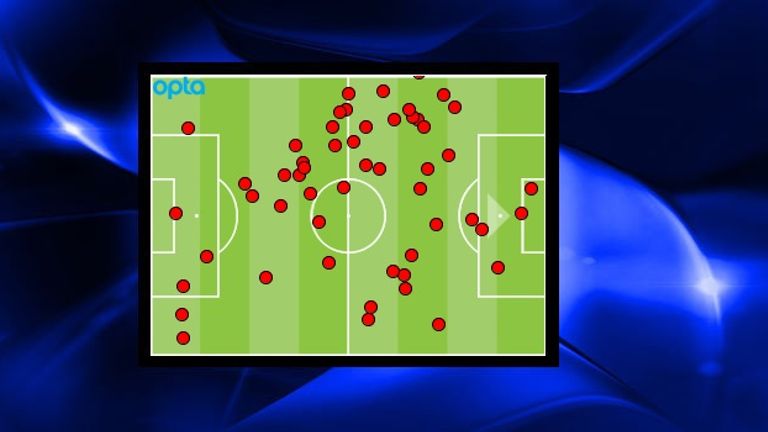 Playing slightly from the left of midfield but closing down Cesc Fabregas high up the field when he had chance, Fellaini worked hard to stop the man who prompts Chelsea from deep. Fabregas completed only three passes in the first 20 minutes and just 11 in the whole first half.
Given that the Spaniard has played more passes than anybody else in the Premier League, it was remarkable that United were able to stop him getting on the ball – and that owed much to Fellaini. "He was fantastic," said Robin van Persie of his team-mate. "He did a great job on Fabregas." 
Check out our player ratings and give your own verdict on the performances here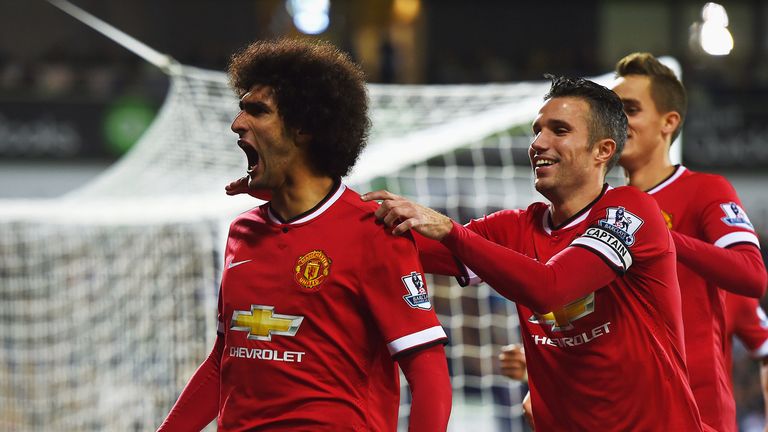 Even when Chelsea dominated in the second half, he didn't stop working. The Premier League tracking data shows that Fellaini covered 12.17 kilometres in the match, the most by any United player, and made 70 high-intensity runs. That was more than anyone else on the pitch and, tellingly, the most he has made in any game in a United shirt.
Ultimately he had his reward. In stoppage time, it was Fellaini's header on goal that Thibaut Courtois could only parry into the path of Van Persie. The Belgian clenched his fists when the United striker slammed the ball home. He is making a contribution and is part of this team now.
United tracking data
| | | | |
| --- | --- | --- | --- |
| MAN UTD v CHELSEA | | | |
| Player | Distance | Player | Sprints |
| Marouane Fellaini | 12.17km | Marouane Fellaini | 70 |
| Daley Blind | 11.29km | Luke Shaw | 64 |
| Luke Shaw | 10.73km | Rafael | 54 |
He might well be a part of this Van Gaal team going forward too. That would be quite a turnaround given that speculation in the summer suggested the new manager did not see Fellaini as a 'United type of player' but his initial experiences in English football seem to have sparked a change in thinking.
"We have to look also for physical talents and maybe that's our problem," said Van Gaal in explaining his decision to replace Ander Herrera. "I'm a coach who is always thinking about creative players but in England you also need physical bodies in your team and Fellaini is one of these."
He showed that again at Old Trafford. Finally, Fellaini is finding a role in this Manchester United team. "I am happy here and the manager has shown trust in me," he said this week. And that trust is seeing Van Gaal get a return on David Moyes' considerable investment.
Watch Manchester United's trip to Manchester City live on Sky Sports 1 HD this Sunday (1.30pm kick off)