Manchester United's Robin van Persie must be more decisive in front of goal to get back to his very best
As Manchester United prepare to visit Arsenal on Saturday Night Football, the man who has been the Premier League top scorer for both clubs finds himself under the spotlight for the wrong reasons. Adam Bate examines the stats to get to the bottom of Robin van Persie's form…
Last Updated: 21/11/14 11:47am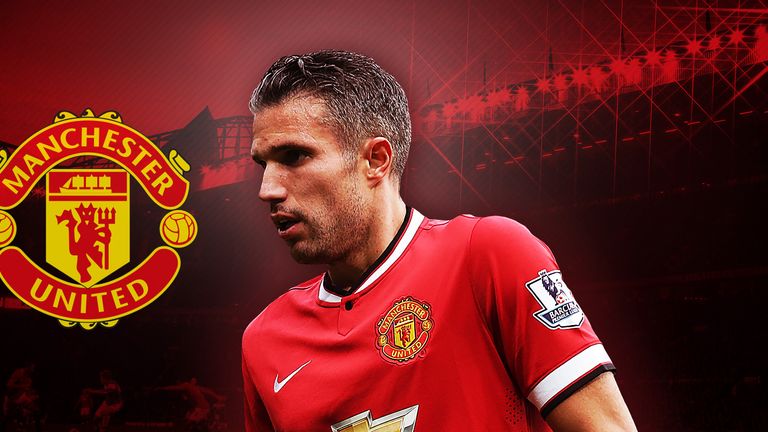 Manchester United finished the first day of last season's Premier League at the top of the table following a 4-1 win at Swansea in which Robin van Persie scored twice to make it a perfect start for David Moyes.
"A new manager but the same talisman," wrote Jason Burt in the Telegraph. "RVP remains the league's MVP." Who could argue? His rising strike into the roof of the net late on appeared to herald a continuation of the previous season's ruthless brilliance. Swansea were a match for United that day. They just didn't have Van Persie.
Fast forward 15 months and any suggestion that he remains the Premier League's best striker might feel absurd. There is no debate regarding whether the Dutchman is superior to Sergio Aguero or Diego Costa. In fact, the conversation has already turned to the future of young James Wilson and the possibility that he should be given the opportunity to liven up United's attack.
The view that this decline in standing might be explained away simply by a glance at his birth certificate – Van Persie turned 31 in August – is more nuanced than some would suggest. The evidence is not clear and it seems the commonly-held view might not be the complete one.
Movement
Studying his movement in the flesh at the Hawthorns last month, the old runs were still being made and the statistics would appear to back that up. In the aforementioned Swansea game, Van Persie ran 10.18 kilometres and made 53 sprints. So far this season, he's averaging 10.47km per game and making 54 sprints every 90 minutes. On the face of it, little has changed.
Curiously, the statistics actually indicate that the problem isn't merely that Van Persie is failing to get into the positions to score. In fact, a significant factor in his diminished impact is as a result of what he's doing – or not doing – when he gets there. "When he pulls the trigger it's a goal all the way," said Moyes after the Swansea brace. But that's emphatically not been the case.
Of the 35 players who have scored three or more goals in the Premier League this season, Van Persie has the worst shot conversion rate of any of them – a miserable 13.6 per cent. By comparison, Costa is putting them away at an unsustainably daft rate of over 45 per cent.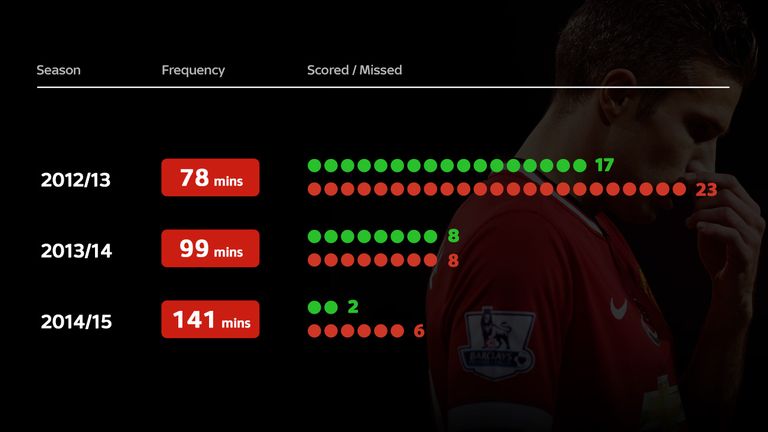 It's not about the quality of the opportunities either. A straightforward explanation might be that his United team-mates are failing to provide the service. And yet, according to Opta, Van Persie has scored just two of the six clear chances that have come his way so far this season. Again the comparison with Costa, who has converted 10 and missed just one, is particularly unfavourable.
Fewer quality chances and failing to score when they do arrive; it's a worrying combination that hints at inexorable decline. But there is a sense in which the difficulties are psychological rather than physical. While the question of motivation has been raised, it seems that for a player once heralded as understanding his own game better than most, decision-making has become an issue.
Perhaps it is telling that his shooting accuracy is actually higher now than in his 2012/13 season when he was the country's top scorer. Hitting the target might be solid advice everywhere from the park to the lower leagues, but at the highest level there's money to be made in finding the corners. The more Van Persie concentrates on just hitting the target, the less he finds the back of the net.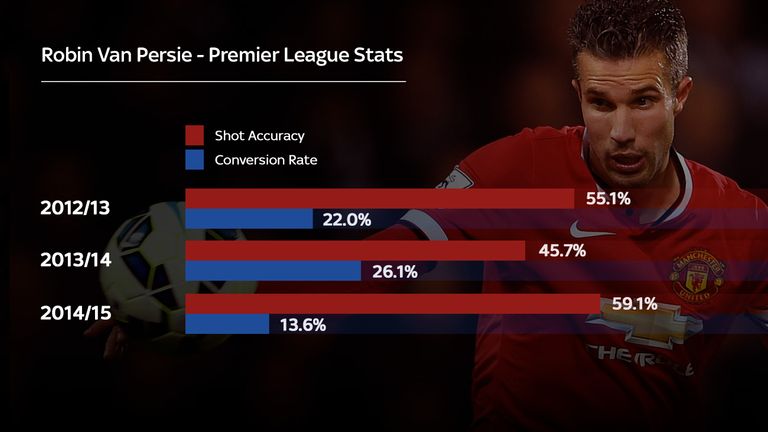 "Three goals in nine games is not enough," the player himself told Dutch newspaper De Volkskrant last week. "Against Chelsea I had a nice chance and I had three options: chip it, go round the keeper or just straight at the goal. I chose the last and safest. If I wouldn't have thought it over I would just chip it. I just have to trust again in my intuition."
Of course, there's a fine line between recognising a problem and overthinking it. However, it is encouraging that Van Persie is not resigned to the slide and is instead working to solve it. Perhaps there is reassurance too in knowing that for all the aches and pains, if he'd converted the clear chances missed, only Costa, Aguero and Alexi Sanchez would be above him in the scoring charts.
Can Van Persie bounce back? Sir Alex Ferguson once compared his impact at Manchester United to that of Eric Cantona and after scoring in odd-goal wins over Liverpool, Chelsea, Manchester City and Arsenal in that title-winning season it was understandable.
But Cantona's United career was over at 30 and Van Persie has work to do to avoid people drawing similar conclusions about his own time at Old Trafford. A decisive performance against his old club on Saturday would be a good place to start.
Watch Arsenal v Manchester United on Saturday Night Football from 4.45pm (Sky Sports 1 HD)